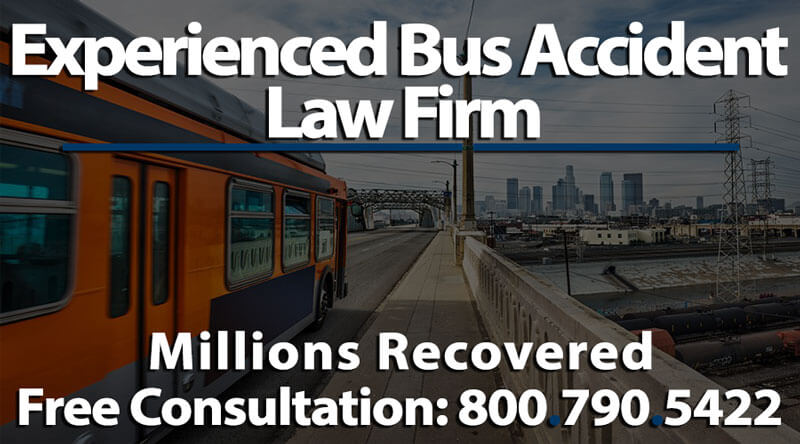 Every year, hundreds of passengers, pedestrians, and other motorists on Los Angeles roads suffer serious injuries resulting from MTA bus accidents. Bus line operators and drivers have a duty to provide safe and hazard free public transportation to the citizens of Los Angeles County. They are required to provide a duty of care to all people they encounter, whether customers or fellow drivers. It is essential that these operators be properly trained in handling such a large automobile; further, it is crucial that the MTA hires experienced drivers who have no history of careless acts on the roadway. Reckless driving can place many lives in danger, and bus drivers should be held to a high standard with respect to the quality of their driving. Victims of public transportation accidents are entitled to full financial restitution for the harms they have suffered.
Legal Representation: Our top-rated Normandie Law Firm is dedicated to protecting the rights of individuals who have suffered injuries in bus accidents across Los Angeles and the rest of southern California. An accomplished attorney with expertise in bus accident injury lawsuits can help you file a claim against the responsible party.
Filing a Bus Accident Lawsuit – How to Prove Your Case in the Court of Law:
Under California common carrier laws, bus line operators owe their passengers a heightened duty of care. Most traffic accident lawsuits are based on a negligence cause of action. There are several elements which need to be proven. An attorney who has experience in bus accidents can help you prove these points. They are:
The defendant owed a duty to the injured party: In the case of bus drivers, they owe all passengers the duty of safety and care while transporting them to their destinations. They also owe other motorists a duty of care to not be involved in any accidents. Essentially, they are required to be as safe as possible and to prevent injuries or accidents.
The defendant breached the duty of care owed: Since the duty of care owed by bus drivers is keeping everyone safe, violating that duty is considered a breach. A breach may be in the form of recklessly driving (speeding, turning without a signal, running a stop sign or red light) or carelessly driving (texting while driving, not paying attention, and more), as well as other activities.
The breach of the duty resulted in the accident: If a driver were driving recklessly and he slammed into another vehicle, lost control and jumped the curb and hit a utility pole, or signaled without turning and caused another car to hit the bus, that is ample grounds to say that an accident were caused due to the driver's negligence.
Lastly, the plaintiff suffered actual injuries resulting from the accident: If the bus driver caused an accident and a passenger, pedestrian, or other motorist suffered injuries because of that accident, the bus driver can be said to have been at fault.
Take note that in order for a negligence claim to go through, all four of these points must be met. One of our top attorneys with experience in bus accident cases can make sure a step is not missed.
Common Injuries Resulting From Public Transportation Accidents:  Accidents involving buses often result in serious injuries to passengers, pedestrians, and other motorists. Some of the most common injuries associated with MTA bus accidents are as follows
If an accident is particularly severe, victims may be relegated to wheelchairs due to nerve damage and spinal injuries, might slip into comas from brain damage, or may even suffer death. If you are in need of a wrongful death claim, our experienced lawyers can help.
Financial Recovery Available for Passengers and Motorists Injured in Accidents:
According to California civil law for bodily harm, victims of accidents are entitled to full and just financial restitution for all harms suffered. The amount of financial recovery is based on several significant factors unique to every case. This is important, as no two cases are exactly the same, and similar injuries in one situation may not yield the same type or amount of compensation in another.An experienced attorney can help differentiate cases for you. Some of the most important factors include:
A qualified lawyer experienced in bus accident cases can help you receive numerous types of compensation for your injuries.
Punitive Damage Compensation: According to California state civil law, victims of personal injury auto accidents may have a right to pursue punitive damage claims where the responsible party acted either with an intent to cause harm or with reckless or wanton disregard for the life and health of others. Punitive damages are designed to punish the defendant so that he will refrain from dangerous or reckless actions which may place others at great harm. However, these damages may be seen excessive or unnecessary by judges or juries, and they are not always given out. It is up to a professional, skilled attorney to win them.
Statute of Limitations: Claims against public entities, including the MTA, city transportation services, and other government-run transportation entities, must be filed within 120 days (6 months) from the date of the accident. Failure to file government administrative claim will result in the elimination of your right to recovery. Claims against non-government private parties and operators can be filed within two years from the date of the accident.
There are exceptions to this statute, however. For instance, if a child were the victim of the accident, then the statute of limitations does not start until the day the child turns 18 years old. An attorney can give you more information when an exception may be given to the statute of limitations.
Legal Assistance: All confidential legal consultations with our attorneys are provided free of charge. Since most buses are controlled by government entities, there is only a short window of times to preserve your rights before it is too late. To contact our law offices call toll-free at (800)790-5422.  You will be immediately transferred to an expert accident attorney with experience handling bus accident claims to discuss your case.
Our law firm offers a zero fee guarantee on all claims we take on. You pay no fees unless we win your case and bring you a settlement. Our payment comes from the sum of the settlement itself, so you are guaranteed to suffer no monetary loss by hiring us for legal representation.
FURTHER INFORMATION