Every year millions of tourists flock to Los Angeles and other major designations in the state of California. Many make use of tour bus companies to show them the major sites of the city. Unfortunately in many occasion passengers on-board tour buses suffer from severe injuries due to the negligent or wrongful conduct of tour bus companies and their employee bus drivers. Our law firm is proud to provide legal representation for those who have suffered such injuries.  Some of the largest tour bus operators in California include Star-Line Tours and TMZ tours, but there are dozens of smaller companies operating in the city.
If you have any further questions regarding the filing of a claim for recovery for your damages please feel free to contact our law offices. All consultations are free of charge.
Common Causes of Tour Bus Accident and Passenger Injuries
There can be numerous causes of accidents and injuries onboard tour buses. Some of the most common include the following.
Inattentive driving, speeding when driving, failure to turn as a proper speed or in a proper manner.
Failure to properly inspect tour bus before it is to be used to transport passengers.
Failure to latch on Wheelchair bound individuals to the bus resulting in tip-over.
Driving under the influence of intoxicants including drugs and alcohol.
Bus Driver Negligence – failure to make sure all passengers are safely seated before the bus pulls away.
Failure to drop off passengers in a safe location so that the probability of accidents is reduced.
Establishing Liability – California and Federal Common Carrier Laws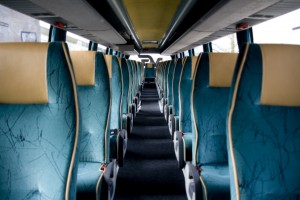 Civil laws place the highest level of responsibility onto operators deemed as common carriers. Common carriers may include busses, trains, taxis, and any other mass transportation vehicles. Generally there are four criteria which need to be presented in order to prove the negligence of an at fault party.
There was a duty owed by the at fault party to the plaintiff – as common carriers tour bus operators owe the highest level of duty to act on a reasonable manner so as to maintain a reduced threat of harm.
Was there a breach of the duty.
Was the breach of the duty of care the cause of the harm.
Were there identifiable injuries of harm that took place.
Compensation Available for Victims of Accidents
Personal injury laws allow for victims to receive compensation for all damages suffered. One of the most common questions asked by our clients is how much the potential value of their case is. The value of an injury claim is dependent on several important factors provided for below..
The severity and magnitude of the injury suffered by plaintiff.
Hospital and rehabilitation expenses incurred as a result of the accident that took place.
Lost wages and loss future income as a result of long term injury or permanent disability.
Calculation of non0econonic damages – this will include pain and suffering and well as punitive damages.
Time Limit for Filing a Civil Claim:  In the state of California civil claims for personal injury must be filed within two years from the dates of the accident. In cases where the at fault party is a government entity then am administrative government claim must first be filed within 6 months from the date of the accident. Once the administrative claim has been denied then the plaintiff will have 6 months from the date of the denial to file a civil claim in the court of laws. In certain circumstances courts may grant a tolling of the statute of limitations thus allowing an individual to file a claim past the standard time allotted by the law. For more information regarding the timely filing of a claim feel free to contact our law offices.
Attorney Consultation Available: If you have any further questions regarding a recent accident you where involving a tour bus feel free to contact our law offices. All legal consultations are provided for by our attorneys FREE OF CHARGE.