Can I Sue for Bus Door Slamming and Causing Injury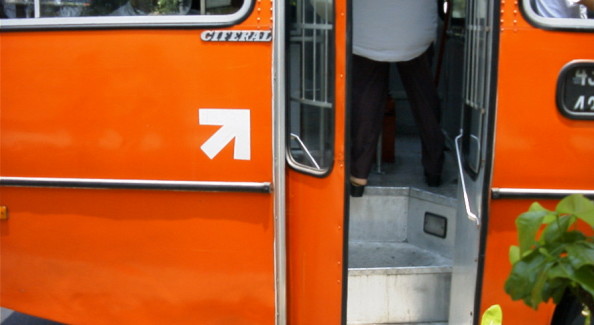 Attorneys from our law firm provide legal consultation for dozens of individuals who have suffered serious injuries in bus accidents and other public transportation related accidents. A common question that is presented to our attorney regards injuries suffered by individuals who had bus doors and exits slammed into their bodies. Victims of injuries caused by bus doors are entitled to compensation when the accident was caused by the failure to bus operators to abide by the duty of care they owe to their passengers. Specific causes of such these accidents can be (1) Failure to properly maintain bus doors by maintenance crews. (2) Defect in the original design and manufacturing process of the automatic bus door. (3) Inattentiveness of the bus driver.
Duty of Bus Drivers to Provide for the Safe Entry and Exit of Public Transportation Vehicles
Under Common carriers laws bus operators and operators of over public transportation vehicles and systems owe their passengers the highest duty of care to prevent accidents and injuries. Thus duty of care includes providing buss occupants with proper exist and entry into their vehicles.
Proving Negligence: There are several steps that need to be proven in order to prove liability in these cases.
1. A duty was owed to the injured party.
2. The liable party breached the duty of care.
3. The breach of the duty of care was the cause of the incident/accident which took place.
4. The accident resulted in some kind of physical injury to the at fault party.
Common Injuries Linked Bus Door Slamming Accidents
There are several common injuries associated with slamming door injuries. These include, (1) Injuries to the fingers resulting in fractures and amputations. (2) Head injuries, (3) Spinal cord injuries, (4) Injuries to the face including facial fractures and lacerations.
Compensation Available for Victims
Injured individuals are entitled to compensation for all harms suffered. Specific types of injuries and harms compensable in personal injury cases are include the following. (1) All medical expenses (2) All future medical and rehabilitation costs (3) Loss of wages and loss of future income capacity (4) All other economic damage, (5) Non-economic damages including mental trauma, mental anguish, pain and suffering.
Time May Be Limited for Filing a Lawsuit – Statute of Limitations for Bus Companies: Claims against government entities have different procedures which must be followed. Lawsuits against government run and operated bus companies must be filed within 6 months (120) days from the date of the accidents. Failure to do so can result in the elimination of a victims right to compensation under the law.
Attorney Consultation Available for Victims: If you have any further questions feel free to contact our law firm. All legal consultations are provided by our attorneys free of charge.