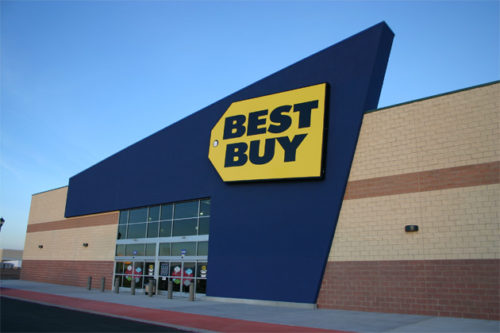 When you go to a Best Buy store, you walk in with the idea that you will walk out with the newest gadget. You probably do not consider the possibility that you can have an accident before you can finish your shopping. However, slip and fall accidents can happen anywhere and at anytime—Best Buy stores are not the exception.
If you are interested in suing Best Buy after slipping and falling on the floor, you might have a few questions regarding Best Buy personal injury claims. These questions might include the following:
How can I sue Best Buy for a slip and fall injury?
What is the best way to file a trip and fall claim against Best Buy stores?
What should I expect my settlement or verdict amount to be?
In the following sections, we will answer the questions listed above. We will also cover information regarding how to file a slip and fall claim against Best Buy, how to sue Best Buy for a slip and fall accident, how to sue Best Buy for personal injury, and how to file a trip and fall lawsuit against Best Buy. Although we expect you to find the following sections informative, the information provided should not substitute a consultation with a Best Buy injury attorney. For Best Buy slip and fall accidents, victims must seek the legal advice of Los Angeles attorneys experienced in Best Buy personal injury claims. Contact Normandie Law Firm as soon as possible to speak to attorneys that can sue Best Buy for slip and falls.
Liability for Best Buy Slip and Falls
If a customer is injured at Best Buy, can the customer sue? Yes, the customer can sue on the basis of premise liability. What is premise liability? Premise liability is a policy that makes the store—its managers and employees—liable for maintaining a safe property. The store must be free of any potentially hazardous situations, and managers and employees must routinely look for, identify, and remove hazards. Examples of hazards include wet floors in Best Buy bathrooms or potholes in Best Buy parking lots and sidewalks. If the hazard can be instantly addressed, like mopping the floor to clean and decrease the risk factor, the store managers and employees should immediately do something about it. Hazards like potholes might not be able to be immediately fixed; managers and employees must contact the appropriate repair teams and place the proper warning signs around the site of the hazard to ensure that customers do not have accidents.
What if managers and employees fail to remove a hazard before it causes an accident? Based on premise liability, the managers and employees must exercise their duty of keeping the store property safe for all shoppers. If a manager or employee is aware of a hazard but does not do anything to address and remove the hazard, the hazard could cause an accident, and the store could be found liable. Likewise, if a hazard is present long enough that a manager or employee should have noticed and addressed it, the store could be liable for any accident. Managers and employees who ignore hazards or do not notice them promptly can be accused of being negligent. What is negligence? Negligence, in the case of stores like Best Buy, is the failure to take the reasonable care to ensure shopper safety. Negligence consists of four elements: duty, breach, cause, and harm. If a customer is injured because a manager or employee failed to look for, identify, and remove hazards, the store could be found liable for the customer's injuries.
Common Injuries in Best Buy Accident Claims
Slip and falls are the leading cause of personal injuries. When you slip and fall, regardless of if the accident happens in a store, at a friend's house, or at a hospital, the injuries sustained are similar. The following is a list of the most common injuries sustained in slip and falls:
Head and traumatic brain injuries
Neck and back injuries
Hip and shoulder injuries
Spinal cord injuries
Broken bones, fractures, and sprains
Cuts, scrapes, and bruises
Depending on your injuries, you might need medical attention. This can lead to unforeseen medical expenses. In the case of critical injuries, you might require a number of surgical procedures and constant medical care. Whatever the case, you should keep a record of all the expenses associated with your injury. If you are an injured shopper that experienced a slip and fall at a Best Buy store, you might be eligible to receive compensation for your injuries. Contact Normandie Law Firm's attorneys who sue Best Buy to file your trip and fall accident lawsuit.
What Risks Might You Encounter in the Store?
Have you ever considered all the dangerous accidents that can occur inside of your favorite Best Buy store? Have you ever noticed anything that is obviously out of place in the store—perhaps a ladder in the aisles, a tall stack of boxes in the center of an aisle, or a missing weather mat in doorways? Although you might notice these things, you might not associate them with danger. Let us consider a few risky situations that you might encounter in your local Best Buy:
Slip and falls in Best Buy's home and housewares department—displays in this department usually include working appliances like microwaves and refrigerators. If the refrigerator, for example, begins leaking, a customer can slip and fall.
Slip and falls at Best Buy entrances and exits—the most common accidents are caused by missing or misplaced weather mats near doorways.
Slip and falls in Best Buy store bathrooms—these accidents are usually attributed to water on the floor creating a slippery surface. When customers wash their hands, they must take a few steps with wet hands to reach the paper towel dispenser or hand dryer. Because of this, it is likely that water droplets will accumulate and create puddles that can cause unsuspecting shoppers to slip and fall.
Slip and falls in Best Buy parking lots and sidewalks—these accidents usually occur because of uneven sidewalks, cracks, or potholes in the concrete. These accidents can also happen when ice forms on sidewalks.
Slip and falls in Best Buy's electronics department—this department might include product displays where shoppers can try out the items before they decide to buy anything. These items are usually connected to chargers. In instances when the charger is not connected to the device, but rather laying on the ground, customers can potentially trip.
Slip and falls in Best Buy's grocery section—some Best Buy stores offer a limited variety of groceries near the check-out lines. If any product is spilled, customers run the risk of injury.
Slip and falls near food vendors inside Best Buy—food vendors might enter the store to replenish their displays near the check-out lines. If the vendors leave any boxes or carts unattended, customers can be harmed.
As you can see, there are risks for customers to end up falling on the ground nearly everywhere on store property. These risks might not be clear to customers; therefore, managers and employees must actively look for, identify, and remove any hazards before an accident occurs.
Settlements and Verdicts
If you are considering making a Best Buy personal injury claim, you might be wondering about the common Best Buy settlements and verdicts. Although your Best Buy slip and fall claim might not reflect the numbers of past cases, it is still important to be familiar with the past settlement and verdict amounts. Below are a few examples of slip and fall settlements and verdicts:
$25,000—the victim slipped and fell on water as he was entering a store. The accident resulted in a painful back injury.
$75,000—the victim slipped and fell after stepping on flyers that were all over the store's floor.
$15 million—the victim slipped and fell on ice. She suffered injuries that required four different surgical procedures.
$44,000—the victim slipped on a wet floor.
As you can see, the settlement and verdict amounts vary. For more information about how much your slip and fall lawsuit is worth, you need to contact Normandie Law Firm's lawyers who sue Best Buy for your injuries.
Normandie Law Firm
Whether you were injured in a Best Buy parking lot accident or a restroom accident, if the accident was caused by the negligence of a manager or an employee, you have the right to sue. Contact Normandie Law Firm to meet lawyers in Los Angeles that can help you. Normandie Law Firm's attorneys experienced in slip and fall claims will fight for you until you receive the compensation you deserve.
Normandie Law Firm offers clients free consultations and free second opinions. You simply have to call our law firm and someone will help you schedule an appointment at your earliest convenience. During your free consultation, you should expect our lawyers with experience in handling Best Buy slip and fall lawsuits to answer all of your questions and address all of your concerns. If you already have an attorney with another law firm but feel like you are missing important information, you might benefit from a free second opinion. Some attorneys rush through cases and overlook or neglect key details that can affect the outcome of your case. Contact Normandie Law Firm as soon as possible; our slip and fall injury claim attorneys will help you get your claim back on the right track.
Normandie Law Firm gives all clients a Zero-Fee guarantee that ensures that they will never have to pay any upfront fees. Our law firm is also based on contingency; so clients will not have to pay anything for our legal services until our slip and fall lawyers win their case. Contact Normandie Law Firm today and begin the process of your Best Buy slip and fall lawsuit.