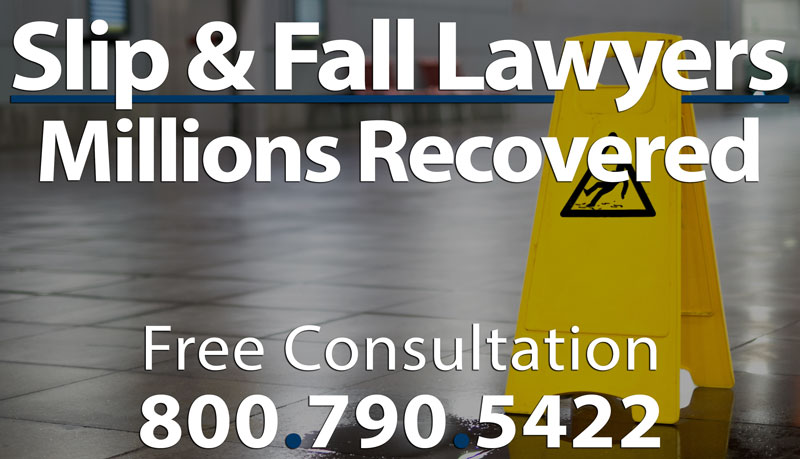 For many shoppers, Staples is the go-to store for office-related needs. When someone enters a Staples store, they usually know exactly what they are purchasing. When shoppers enter the store, they do not consider the possibility that they might be involved in a slip and fall accident that can result in severe injuries. Unfortunately, when store managers and employees fail to address hazards inside and outside of the store, customers are put at risk of suffering a slip and fall accident. Slip and fall accidents are the leading cause of injury among people of all ages and can happen when least expected. If you were injured at Staples after an accident, you might be considering filing a slip and fall lawsuit. You are likely asking yourself the following questions:
How can I sue Staples for a slip and fall injury?
What is the best way to file a trip and fall claim against Staples?
Besides answering the questions mentioned above, the following section will address all of the following:
How to file a slip and fall claim against Staples
How to sue Staples for a slip and fall accident
How to file a trip and fall lawsuit against Staples
How to sue Staples for personal injury
You should not use the information provided as a substitute for speaking to lawyers with experience in handling Staples slip and fall lawsuits. The information you will find below covers a broad area; only an attorney will be able to offer information specific to your case. Contact Normandie Law Firm as soon as possible to begin your Stapes personal injury claim.
Staples Slip and Fall Injury Liability
Who is liable when a customer slips and falls on Staples store property? A victim of a slip and fall at a Staples store might mistakenly blame him or herself for the accident. If you were injured at Staples, you might be blaming yourself for being clumsy or of not paying attention to where you were going. However, it is possible that the store—it's managers and employees—is liable for your accident and your injuries. Based on the policy of premise liability, stores can be found liable if customers suffer injuries on the store's property. Premise liability establishes the store's responsibility to maintain the store property in a way which guarantees customer safety. Store managers and employees must exercise reasonable care to promote customer safety; this might include the following: cleaning wet floors, keeping aisles free of obstructions, and placing warning signs near hazards that cannot be immediately addressed. What happens if store managers and employees fail to address a hazard and an employee is injured? If store managers and employees do not address hazards, they are breaching their duty to keep customers safe on their property. As soon as managers and employees breach their duty and do not address a hazard, they leave themselves open to the possibility of being accused of negligence. For more information on liability and negligence regarding Staples personal injury claims, contact a Staples injury attorney with experience in slip and fall accidents.
Risks Encountered at Staples Stores
When you enter any store, not just Staples, you might unknowingly encounter many risky situations. As shoppers, we might notice if something is out of place, but we might not recognize the possibility of an accident. Below is a list of some accidents that you might suffer whenever you enter a store:
Slip and falls at Staples entrances and exits
Slip and falls in Staples parking lots and sidewalks
Slip and falls in Staples store bathrooms
Slip and falls in Staples's electronics department
Slip and falls in Staples's grocery section
Slip and falls in Staples's home and housewares department
Slip and falls near food vendors inside Staples
What creates the risks of these slip and falls? Doorways are often equipped with weather mats—if these mats are misplaced or missing, a shopper can slip or trip and become injured. In parking lots and sidewalks, the pavement can be cracked, uneven, and sometimes contained potholes; all of these can cause a shopper to fall on the ground both on the way in and out of the store's property. Wet floors in Staples bathrooms near toilets or sinks can result in customers slipping and falling on the floor. Displays in the electronics and home departments can pose a threat for a few reasons. These displays are usually functional displays, so there might be an extension cord somewhere near the display. If a customer trips on the cord, not only is it likely that the customer will fall, but it is also likely that the display will fall over and injure the victim even further. Many stores have a "no food or drink" policy to avoid spills and additional hazards to customers. However, any spill no matter if the food or drink is brought from an outside source or if it is purchased in the store can cause an accident. If your local Staples store is carpeted, loose carpeting anywhere in the store can cause you to trip and fall.
As you can see, you might encounter a risk anywhere in Staples. If you tripped over loose wires or tripped over an extension cord, you can file a trip and fall accident lawsuit. Do not hesitate to take legal action. After experiencing Staples slip and fall accidents, contact Normandie Law Firm to speak to attorneys experienced in Staples personal injury claims.
Common Slip and Fall Injuries
If you are an injured shopper, you might be interested in knowing about the common injuries acquired in Staples slip and falls. Although the locations of the accidents can vary, the type of injuries sustained roughly stay within the same limits. Below is a list of some of the injuries common to slip and falls:
Head and traumatic brain injuries
Neck and back injuries
Shoulder and hip injuries
Spinal cord injuries
Broken bones, fractures, and sprains
Bruises and scrapes
Although the injuries stay among the same lines, the severity of the injuries can differ in each victim. Some injuries can be treated with a single medical visit. Other injuries require constant medical attention and surgical intervention. In the most critical injuries, the victim will require lifelong medical treatment and will be in constant pain. Regardless of the extent of your injuries, if you are interested in suing Staples after tripping on loose wiring—for example—and falling on the ground, you should keep a close record of all the medical bills related to your injuries. This information will be vital when you contact Normandie Law Firm and speak to Los Angeles attorneys in regards to your Stapes slip and fall claim.
What to Do after Your Slip and Fall Accident


After your Staples parking lot accident or slip and fall anywhere in the store, it is important that you take immediate action. If you simply get up and rush out of the store, it might be difficult to file a claim if you find that you suffered injuries at a later time. The following is a quick list of what you should do immediately after your accident to ensure that your slip and fall claim is filed smoothly:
Ensure that a manager or store employee is aware of your accident. The manager or employee should make a written report of the incident. You should request a copy of this report.
Take pictures of the scene of your accident. Ensure that you capture the cause of the fall. If your fall was caused by loose carpeting, loose wiring, missing weather mats, or a spill, make sure that it is clear in the picture.
Ask for witness information. If there were any witnesses to your slip and fall accident, ask to take down their information: names and phone numbers.
Request medical attention. Even if you are unsure of the severity of your injuries, you should seek medical attention right away.
Then, you should contact a personal injury law firm like Normandie Law Firm and schedule a consultation with attorneys that can sue Staples for your injuries. If you provide the information mentioned above, the process of filing Staples accident claims will be facilitated.
Past Settlements and Verdicts
If you are considering filing a lawsuit after your slip and fall accident, you might be wondering about the common Staples settlements and verdicts. Below are a few examples of past settlements and verdicts:
$160,000—the victim asked an employee for help finding an item in the local Staples store. Upon arriving at the correct aisle, the employee removed a "wet floor" caution sign. As the customer reached for the product, she experienced a slip and fall accident.
$159,125—the victim slipped on ice that had formed on the sidewalk near the entrance of a store. He suffered a torn muscle which required surgical treatment.
$44,383—the victim slipped and fell on a slippery substance spilled on a store's floor. She sought medical attention for her lower back pain.
As you can see, the settlement and verdict amounts listed above vary. To receive an estimated case value, you should contact a Staples injury attorney who can evaluate your case and give you the estimated amount. The value of your case will depend on the severity and permanency of your injuries, the extent of your medical bills, and on other things like lost wages and pain and suffering.  Contact Normandie Law Firm as soon as possible.
Normandie Law Firm
Normandie Law Firm is a personal injury firm dedicated to helping victims of slip and fall accidents understand that customers can sue for their injuries. Store managers and employees have the duty to keep store property free of potential hazards; if this does not happen, customers can sue for the injuries sustained during slip and fall accidents. Victims of slip and falls must immediately contact lawyers in Los Angeles regardless if the accident occurred in Staples parking lots and sidewalks or inside in their aisles.
Normandie Law Firm offers clients the opportunity to speak to lawyers who sue Staples at no cost. Our firm offers free consultations and free second opinions. During your free consultation, you can expect our attorneys who sue Staples to answer all your questions and address all of your concerns while evaluating your case. You can expect to leave your free consultation feeling confident in beginning a legal process against Staples. If you already have an attorney but feel that you are missing information, you might be interested in our attorneys giving you a free second opinion. Some attorneys rush through cases and overlook or neglect key information that can affect the outcome of your case. Do not allow the incompetence of your current attorney lead to a negative outcome of your slip and fall case against Staples. Contact Normandie Law Firm as soon as possible for a free second opinion from our trusted attorneys.
Normandie Law Firm's free consultations and free second opinions form a part of our Zero-Fee guarantee. You will never have to worry about paying any upfront fees for our legal services. Because our law firm is strictly based on contingency, you will not have to pay anything until our slip and fall personal injury attorneys win your case against Staples. Contact Normandie Law Firm today to schedule a free consultation or free second opinion at your earliest convenience.