Hospital Slip and Fall Lawyer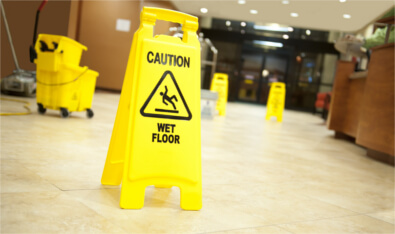 Slip and fall and trip and fall accidents can lead to injuries that range from minor bumps and bruises to severe traumatic brain injuries (TBI). In more severe cases, the injuries sustained from a slip or trip and fall accident can result in extensive medical treatment or even prolonged damages and disabilities. If the injury were caused by the fault of a medical professional or assistive staff the hospital, urgent care, emergency room, doctor's office, or medical office may be held liable for damages. At one of the top legal groups in Los Angeles, Normandie Law Firm, our skilled attorneys who have experience handling slip and fall claims can assist you in pursuing legal action and claiming monetary compensation. If you have any questions after reading this article, please feel free to contact our top-rated law offices. An expert attorney who has experience in slip and fall cases will be available to talk with you.
Slip/Trip and Fall Injuries
Slip and fall injuries can occur anywhere at any time; however, if they happen at a hospital or other kind of medical office due to a lack of attentive care, that hospital or medical office can be held liable for damages. Listed below are the twenty major hospitals in Los Angeles where a slip and fall accident can occur:
Ronald Reagan UCLA Medical Center
Cedars-Sinai Medical Center
Hoag Memorial Hospital Presbyterian
Huntington Memorial Hospital
Keck Hospital of USC
UC Irvine Medical Center
Long Beach Memorial Medical Center
Providence Little Company of Mary Medical Center Torrance
St. Joseph Hospital
St. Judge Medical Center
Kaiser Permanente Los Angeles Medical Center
Providence Holy Cross Medical Center
Kaiser Permanente Anaheim Medical Center
Orange Coast Memorial Medical Center
Torrance Memorial Medical Center
Glendale Adventist Medical Center
Mission Hospitals, Mission Viejo and Laguna Beach
Kaiser Permanente Downey Medical Center
Kaiser Permanente South Bay Medical Center
Providence Tarzana Medical Center
These are just some of the hospitals in Los Angeles where a slip and fall accident can occur. However, regardless of location, a slip and fall accident can have serious consequences on those who experience them. The injuries of these accidents can vary and some victims can be injured in more than just one way. Listed below are some of the common injuries that result from slip and fall accidents:
Head Injuries: head injuries can be extremely serious. Often called Traumatic Brain Injuries or TBIs, these injuries can range from a minor concussion to severe trauma that can cause ongoing seizures, mood changes, cognitive impairment, and other debilitating symptoms. TBIs can require emergency room treatment or hospitalization, and can even lead to death.
Hip Fractures: Hip fractures often require surgery and hospitalization. In some more severe cases, surgery may be necessary to implant an artificial hip. Out of every five hip fracture patients, one of them dies due their injury.
Back and Spinal Cord Injuries: Injury to the spinal cord can lead to permanent paralysis, temporary paralysis and other severe neurological and sensory impairments.
Shoulder Injuries: trip and fall accidents can result in shoulder dislocation or a more serious form of shoulder injury called a 'brachial plexus injury.' The brachial plexus is a network of nerves that connect the shoulder, arm, and hand to the spinal cord. Brachial plexus injuries are treated with surgery followed by physical therapy.
Sprains and Fractures: The force of slipping and falling can cause minor to severe bone injuries. In some cases, the impact of the ground could cause minor sprains, in others; it could cause debilitating bone breakage that may result in temporary disability. Some of the common fractures that victims suffer include hip, spine, forearm, leg, ankle, pelvis, upper arm, and hand.
Most of these injuries require medical treatment to fully recover. This treatment can often be expensive, and challenging to pay for out of pocket, especially if the injuries sustained have led to a temporary disability. For this reason, it is important to seek out proper legal assistance if the injury occurred as the result of the fault of another; in this case, a hospital. An accomplished lawyer experienced in slip and fall cases can help you receive a settlement.
Your Case
Clients who come into our law firm hoping to file a slip and fall lawsuit against a hospital or medical office often ask a broad range of questions that are somewhat similar to one another. Some of those frequently asked questions are as follows:
Can a hospital be sued for slip and fall?
Can you sue a hospital for a slip and fall accident?
Can I sue a clinic for a trip and fall injury?
The answer to these questions is yes. However, this all depends on the aspects of your particular incident. For instance, if the slip and fall accident was not caused by the fault of a hospital or medical office staff, then the staff cannot be held liable for the damages. For instance, if your slip and fall accident was caused by something you caused, such as a spilled drink, the hospital cannot be held liable for the ensuing damages. Listed below are some of the common causes of slip and fall accidents:
Floor contaminants
Drainage issues
Clutter
Lighting
Uneven steps and stairs
Surface irregularities
A hospital can be held liable if these or any similar slip and fall causes could have been prevented. For example, if there is a leaky pipe in an emergency room hallway, it is up to the emergency room and greater hospital staff to ensure that patients and visitors are aware of the hazardous environment. The potential threat of this hazard can be mitigated with a wet-floor or caution sign.
Many of our clients also ask if they can sue for medical malpractice if they slipped and fell at a hospital. Unfortunately, unless you are a patient at the hospital, or your fall occurred during your treatment, it is likely that medical malpractice would not apply. However, if for instance, a doctor or nurse asked a patient to walk down a hallway and they slipped in the process, that patient could file a medical malpractice lawsuit. More information can be found by consulting with an experienced attorney.
All slip and fall accident lawsuits fall under premises liability. Premises liability means that all property owners can be held liable for injuries that occur on their property. Hospitals are subject to premises liability as much as any other business, and as such must take the reasonable steps to ensure the safety of their premises. This involves regular inspections of the hospital facility for any sign of defects or potential hazards.
While every slip and fall accident case is different, listed below are some important facts that you should consider when pursuing legal action:
Did the condition that caused your injury exist long enough that a reasonable property owner or employee could have taken action to eliminate the hazard?
Was there a reasonable justification for the hazard's potential creation? If so, did this justification exist at the time of the slip and fall incident?
Could the hazardous condition have been made less dangerous through preventive safety measures such as relocating the hazard, placing adequate warning signs, or preventing access to the location?
Was poor lighting or limited visibility a contributing factor in the slip and fall incident?
In pursuing your lawsuit, a property owner may argue that you are partially or responsible for the accident that led to your damages. This argument is called 'comparative fault, and its codification varies from state to state. In the state of California, comparative negligence applies to plaintiffs trying to file a slip and fall accident lawsuit. 'Comparative negligence' allows for the plaintiff to sue for the percentage of damages attributable to the defendant. Listed below are a few things a hospital may consider when defending their case:
Did you engage in any activity that may have prevented you from noticing the hazard, when an otherwise reasonable person would have noticed it?
Did you have lawful access to the location where the accident occurred or was there a legitimate reason for you to be in a dangerous area?
Were there adequate warning signage posted, and were other safety measures ignored.
For more information or clarification, you should seek the help of one of our qualified attorneys with experience in slip and fall cases.
Normandie Law Firm
When pursuing a slip and fall lawsuit, it is wise to consult an attorney with expertise in slip and fall injury lawsuits. Having an adequate attorney on your side can mean the difference between filing a claim for significant monetary compensation and having your case thrown out in court. At Normandie Law Firm, our experienced lawyers can assist you in resolving your case. Our firm is based in Los Angeles, but our attorneys practice in Orange County, Bakersfield, Modesto, Fresno, San Francisco, San Jose, Oakland, Oxnard, San Diego, Riverside, San Bernardino and throughout all of California. As a further display of our commitment to you and your case, our firm operates under a strict zero fee guarantee policy. Under this policy, you don't have to pay anything until we win your case. This policy also ensures free second case reviews for all of our clients.