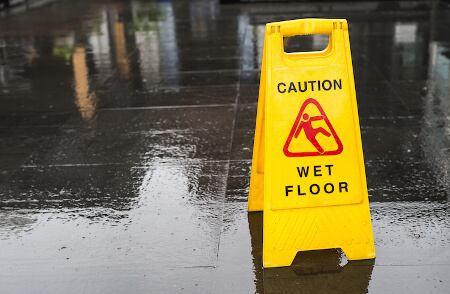 Slip and fall accidents happen more and more every day. There are two types of slip and fall cases—fall from the same level and fall to a lower level. These two types of falls cause the second and third highest number of injuries Same-level falls account for 65% of all injuries. Although not as common, elevated falls are more serious; 60% of all elevated falls occur from 10 feet or less. Wholesale, retail, and service industries together make up over 60% of same level falls. The manufacturing industry accounts for 16% of these falls.
As you can see, slip and fall accidents occur frequently. These accidents can also happen practically anywhere. Common locations of slip and fall accidents include the workplace, department or grocery stores, hotels or resorts, small businesses, private homes, rented homes and apartments, and public spaces—like sidewalks, streets, or parks. If you had a slip and fall accident and developed an injury, you have the right to sue the party responsible for your accident. Depending on the location of your accident, the party responsible can be different. Regardless, you have the right to file a lawsuit. Contact our top-rated law firm to speak with an accomplished attorney with expertise in slip and fall injury lawsuits in Los Angeles to evaluate your case and discuss how much your case could be worth.
Frequently asked questions:
How much money can you get for a trip and fall accident?
How much is a slip and fall accident case worth?
How much is a trip and fall, or slip and fall case worth?
While thinking about submitting a claim, you may have asked yourself some of the questions listed above. A skilled attorney will give you a general idea of the compensation amount for a slip and fall accident lawsuit that you should expect. Your injuries are the first determiners of your case worth.
Common Slip and Fall Injuries
If you were injured in a slip and fall accident, you are one of the million Americans that are injured every year. About 20% through 30% of people who have a slip and fall accident will acquire moderate to severe injuries. Here are some of the injuries that come as a result of slip and fall accidents:
Head injuries
Hip fractures
Back injuries
Spinal cord injuries
Shoulder injuries
Sprains
Fractures
The most severe injuries are head injuries, hip fractures, back injuries, and spinal cord injuries. The other types of injuries are less severe, but not any less important.
Why are these injuries so severe? Head injuries can result in traumatic brain injuries (TBIs). A severe traumatic brain injury may cause a victim difficulty with attention, concentration, memory, and language processing. Language and speech issues may include problems reading and writing, speaking very fast or very slow, slurred speech, difficulty speaking and being understood, and not understanding speech. TBIs may also affect the senses; a victim may experience blurred vision and ringing in ears, for example.
Hip fractures and back injuries are also considered severe injuries because of the undeniable amount of pain that a victim will feel. These types of injuries often result in the patient having to take a large amount of pain-relieving medications. Also, this injury usually requires surgery and extensive therapy to regain the strength that was lost after the injury.
The most serious type of injury is a spinal cord injury. Spinal cord injuries can be treated but cannot be reversed. Treatment includes invasive surgery to remove whatever is causing the spinal nerves to be compressed and painful. Depending on the site of the injury—lumbar spine or cervical spine—the injury can cause different symptoms. A lumbar spinal injury can cause weakness in the legs and, if the injury is very serious, paraplegia. A cervical spine injury can cause severe weakness in the entire body and ultimately result in quadriplegia.
As you can see, these types of injuries can permanently alter someone's life and physical abilities. Additionally, someone whose injuries caused permanent damage and loss of physical capabilities might be eligible for a higher slip and fall settlement in comparison to someone who just fractured a wrist. For more information, reach out to an expert lawyer experienced in slip and fall cases.
Slip and Fall Verdicts and Settlements
No two slip and fall cases will reflect the same injury, situation, and settlements. A Los Angeles lawyer who is experienced in slip and fall injuries may be able to give you an average case value of slip and fall cases. The value of the case will depend on a few factors like the extent and permanency of your injuries, your income before the injuries, your ability to work after the injury, and, perhaps most importantly, the competency of the lawyer representing you. The lawyers at Normandie Law Firm will do everything in their power to ensure that you receive all of the compensation you are eligible for. Here are a few past slip and fall injury settlement amounts:
$40,000 — a man suffered from debilitating pain that led to depression and suicidal tendency. He claimed that his pain after the injury reduced his physical activity and caused rapid weight gain.
$110,000 — a 35-year-old man suffered a severe sprain to his ankle. He had to go through extensive medical treatment.
$212,000 — a 70-year-old female suffered a torn tendon in her hip. Her medical bills summed up to $12,000.
$237,500 — a 63-year-old man suffered a tear of the quadriceps tendon in his right leg. He had to undergo surgical repair, followed by rehabilitation, and finally admission to a convalescent home for recovery.
$265,000 — an 88-year-old woman suffered a fractured right hip. She had to undergo surgery to repair her injury.
$1.6 million—an 85-year-old man suffered a broken femur.
$2.3 million — a 49-year-old suffered from a spinal cord injury.
$12.2 million — a woman suffered seizures and post-concussion syndrome. She lost her ability to multitask and therefore current perform her work as she did before the accident.
The average payout for slip and fall injuries can vary from relatively low amounts to very high amounts. An experienced attorney may not be able to give you an average settlement amount, but he or she may review past slip and fall injury settlement amounts, and help you understand your case value.
File Your Claim
If you are looking to file a trip and fall lawsuit in Los Angeles, California, you must contact Normandie Law Firm as soon as possible. You only have two years from the date of your injury, or two years from the date you discovered your injury to file a claim against the party responsible. Our top Los Angeles attorneys with experience in slip and fall cases will talk to you about past slip and fall settlement amounts and help you file your slip and fall lawsuit. Reviewing settlement amounts for slip and call cases with one of our experienced lawyers should help you understand the value of your case.
The Normandie Law Firm
Contact Normandie Law Firm today and get the personalized treatment you deserve. Our trusted attorneys are available to answer all of your questions and concerns. Call us now and schedule a free consultation to speak to a qualified attorney who has experience slip and fall cases. You may already have a lawyer at a different firm. If this is the case, you may be feeling unsatisfied with the way he or she is handling your slip and fall lawsuit. Other lawyers simply want to settle as many cases as soon as possible, so they can cash out and move on. Our lawyers here at Normandie Law Firm do not work that way. We are committed to giving our clients all the time necessary to maximize the value of the case. We are not interested in handling the most cases; we are interested in getting our clients all of the compensation they deserve.
FREE LEGAL CONSULTATION: Our law firm offers all of our clients' peace of mind. With our Zero-Fee guarantee, we want our clients to feel at ease. You should not have to worry about paying any upfront fees. We understand that your injuries have caused enough suffering; we do not want you to have to stress about having to find the funds to cover lawyer fees. Normandie Law Firm is strictly based on contingency. Contingency means that you are not expected to pay anything to our firm until our lawyers with experience handling slip and fall claims win your case. You will only pay once you receive all the compensation that you deserve. Contact Normandie Law Firm today.