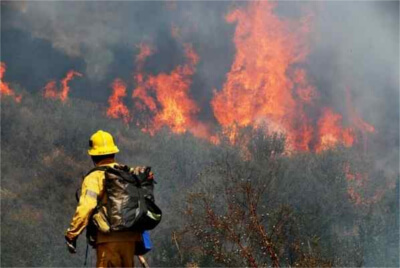 During fire season in California, citizens who live near wooded areas face constant risks associated with blazes that occur in the wild. Wildfires can eat up thousands of acres of forest and land each year, and if not properly contained or dealt with, can even creep out and claim nearby houses and structures. Even if these blazes are kept under control, there are still residual effects that can cause damage to property; smoke, ash, and cinder may not be enough to totally destroy a house, for example, but together the materials can render many parts of the house, and even the property, useless. As such, insurance companies are less likely to pay out maximum amounts of money for damages that are not as readily apparent or as severe as a total destruction and reduction to rubble. Normandie Law Firm, one of the top legal groups in Southern California, strives to help you get the maximum compensation available in the wake of a wildfire that damaged your home. Our clients, however, are usually in need of information when dealing with insurance companies and figuring out how best to proceed if a claim has been low balled or denied. They ask our experienced lawyers questions like:
I need a La Tuna fire injury attorney. Who can I call?
Who can I contact to file a La Tuna fire smoke lawsuit?
My house was damaged by smoke and ash after a fire. How much is my case worth?
What is the average value of a smoke and ash claim?
How much can I receive for a smoke and ash settlement with my insurance agency?
What Smoke and Ash Can Damage
Fires are able to claim whole neighborhoods if they rage out of control, and it is no surprise that a fast-acting fire can swallow a home in minutes, leaving nothing behind but char and ash. While homeowner's insurance is usually reliable when dealing with the loss of a home, there are other times it is much less reliable. For example, fire season yields many blazes in the woods; these fires are usually contained and do not spread to civilization. However, the smoke and ash that comes from them can damage your house and property in many ways. Some of the ways include:
Land Damage: If you own land, the smoke can choke trees, shrubbery, plants, gardens, and other green life on your plot. Some of these plants may be pricey to maintain or be irreplaceable. Additionally, your lawn and yard may be covered in layers of ash and soot that can kill grass and seep into the dirt, making planting new life difficult or impossible.
Outside Property Damage: You may have numerous outdoor belongings, such as lawn chairs and patio furniture, that can be hit with ash. A quick cleaning is usually enough for these to look good as new. However, some belongings, like pools, can be more severely damaged. Pools have filtration systems that help keep the water clean and sanitary. Soot and ash can get into these filters and pumps and clog them, resulting in dirty water that cannot be swum in; further, the materials themselves may need to be replaced, as they are not meant to filter out all kinds of unwanted gunk.
Household System Damage: Your house consists of many systems working together; it is not merely a structure made of wood and stone. Its systems can include heat, gas, air conditioning, and plumbing. Soot and ash can clog airways, vents, pipes, tubes, and more, leading to these systems no longer working.
Damage to Belongings: Any belongings you have in the house, including curtains, furniture, rugs, and clothing, can be covered under homeowner's insurance. This falls into the category of contents coverage, while damage to the structure of your home, including the walls and wall-to-wall carpeting, is dwelling coverage.
If your house has been damaged in any way, it is advised that you seek the assistance of a skilled attorney with expertise in smoke and ash injury lawsuits.
How to Deal With Insurance Agencies
Even though soot, smoke, and ash can cause all of the above damage, many insurance agencies do not consider it to be as severe or worth a large sum to fix. They believe that total destruction of a house is what should earn maximum compensation, and anything less should be doled out accordingly.
It should be noted that insurance agencies can fail in their duties if they mislead, misinform, or otherwise ignore their duties vis a vis homeowners and property damage. For example, if your home's ceiling was damaged with mold and the vents were filled with ash, but the insurance adjuster did not inform you, the company could be held under bad faith. Therefore, the laws will have been broken.
The best route to dealing with insurance agencies is to enlist the help of a qualified attorney who has experience in smoke and ash claims.
Steps to Take
In order to prevent being taken advantage of by an insurance company, you should make sure to have adequately documented all of the damage to your house (and have previous photos if possible), having adequate knowledge of your insurance policy, and do not automatically accept the first offer your insurance company gives you, if they give you one at all. They purposely give you lower amounts than they are supposed to pay, as they are required to pay a minimum amount. If you accept that amount, you essentially forfeit any future case in getting further compensation through the company.
The proper lawyer will be able to help you get on the right track with the insurance agency. Claims adjusters and agents are likely to take advantage of regular citizens who do not know the law and are unable to negotiate due to a lack of time and funds; for that reason, the expert attorneys with experience in smoke and ash claims at Normandie Law Firm are the right choice.
How We Help
Normandie Law Firm helps you earn as much money as possible from an insurance settlement as we can. Smoke and ash claims can earn you thousands of dollars in property damage and cleaning costs, but the average compensation depends on many factors, including the extent of the damage and what all was affected. Regardless of the circumstances, however, we make sure to get lawsuit settlements for all our clients. Our accomplished attorneys with experience handling smoke and ash claims will do whatever they can to bring you a fair settlement.
You may already have an attorney who is working with you on your smoke and ash claim and you want a second opinion. We offer free legal consultations to all clients and we can tell you what we think you can earn for an insurance payout. Many lawyers are content to speed through claims and cases merely to get paychecks; Normandie Law Firm, on the other hand, pays attention to each client and treats each case with attentiveness and care. Our aggressive lawyers fight for your rights as a homeowner and we will not rest until you get the proper insurance payout you need.
Do not let shoddy attorneys bring you the mere average settlement. Work with a lawyer experienced in smoke and ash claims at Normandie, and we promise to bring you a smoke and ash claims settlement that you will not be disappointed in.
For all of our clients, we offer zero fee guarantees on our cases. This means that you do not pay us a dime out of pocket for our legal services. We only get paid when we win your case – and only from the settlement amount, so you don't spend any of your own money. We feel this is fair to our clients, as more often than not they are not in a position to pay for legal representation in their current states. We believe all people deserve legal assistance, and cost should not be a factor. If we do not win your case, we do not take any money whatsoever.
To contact an experienced attorney about a La Tuna fire smoke and ash claim with your insurance company, call the top-rated Normandie Law Firm today for more help.
Other pages on our website dealing with this topic:
La Tuna Fire Lawsuit Attorney