La Tuna Fire Smoke and Ash Lawsuit Attorneys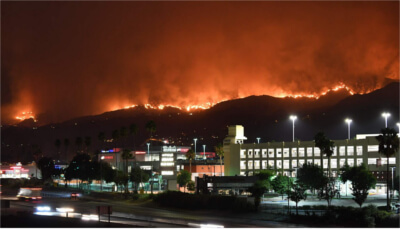 Our law firm is currently investigating the possibility of lawsuits in connection with the fire in La Tuna Canyon.
Progress of the Fire in La Tuna Canyon
Over the past few days, the fire in La Tuna Canyon has continued to rage, taking thousands of acres down with it and drawing the efforts of over a thousand firefighters and other emergency personnel.
Labor Day Weekend passed with the fire burning 7,000 acres of woods in La Tuna Canyon in Burbank. The fire had been steadily resisting the firefighters' attempts to put it out; the men and women were working around the clock to build trenches to catch the flames and administer water to quell them. In La Tuna, the challenges faced by the firefighters were formidable: steep and uneven terrain made vehicular support and such difficult, while the hot weather (save for Sunday's brief stint of rain) dried everything out even more.
However, as Tuesday, rolled around, Los Angeles Fire Chief Ralph Terrazas stated that there was no active fire left, and the containment number was sitting in the 30% range. As the fire burned down, Terrazas believes the worst is generally over, and is confident the crews will have everything completely under control very soon. However, he said, "winds could easily rekindle" the fire, and as the Santa Ana winds are right around the corner, this possibility is very real.
Effect on Citizens
Interstate 210 was partially closed over the weekend so that firefighters had more room to work. This increased traffic for a few days leading into surrounding areas like Pasadena and Hollywood. However, more dangerously, the fire could have spread up through the canyon and hit nearby homes and neighborhoods.
There was a state of emergency issued on Sunday, although the mandatory and voluntary evacuations of nearby citizens were lifted. The evacuations were done to protect the people, life, and structures in the area, but also to ensure the firefighters had access to all necessary resources to do their jobs.
Over the course of the fire's life, it has destroyed 7 buildings and caused 8 people to sustain injuries.
The Potential Aftermath
Wildfires in California can last for many days and spread far, but their effects are not limited to just the wooded areas they consume. The smoke and ash that gets carried on the wind to nearby suburbs and cities can be problematic for your health and cause damage to your property.
Some of the types of damage smoke and ash from a wildfire can cause include:
Damage to outdoor pools and hot tubs, whose filtration systems and pumps can get clogged from the ash and residue carried over from the fire. It is costly to maintain pools, whether above the ground or in the ground, and fixing or replacing filters and other parts can be expensive.
Lawn and earth damage resulting from soot and ash, which can suffocate greenery and kill grass, shrubs, and plants. Landscaping and gardening can be pricey, and if you put a lot of money into your property, it could all go to waste within a few days if excess residue causes problems.
Structural damage can occur as well. There may be mold that forms on the roof and in the crevices and spaces of the house, which can lead to hazardous living conditions for you and your family. Mold is dangerous to breathe in, and removing it is not cheap. Experts will need to help you fix your house.
Internal systems may be harmed in the aftermath of a fire. These systems include heat, central air conditioning, and plumbing. Ash and other materials can get sucked into the vents and pipes inside your house and prevent these systems from working properly, leading to costly repairs.
All of this damage should be covered by homeowner's insurance; your insurance agency should send out a representative who will evaluate the premises and determine the worth of your claim from the damages he sees. Insurance agents are not to leave you uninformed of any damages, for instance, or they will be subject to grounds for a retaliatory lawsuit. Additionally, the agent cannot advise you to not get an attorney, misconstrue or misrepresent facts of the damages, or take too long to act on a claim (whether that claim is to be accepted or denied).
Breaking any of these tenets can result in you having ample grounds to issue a lawsuit against your insurance company.
Handling a Claim
If you are pursuing La Tuna fire smoke and ash claims, you should make sure that you have adequately documented everything possible relating to damages around the house. You can do this by taking numerous photos and videos, as well as conducting an examination of your house yourself. It also helps if you have previous photographs and videos to serve as comparative tools. Further, you should be familiar with your insurance policy and what is covered under it; it will not be good for anyone if you believe your insurance covers something it actually does not.
However, some insurance agencies, regardless of how attentive and meticulous you are, will still do everything in their power to lowball you and not pay as much as they should, or will outright deny your claim. When an insurance company has displayed this bad faith and not paid out its dues to insured homeowners, it can be hit with a contract claim and a tort claim. You are able to sue for the damages you are supposed to receive under your policy, and can even sue for punitive damages as well. These punitive damages exist purely as further punishment for the entity in an attempt to prevent further similar actions from happening or to make an example out of the situation. Punitive damages are difficult to argue for in any case, however, and only a skilled attorney will be able to successfully win them for you.
It is key that you also do not accept any low or minimal offers from an insurance agency, as you will not be able to collect proper compensation thereafter if you agree to those terms and that payout. Your La Tuna fire damage lawsuit will be hopeless.
Who Can Help?
When dealing with homeowner's insurance and situations arising from smoke and ash residue that has drifted over due to a wildfire, you should make sure you have the most experienced, skillful attorney in your corner helping you get all the restitution you deserve. You should not have someone on your side who is not experienced in dealing with homeowner's insurance or who has not been involved in smoke and ash claims. You need the proper law firm to sue your insurance agency on your behalf.
Normandie Law Firm is the right choice for you. For years, we have been actively helping clients whose homes have been damaged by smoke, ash, and wildfires. No case is too unique for us, and our depth of knowledge is such that we are never surprised by a case. We believe that all homeowners should be compensated for their losses when acts of nature cause damage to their properties, and insurance companies should not be let off the hook for denying claims.
If your home has received damage in any way due to smoke, ash, or cinder, contact a La Tuna fire attorney at our law firm today for a free legal consultation. We will discuss your insurance policy and how likely it is to be approved, as well as what we think you can earn if you pursue a lawsuit against a company that has denied your claim or low-balled you. Our lawyers are empathetic to your situations and place you first. Our goal is to get you a settlement that can bring your life back to its normal state, with as little hassle to you as possible.
Free Consultation and Zero Fee Guarantee
We operate on a zero fee guarantee policy, which states that our legal fees are not charged to you until we win you a settlement. You do not pay any out of pocket expenses for our representation; the insurance company would take care of our pay. We do this because we feel legal assistance should be a right afforded to everyone, regardless of their financial situations.
To hire a La Tuna fire smoke and ash claims attorney, contact Normandie Law Firm today.
Other pages on our website dealing with this topic:
Average value of La Tuna fire lawsuit