Woman, 23, Left In Critical Condition After Being Struck By School Bus Near Palmdale | 11-3-2017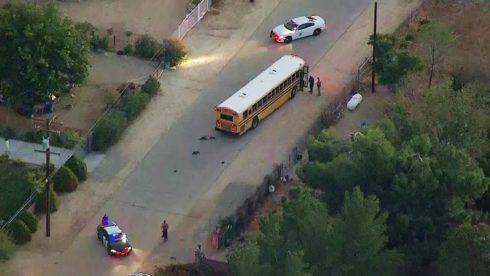 According to reports made by local authorities, a 23-year-old woman was transported to a local hospital in critical condition after being struck by a school bus near Palmdale, California Friday. The incident occurred at around 6:09 a.m. near the intersection of Pearblossom Highway and 123rd Street East in Southeast Antelope Valley. According to the California Highway Patrol officers, the accident involved a school bus and a pedestrian. At first, CHP, indicated that the victim as a student, however, under closer evaluation was determined to be a 23-year-old woman. Initially, there were plans to airlift the injured woman to a hospital. However, weather conditions proved to make that difficult. Fortunately, ambulances arrived on the scene and took the woman to a local hospital for treatment. According to Damian, a student, there were about 11 high school students onboard at the time of the crash. The cause of the tragic collision is still under investigation by local officials.
How to Receive Compensation For Your Damages
If you or a loved one have suffered injury as a result of this accident or any other accident similar you may be eligible to file a claim for monetary compensation. Drivers on the road, and more particularly school bus drivers are expected to drive safely and be wary of any pedestrians they may share the road with. In the state of California, pedestrians have the right of way, and as such are not typically held liable for the damages caused by a collision between the two. When filing a personal injury lawsuit against a school bus driver, it is important to understand the nuances and legal hurdles that come with the process. For instance, school bus drivers are more often than not a part of the unified public school district. As such, school bus drivers, and other school district employees are technically employed and funded by the government. The process of filing a lawsuit against a government entity can be somewhat challenging as there are a large number of rules and regulations that keep the average citizen from suing for damages. All government workers are protected by something called 'sovereign immunity.' Sovereign immunity essentially means that a public entity can decide when it can or cannot be sued for the damages they may have caused. As a result, it is incredibly important to seek skilled legal representation from an attorney to help guide you through the process and showing you how best to present your case.
If the accident involved a private school, the legal hurdles are a little easier to overcome. Private schools are typically funded by tuition costs that are charged to the families of the students that attend the school. For a student to attend a private school, they must satisfy the school's requirements for adequate grades and a satisfactory application. Since private schools are not funded by the government, they are somewhat easier to challenge in court. However, that is not to say that suing a private school doesn't have its hurdles. A bus driver for a private school can still employ expert legal assistance to help them dispute your claims. For this reason, it is incredibly important to have an attorney of your own to not only guide you through the process but in fighting for you and your case in court.
One of the key aspects to any personal injury case, regardless if it is being filed against a public or private school, is the successful claim of negligence. A claim of negligence is usually brought forward to prove that the defendant's direct actions resulted in the damages that you or your loved ones may have suffered. In any claim of negligence, you must have adequate evidence to support each component of your claim. This evidence can be made up of: photographs of the damages suffered; video footage of the incident occurring; eyewitness accounts from anyone who may have seen the incident; police reports; or even medical records showing the court the damages that you or your loved ones may have received as a result of the defendant's actions. Listed below are the key components to a claim of negligence that your evidence would help support:
Duty: The plaintiff (injured or damaged party) must be able to show that the defendant (public or private school or district) owed a legal duty to the plaintiff under the particular circumstances of the case.
Breach: The plaintiff must be able to show that the defendant breached said legal duty through specific actions or failure to act appropriately
Causation: The plaintiff must be able to show that the defendant's actions or lack thereof caused the plaintiff's injuries
Damages: The plaintiff must be able to show that they endured some specific damages. This can usually be shown through the presentation of medical records, a loss of wages, or a loss of potential income.
This incident involving a school bus colliding with a 23-year-old woman is a tragedy, and the damages that the injured woman has had to endure could last a lifetime. These damages can begin as physical injuries but turn into a lifetime of recovery, and years of paying back the mountain of debt accumulated as a result of the medical expenses. Fortunately, if you or a loved one has suffered damages as a result of this incident or any other similar incident, you may be able to seek the assistance of a skilled lawyer and file a lawsuit against the party responsible so that you may seek monetary compensation for the damages.
How Normandie Law Firm Can Help
Having the right attorney on your side can mean the difference between filing a successful claim for compensation and having your case dismissed from court entirely. At Normandie Law Firm our skilled Los Angeles car accident attorneys can walk you through the whole process from filing a claim to collecting compensation for the damages suffered. If you file a claim with our Los Angeles law firm, you could find some if not all of the following damages compensable to you:
Past & Future Medical Expenses
Loss of Wages
Potential Loss of Future Wages
Pain and Suffering
Emotional Distress (anxiety, depression, PTSD, etc.)
. Punitive Damages
Our Los Angeles attorneys have a wealth of experience in fighting for the rights of those injured in car accidents involving government entities and are committed to ensuring the best possible outcome for your case. While our law firm is based in Los Angeles, our lawyers also practice in San Diego, San Francisco, Riverside, Oakland, Fresno, and throughout the entire state of California.
Free Second Opinions
Other attorneys will sign you up to their firm but will disappear once your name is on the paper as they are busy signing up more cases. In these instances, their business is based more on volume and will attempt to sign up as many cases as possible. In turn, they will spend less time on cases resulting in severely reduced settlements. Our firm will not treat you like a number. We will be in communication with you throughout our lawsuit and will treat you like family. So if you already have an attorney don't worry, we'll give you a second review of your case 100% free of charge.
Zero Fee Guarantee-No Upfront Fees Ever
If you contact our law offices today, we can walk you through the complicated process of filing your claim completely free of charge. As a show this commitment to you and your case we offer our clients the benefits of a zero fee guarantee policy. Under our zero fee policy, all clients don't pay for our services until their case is won. If you feel in need of a second opinion, second opinion case reviews are also free under this policy. Please, feel free to give us a call, and we can guide you down the path of receiving proper compensation for your damages.