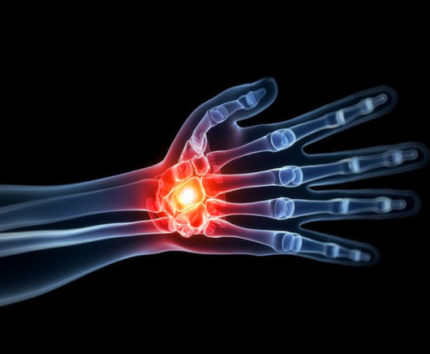 A vast number of injuries can occur as a result of a car accident. The force inflicted upon drivers and passengers during an automobile collision can be quite severe, and the body can only withstand so much. One of the injuries that drivers and passengers can suffer from after a car accident is wrist pain. Many victims of auto accidents complain about wrist pain after an auto accident. This, sometimes chronic, pain tends to arise as a result of wrist injuries. These wrist injuries can range from minor bruising to truly severe bone fractures. Many who complain of wrist pain are sometimes unaware that they have suffered a wrist injury. For this reason, this article will cover some of the common wrist injuries that can occur after an auto accident, possible treatment for wrist pains after a car accident, and what you can do to earn compensation for the injuries you or your loved ones have had to endure. For additional information, reach out to a skilled attorney who has experience handling wrist injury claims. Our experienced lawyers at the top-rated Normandie Law Firm will be able to assist you.
What Causes Wrist Injuries In Car Accidents?
Whether you're in a motorcycle accident or a truck accident the force behind the collision of two or more motor vehicles can result in devastating damages. In regards to this article, one of these devastating injuries can be inflicted upon the wrist. The wrist is an incredibly delicate part of the body, with some bones that aren't meant to sustain the kind of strain and pressure that a car accident can inflict. For drivers, a wrist can be damaged by the deployment of an airbag, or by making high force impact with the steering wheel or another part of the car. Passengers are also susceptible to the damages of wrist injuries after a car accident. A passenger can damage their wrist on the dashboard in front of them, the door, the windshield or any other interior component of the car.  In moving forward, it is in your best interest to understand some of the common injuries that can arise as a result of car accidents, and how best to address these injuries. If you have other questions, a qualified attorney with expertise in car accident injury claims will be able to help you.
Common Injuries After An Auto Accident
In a car accident, wrist injuries can arise in some ways. However, three kinds of wrist injuries can occur. A majority of the symptoms these injuries include things like: swelling, stiffness, numbness, and even a tingling sensation when using the wrist. This pain or discomfort can also take days or weeks to appear. For this reason, it is best to know the signs of the kind of wrist injuries that can occur. The three types of wrist injuries that you can endure are listed below:
Tendonitis: This injury occurs when the tendons in the wrist become inflamed. These tendons attach the muscles in the wrist to the bone. Tendonitis causes severe pain in the wrist joints. However, it is best to see a doctor to diagnose your condition as pains in the wrist joints could be a sign of another issue.
Fractures: There are 13 bones in the wrist, each of which is small, delicate, and prone to breaking. A wrist fracture often involves one of the primary carpal bones, but the bones in the arm that connect to the wrist can be broken as well. One of the most common types of wrist fractures is a distal radius fracture. Symptoms of wrist fractures include a sharp shooting pain and are best diagnosed through the assistance of a doctor and the administration of an X-Ray.
Strains and Sprains: The ligaments that connect the bones in the wrist can also be damaged, and results in a sprain or strain. The ligament can be stretched, partially torn, or fully torn which can require intensive reparative surgery.
Suffering a broken wrist, or any other kind of wrist injury can be incredibly debilitating to those unfortunate enough to have to experience them. The wrist is a crucial part of the body, allowing for proper function and mobility. When the wrist is damaged, the quality of life for a victim is directly damaged as well. Fortunately, some treatments can help you recover from the damages of a wrist injury caused by a car accident. With the help of a trained and accomplished medical professional, you could not only have your wrist pains diagnosed, but treated with a combination of medicine and surgical procedures. If you need a recommendation for an adequate medical facility, call one of our expert attorneys with experience in wrist injury cases.
Treating Wrist Injuries & What You Can Do To Earn Compensation
The recommended treatment for a wrist injury after a car accident can vary depending on the severity of the injury. For instance, for a wrist sprain there are some things you can do at home that will treat your injury, some of which are listed below:
Rest the wrist for at least 48 hours
Ice the damaged wrist to reduce pain and to swell every 20-30 minutes every three to four hours for roughly two to three days; or until the pain has dissipated.
Treat the damaged wrist with a hot or cold compress
Elevate the injured wrist above your heart as to decrease swelling. Do so as often as possible.
Take over-the-counter anti-inflammatory painkillers such as Advil, Aleve, or Motrin. Unfortunately, these drugs have side effects and should be used only on occasion unless otherwise specified by your doctor.
Wrap damaged wrist in cast or splint. This should usually be done temporarily before seeing a doctor
Practice stretching and strengthening exercises if recommended by a doctor. However, if your injuries are severe, it is in your best interest that you seek proper physical therapy.
While tendon sprains and strains can be easier to treat, wrist breaks and the tearing of the wrist's soft tissue should be consulted by a doctor. A doctor or other physician will examine the damaged area via an X-Ray, and decide from there what the best course of treatment should be. However, in the case of broken bones, the doctor will have to put the pieces back into position delicately and to prevent them from shifting out of that position while the injury is being healed. In the case of torn ligaments and tendons, more invasive procedures might be necessary to assist you in reaching a full recovery.
Unfortunately, hospital visits and surgery can be incredibly expensive. This medical expense can be somewhat daunting for individuals and can be practically overwhelming for those without adequate health insurance. Fortunately, if you or a loved one have suffered a wrist injury as a result of a car accident, you may be eligible to file a lawsuit against the at-fault party. Through a successful lawsuit, you could find compensation for damages like a loss of wages, medical expenses, pain and suffering, and even any emotional distress caused by the incident. However, when moving forward with legal action, it is always in your best interest that you seek legal representation from a skilled lawyer with expertise in cases of this nature. With the right attorney who has experience in car accident caused wrist injuries, you could find some, if not all of your damages compensated through the filing a successful suit.
How Normandie Law Firm Can Help
Having an experienced attorney on your side for your car accident wrist injury case can make the difference between filing a successful claim for compensation and having your case dismissed from court entirely. At Normandie Law Firm, on of the top law groups in the city, our Los Angeles attorneys are experienced in handling cases of this nature and committing all the resources that you need to find a positive outcome for your case. Clients who file a claim through our Los Angeles law firm can find some, if not all of the following damages compensable to them:
Past and Future Medical Expenses
Loss of Wages
Potential Loss of Future Wages
Pain and Suffering
Emotional Distress (anxiety, depression, PTSD, etc…)
Punitive Damages
Victims of wrist injuries from car accidents or any other motor accident can contact our law offices to receive more information on how to receive adequate compensation for their damages. While our law firm is based in Los Angeles, our attorneys also practice in San Diego, Orange County, Riverside, Oakland, San Francisco, Sacramento, and throughout the state of California.
Free Second Opinions
Other attorneys will sign you up to their firm but will disappear once your name is on the paper as they are busy signing up more cases. In these instances, their business is based more on volume and will attempt to sign up as many cases as possible. In turn, they will spend less time on cases resulting in severely reduced settlements. Our firm will not treat you like a number. We will be in communication with you throughout our lawsuit and will treat you like family. So if you already have an attorney don't worry, we'll give you a second review of your case 100% free of charge.
Zero Fee Guarantee-No Upfront Fees Ever
If you contact our law offices today, we can walk you through the complicated process of filing your claim completely free of charge. As a show this commitment to you and your case we offer our clients the benefits of a zero fee guarantee policy. Under our zero fee policy, all clients don't pay for our services until their case is won. If you feel in need of a second opinion, second opinion case reviews are also free under this policy. Please, feel free to give us a call, and a lawyer experienced in wrist injury cases can guide you down the path of receiving proper compensation for your damages.