Uber and Lyft Driverless Cars Liability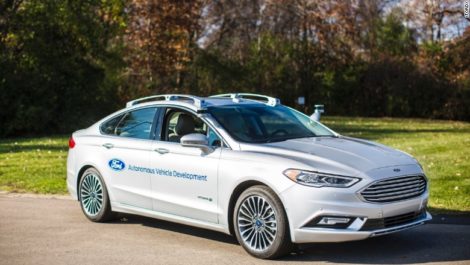 According to company press briefings made Tuesday, Ford will begin testing self-driving cars through ride-share app company Lyft. They plan to include human driver's at the wheel as a form of contingency if the driverless program fails. However, Ford also has plans to test these driverless cars without a human driver behind the wheel. Ford stated that a part of this self-driving car test would be just performed for the sake of research. Ford has yet to give a specific date as to when this program to begin, but the auto company has plans to put passenger-carrying driverless cars on the road by 2021.
Ford and Lyft also announced that they would share data and integrate their software systems however shared little detail into their plans.
Ford is one of many recent companies to have joined Lyft's 'open network' for the development of self-driving cars. Lyft has already made a partnership with Google's self-driving vehicle division, Waymo, and General Motors (GM), the latter having invested $500 million in Lyft last year.
Earlier this month, a startup from Silicon Valley, Drive.ai, stated that they would also partner with Lyft to test driverless cars in San Francisco with human drivers behind the wheel. Drive.ai, founded in 2015, has stated that their technology as the 'software brain' for driverless cars. No date has been announced for this project.
Driverless cars are still a work in progress and are only legal in the state of California. However, the more tests are done, the more efficient these programs will be as they collect more and more data about the road. Some speculate there will even be a point where human drivers can be replaced entirely. Lyft, with its open network, hopes to accelerate this project through industrywide participating. At the same time, Lyft has flown in direct opposition of its arch-rival Uber, who has made several steps into the driverless technology field.
About Normandie Law Firm
If you or a loved one has experienced injury as a result of a Uber, Lyft, or other app-based rideshare service accident you may be eligible to file a claim for significant monetary compensation. Those who file a claim with our law firm could find some if not all of the following damages compensable to them:
Any and all medical expenses
Loss of Income
Loss of potential future income
Emotional Damages (anxiety, depression, PTSD, etc…)
Punitive Damages
Victims of app-based rideshare accidents can contact our law offices to learn more about how to receive compensation for their injuries. Our team of Uber, Lyft, and other rideshare services accident attorneys is committed to ensuring every one of our clients has the resources to put up a fair fight for their case.
FREE LEGAL CONSULTATION: As a show this commitment to you and your case we offer our clients the benefits of a zero fee guarantee policy. Under our zero fee policy, all clients don't pay for our services until their case is won. If you feel in need of a second opinion, second opinion case reviews are also free under this policy. Call our law offices today for a free consultation by one of our skilled attorneys, and we can discuss the incident, your damages, and the path to receiving proper compensation for your damages.
OUR ATTORNEYS WILL HELP YOU FILE YOUR CASE AGAINST UBER/LYFT