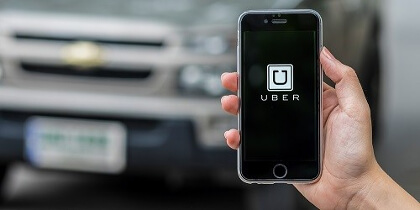 When drivers get into accidents, if a liable party can be found, in most cases this party's insurance company will assist the victims of the crash in compensating them for the damages endured. However, when an accident involving a rideshare driver occurs, it is often difficult to determine who is liable for the damages, and to what extent. If you or a loved one has suffered from the damages of an app-based rideshare accident, you may be eligible to collect significant monetary compensation. At one of the top law groups in Los Angeles, Normandie Law Firm, our skilled lawyers with experience handling rideshare accident claims can guide you through the process of finding the best path towards collecting proper compensation for your damages. If you have any questions after reading this article, please feel free to contact our top-rated law firm. An accomplished attorney with expertise in Uber injury lawsuits will be able to give you more assistance.
Uber, Lyft, and other App-Based Rideshare Companies
App-based ride share programs are helpful ways in which the everyday person can get around through the simple use of a smartphone. Through an installed app, riders can hail a personal taxi to pick them up and drop them off wherever they need to be at any time of the day. Hiring a personal ride through a rideshare service is often faster, more convenient, and less expensive than common taxi cab services. These companies have experienced incredible growth over the last couple years, gaining massive popularity in cities like Los Angeles, San Diego, and San Francisco. Listed below are some of the more common rideshare sources used around the world:
Uber
Lyft
Gett
Juno
Curb
Via
Summon
Bridj
Way2Ride
Arro
Flywheel
These are just a handful of app-based ride share sources in use today. Like all common carriers, these rideshare companies are responsible for the safety of their passengers and their drivers. While most of the larger companies have the resources for sizeable insurance coverage, there is no guarantee that you will be able to receive the insurance benefits these companies offer. Accidents are bound to happen, especially considering these services' recent popularity and widespread use. Like any other automobile accident, accidents with rideshare vehicles can range from minor bumps and bruises to incredibly severe and even life-threatening injuries that can be difficult to fully recover from. Listed below are some common injuries that a passenger can endure in a rideshare vehicle accident:
Brain and head injuries
Neck injuries
Spinal cord injuries
Back injuries
Facial injuries
Internal injuries
Any of these personal injuries can result in intensive hospital care, leading to exuberant medical expenses, and the high possibility of a loss of wages or possible future employment. If this is ever the case, at least a portion of the damages endured should be compensated whether through the ride share company's insurance or the pursuit of a Rideshare driver accident lawsuit. An experienced attorney can give you additional information.
Rideshare Accidents
Any company that founds its business on the transporting of others has a duty to exercise a level of care and competence when carrying their passengers, as well as their drivers. These companies, like Lyft and Uber, are expected to cover their drivers and passengers through a comprehensive insurance plan that ensures compensation in the event of an accident. These insurance plans are expected to cover damages like:
Loss of Wages
Loss of Future Income
Past & Future Medical Expenses
Emotional & other nonmonetary damages
Punitive Damages
As a driver, there are many ways in which the rideshare company could and could not be found liable for the damages. In all accidents, the details of the incident are intensely evaluated to best determine which party is liable for damages. While rideshare companies occasionally vary on when a driver can or can't be held liable, determining the liability in almost all rideshare driver accidents is nearly the same. Listed below are some key elements to a rideshare driver accident lawsuit.
If the driver is not logged into the rideshare app, the rideshare company cannot be found liable for the damages. This will also keep the driver from collecting insurance benefits from the rideshare company. However, the driver's insurance may cover the damages, although it depends on the terms of the accident.
If the driver is en route to pick up passengers, or if the driver is transporting passengers at the time of the incident, the driver can be covered by the rideshare company's insurance. However, the driver may need to file a claim with the other car's insurance policy first and exhaust that amount before the rideshare company can provide compensation. This all depends on who is at fault in the accident.
If the driver is logged into the rideshare app and is waiting for a ride request, the driver's insurance would first cover the damages. However, if the damages exceed the level of coverage, the rideshare company insurance benefits may move to provide the remaining compensation
In summary, the rideshare company can be held liable for damages only when the driver is not found at fault. If the driver is not found to be the at-fault party of the accident, then they should collect compensation for their damages relatively easy. The policies of when a driver can or can't be covered differ from company to company. Hiring a qualified attorney who has experience in Uber accident cases can assist you in determining the driver coverage policies between companies like Lyft and Uber.
About Normandie Law Firm

If you or a loved one has suffered the damages from a rideshare auto accident as the result of misconduct or negligence of another, you may be entitled to file a rideshare accident lawsuit against the at-fault party or the rideshare company. Having an expert lawyer experienced in Uber accident cases can mean the difference between filing a successful claim for compensation and having your case dismissed from court. If you file a claim with our Los Angeles law firm, our experienced lawyers can assist you in building your case, and file a claim for complete compensation of your damages. Our attorneys practice in San Diego, Orange County, Riverside, Bakersfield, San Francisco, Fresno, Sacramento and throughout the state of California.
FREE CONSULTATION: If you contact our law offices today, we can walk you through the complicated process of filing your claim and earning the compensation you deserve. As a show of our commitment, under our zero fee guarantee policy our clients don't pay for our services until we follow through on our promise and win your case.  Already have an attorney? Don't worry; under our zero fee guarantee policy, all second case reviews are free of charge. Call us today to speak with one of our attorneys with experience in Uber accident cases.