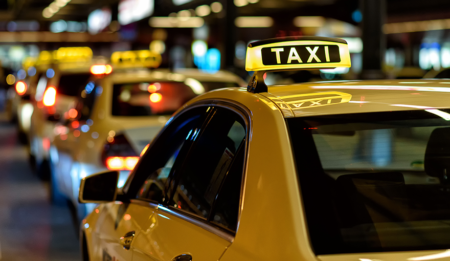 Taxicabs—also referred to as taxis or cabs—are vehicles with for-hire drivers used to transport passengers between locations. The first for-hire passenger transportation can be traced back to horse-pulled carriages. Slowly, the horse-pulled carriages evolved into electric vehicles. By the early 1900's, gas-powered taxis had entered the United States. Taxis offered the community a good alternative to public transportation. Public transportation could only take passengers to the determined stop closest to their destination; however, taxicabs could leave passengers at exact locations. Taxicab companies, although on the decline due to the boom in ride-share mobile applications, have not been obliterated. If you were interested in taking a taxi somewhere in the city, you would have many options. Some Los Angeles taxicab companies include Independent Taxi Cab Co., United Taxi, Beverly Hills Cab Co., OnCabs, and Yellow Cab. All of these taxicab companies claim that their drivers are properly trained to provide passengers with the best taxi service.
Do these taxi drivers really provide exceptional service? There have been many claims against taxi drivers in recent times. In some cities, sexual assaults in taxicabs are more prominent than in any other mode of transportation. The rise in taxicab sexual crimes has been so much that authorities have begun warning single female passengers to try to ride with other passengers. Authorities hope that if female passengers are accompanied, there will be fewer late-night taxi assaults. But even when women are accompanied, there have still been reports of sexual crimes against all of the passengers present.
What is a taxicab company's responsibility if a driver sexually harasses or sexually assaults a passenger? Can you file a sexual harassment lawsuit against the taxicab company? Will you need a lawyer to sue the taxi company for sexual assault? If you were the victim of a sexual crime in a taxi, you should speak with an experienced attorney as soon as possible. A skilled attorney with expertise in taxi cab injury lawsuits will be able to answer all of your questions and guide you towards taking legal action against the taxi driver or taxicab company. Consult with one of our experienced lawyers at the top-rated Normandie Law Firm today.
Taxi Driver Responsibility and Company Liability
Taxi drivers transport passengers from one location to another, so undeniably they are responsible for keeping the passengers safe during the drive. This means avoiding negligent driving behavior that can lead to car accidents and possibly injure the passenger. What about sexual harassment and sexual assault? What do taxi companies to ensure their passengers are safe?
The Taxicab Commission of Los Angeles California supplies rules and regulations that all taxicab companies must follow. All drivers must have the valid permits to operate taxicabs; to get the permits potential drivers must clear with the Taxicab Commission. Below are some of the rules and regulations related to sexual crimes:
Applicants will be denied if he or she is a registered sex offender or has been convicted of felonies demonstrating violence against others.
Applicants will be denied if he or she has been convicted in the past seven years for any offense related to drugs, violence, sexual misconduct, and immorality among others.
These rules and regulations apply to both new drivers and previous drivers. Since permits need to be routinely renewed, any new convictions will appear and prevent the driver from receiving his or her renewed permit. If you need additional details, reach out to an accomplished attorney with experience handling taxi cab injury claims.
Individuals with a criminal history will not be allowed to receive their taxi permit. However, a driver will only be flagged if he or she has been convicted of a crime. What about all the incidents that go unreported? If the driver sexually harassed or assaulted someone or solicited a minor in the past and he or she was never reported or convicted, the driver will be able to receive their taxi permit without any problems. In this case, the driver would be allowed to transport vulnerable passengers regardless of past sexual misconduct, rape, or inappropriate sexual behavior. Is the company liable if the taxi driver proceeds to sexually harass or assault a passenger?
In the case that a driver with no previous criminal history sexually harasses or assaults a passenger, the taxi company might not be liable. Why not? As long as the company properly screened the driver and followed regulations, then they clear themselves of potential liability. Based on a clear history, the company could not have known that the taxi driver would be a sexual criminal. When is the company liable? If the company failed to conduct the proper screening before hiring the driver or if the company ignored any complaints regarding the driver's conduct, the taxicab company can be found accountable for the driver's actions. For more information, consult with a qualified lawyer experienced in taxi cab injury cases.
How Normandie Law Firm Can Help
Normandie Law Firm is a personal injury law firm committed to getting victims all the compensation they deserve. Sexual crimes, unfortunately, occur on a daily basis practically anywhere—and taxis are not the exception. Normandie Law Firm can help you sue the taxi driver for unwanted touching. We can also help you sue for sexual assault and sexual harassment by a taxi driver. Do not let your claim stand idle. The longer you wait, the more likely that the driver will continue victimizing other passengers. Sexual harassment and sexual assault by taxi drivers are serious claims. Let our expert Los Angeles attorneys with experience in taxi cab injury cases help you file a sexual assault lawsuit against the taxi company. Normandie Law Firm is a Los Angeles law firm with experience in sexual crimes. We are a law firm with expertise in handling sexual harassment and sexual assault cases. If you are looking for a sexual assault lawyer in Los Angeles, our legal staff can help you get started with your legal process.
FREE LEGAL CONSULTATION: Normandie Law Firm is dedicated to ensuring client satisfaction. How do we keep our clients satisfied? We offer completely free consultations and free second opinions. Our free consultations give victims an opportunity to speak with a legal professional about their situation. You might be considering whether filing a lawsuit is an option for you. Normandie Law Firm welcomes you to schedule a consultation, even if you are not sure if you will proceed legally. What will you benefit from the consultation? Our attorneys will answer all of your questions. Yes, all of them. Most people come for a free consultation prepared with written questions. Writing your questions down before the consultation prevents you from forgetting to ask anything during the consultation. Additionally, you might choose to write the answers to your questions down for future reference. Our trusted attorneys thoroughly explain everything that you should know. You should also bring any documents related to your case. You might want to consider bringing any police reports or any evidence you might have. This will allow the attorney an in-depth view of your case; he or she will have enough information to give you a thorough evaluation.
If you already have an attorney at another law firm, you might still be interested in getting a free second opinion. Why would you need a second opinion? If you are looking for additional information anywhere other than with your current attorney, you might feel like you missed something. Your attorney might have missed important information if he or she was rushing through your case. As a law firm, we are aware that many attorneys are only interested in the number of cases they can go through. Sometimes, they rush through cases, neglecting key information. This incompetence results in a failed lawsuit. At Normandie Law Firm, we promise that we will never rush through your case. We will always give you top quality service—that means we will take our time looking at your case from all angles and constantly reviewing information.
Sexual assault and sexual harassment claims can take a toll on victims and their families. Normandie Law Firm wants to offer you some peace of mind. We do not want you to worry about paying any upfront fees. We offer our clients a Zero-Fee guarantee; you will never be charged for anything upfront. Additionally, since our law firm is strictly based on contingency, you will not have to pay anything until our lawyers win your case. If you were victimized in a taxi by a driver, you might need an attorney to sue the taxi company for sexual harassment. If the company is not liable, you will still need to file a sexual harassment lawsuit against the taxi driver. Let us help you; an attorney who has experience in taxi driver sexual assault lawsuits will be available to take your call.