Taco Truck School Bus Propane Tanker Accident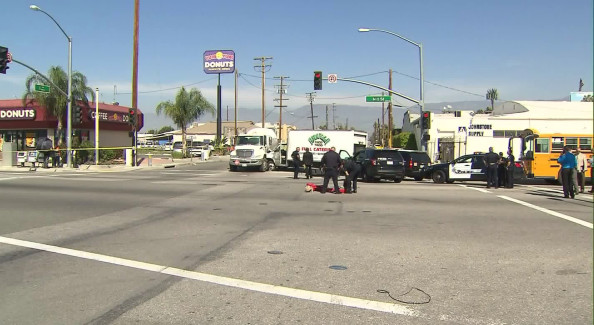 Two men fleeing from police in a stolen taco truck crashed into a propane tanker and a school bus full of more than 40 children. San Bernardino police spotted the stolen taco truck this morning on the 215 freeway when they initiated pursuit at a staggering 80 miles-per-hour. Other motorists were pulling off the road and into safety due to the commotion of the chase. These motorists were fearing for their lives as they watched a massive taco truck speeding down the roadway at more than 80 MPH.
As the two men occupying the taco truck fled from police, they put other motorists on the road in severe danger. It was reported that the men stole the Amapola truck from the restaurant's corporate office at base line and Mount Vernon around 8:40 this morning. The two men then took the truck on the 215 freeway, exited, and proceeded to drive the truck on the sidewalk, attempting to maneuver around traffic. At this point, the truck merged onto the sidewalk and sped through a red light. Subsequently, they sideswiped a yellow school bus carrying more than 40 middle-school-aged children and plowed through another intersection, finally T-boning a propane truck.
Following the collision with the propane truck the police drew their weapons and fired two (2) shots at the stolen truck. At this time, it is unclear why shots were fired but currently there have been no known fatalities.
If you or any of your children have been injured as a result of this chaotic mess then please call our offices immediately for your 100% free consultation and case evaluation. Car accidents happen all the time, but what happens when someone has been involved in a collision with a school bus?
Establishing Liability                                                                         
In order to establish a viable personal injury claim as a result of this multiple vehicle accident then you must establish negligence. Negligence consists of four (4) separate elements, all of which must be met in order to prevail in court.
1) Duty: The first element of a negligence claim is what is called "a legal duty." We all owe other drivers on the road a duty to use reasonable care.
2) Breach: The second element of a negligence claim is establishing a breach of the legal duty owed to you. Establishing a breach of a legal duty is a little more complicated and is generally when disputes in liability arise. If you were hit from behind by a driver that was not paying attention, they have breached their legal duty of care owed to you, thus, the second element of your negligence claim has been met.
3) Causation: The third element of a negligence claim is causation. This is the hardest element to establish, and is usually where your attorney fights for you. The causation of an accident depends on the nature of the incident. Causation is established by finding either the legal (or proximate) cause of the crash.
4) Damages: The final element of your negligence claim is damages. How can you get paid if you don't have any monetary damages to prove your injury? Your damages are all costs you have incurred as a result of your accident. This means medical care and treatment, out-of-pocket costs, fuel charges, rental car, lost wages, pain and suffering, etc. All 4 elements must be met in order for your negligence claim to prevail in court.
Attorney Consultation: If you have been injured in a trucking or vehicle accident and have any legal questions please feel free to contact our law firm. All legal consultations are provided for free of charge.
Further Information: