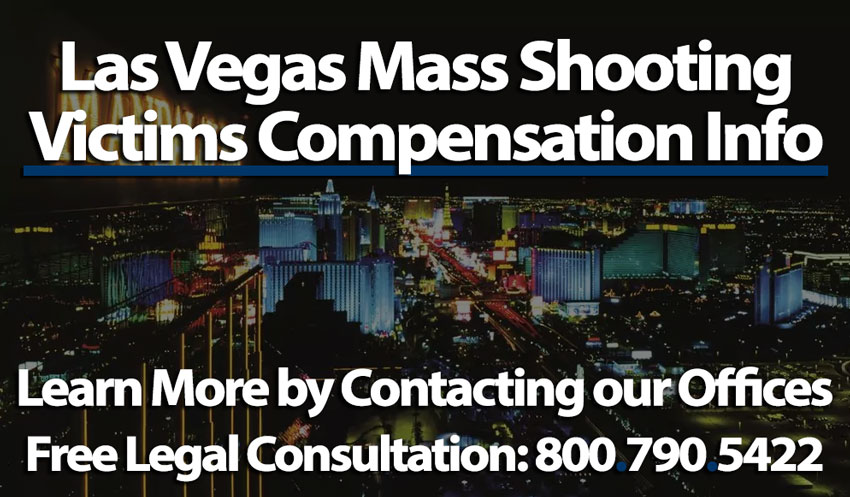 On Sunday, October 1st, 2017, a retiree named Stephen C. Paddock brought an armament of weapons into the luxury suite on the 32nd floor of the Mandalay Bay Hotel in Las Vegas, Nevada. At the same time, a country music festival was being held in a lot across the street from the Mandalay Bay Hotel. Once in his room, Paddock opened fire on the music festival using a host of semi-automatic and automatic weaponry that he brought into the hotel without the hotel staff being aware of it. In total, Paddock killed nearly 60 people and injured more than 500. When authorities finally arrived in Paddock's suite, they found him dead, but the damage had already been done. These victims could have been spared had the Mandalay Bay Hotel put more detailed and comprehensive security checks in place for their visitors. As a result of these negligent security measures, victims of this tragic incident have every right to pursue legal action against Mandalay Bay for allowing Paddock into his 32nd-floor suite with such an amount of weaponry.
Our attorneys at Normandie Law Firm are here to help. Our well-versed wrongful death and personal injury attorneys can guide you through the often arduous process of building a case, filing a claim, and collecting compensation for your damages. If you have any questions after reading this article, please feel free to reach out to our law firm for a free consultation by the right wrongful death lawyer for your case.
The Tragic Incident and Mandalay Bay's Role In It
Somehow, Paddock was able to enter the Mandalay Bay Casino and Resort with twenty-three guns, hundreds of rounds of ammunition, and other equipment without being caught by Mandalay Bay security officers. Paddock checked into his 32nd-floor suite on Thursday, and at 10:07 p.m. on Sunday, opened fire on the thousands of people attending a country music festival near the hotel. Using long, rapid-fire bursts, he killed 58 people and injured more than 500. According to Mandalay Bay, the hotel staff is trained to look for anything suspicious. However, the gunman's behavior did not show any sign of suspicion. According to some reports, Paddock had at least ten suitcases in his room, which he may have used to bring guns in without alerting hotel security.
In an NPR interview with John Choate, former executive director of security for Wynn and Encore casinos, Choate mentioned that security officials that work in Las Vegas are expected to be at least 21 years of age and have prior experience in military or law enforcement. Choate also mentioned that, besides security officers, most Las Vegas hotels have a wide variety of security protocols, including canine detection teams, dynamic camera systems, gunshot detection, and metal detectors. While Choate praised Las Vegas hotel security, he did mention that it was possible for a person like Paddock to bring weapons into a hotel room. He also mentioned that if the gunman had tried a similar thing at the Wynn Resort (his former place of employment), it would be quite difficult for him to carry out the act.
Mandalay Bay, much like any other hotel or place of business, is responsible not only for its patrons but the safety and security of its premises. Given that Paddock was able to carry such a vast armament into the 32nd-floor suite without causing any alarm to the Mandalay staff, victims of this incident have every right to file a lawsuit against the Resort owners and staff. A Las Vegas mass shooting victims lawyer can represent you in court.
Filing a Lawsuit Against Mandalay Bay
As mentioned prior, Paddock was able to enter Mandalay Bay and check in to a luxury suite on the 32nd floor without alerting any of the hotel staff or security. With proper security measures in place, Paddock shouldn't have been able to bring his armament up to the 32nd floor and would have been caught by appropriate staff and security personnel. Unfortunately, this was not the case, and it resulted in 58 people wrongfully losing their lives, and upwards of 500 people suffering personal injuries. For this reason, victims of this incident can file a lawsuit against the Mandalay Bay owners and staff with the help of a Las Vegas shooting lawsuit attorney.
Mandalay Bay and other hotels are expected to ensure the safety and security of their premises. If this expectation is failed upon, they should be held liable for the ensuing damages. In this event, Mandalay Bay security acted negligently for allowing Paddock up to his suite with these weapons. In any successful claim of negligence, it is vital that your Las Vegas mass shooting attorney prove the following points:
Duty: The plaintiff (injured or damaged party) must be able to show that the defendant (hotel owners, security, and staff) owed a legal duty to the plaintiff under the particular circumstances of the case.
Breach: The plaintiff must be able to show that the defendant breached said legal duty through specific actions or failing to act appropriately.
Causation: The plaintiff must be able to show that the defendant's actions or lack thereof caused the plaintiff's injuries.
Damages: The plaintiff must be able to show that he endured some specific damages. This can usually be shown through the presentation of medical records, a loss of wages, or a loss of potential income.
It is also vital to the success of a lawsuit that you are aware of the statute of limitations that pertain to your particular case. The statute of limitations is essentially the time in which you can bring a case to court. The statute of limitations tends to vary from state to state, but in regards to this particular case, you may want to review the statute of limitations for the state of Nevada. In the state of Nevada, a victim of a personal injury case has up to two years since the date of the incident to bring a case to court. If this statute of limitations is disregarded, there is a high likelihood that your case will be dismissed from court entirely. For this reason, it is highly recommended that you seek adequate assistance from a skilled legal professional. A Las Vegas mass shooting attorney can make sure you do not miss any important deadlines.
With all of this taken into account, if you were a victim of this tragic incident and hope to file a lawsuit against Mandalay Bay for the negligence of their security staff and procedures it is in your best interest that you seek representation from an attorney who has experience in tackling large entities like Mandalay Bay. While the businesses may express their heartfelt concern for this incident, they will still employ a whole host of skilled attorneys that are willing to dispute your case and fight against paying out settlements at all costs. Having a lawyer for Las Vegas mass shooting on your side can mean the difference between filing a successful claim for compensation and having your case entirely dismissed from court.
How Normandie Law Firm Can Help
If you or a loved one were a victim of this terrible incident, you might be eligible to file a personal injury lawsuit against Mandalay Bay for the damages you and your family have had to endure. Those that file a claim with our law firm could find some if not all of the following damages compensable to them:
Past and Future Medical Bills
Loss of Wages
Loss of Potential Future Wages
Pain and Suffering
Emotional Distress (depression, anxiety, PTSD, etc)
Punitive Damages
At Normandie Law Firm, our lawyers have your best interest in mind and are committed to ensuring that you receive all the resources you need to file your case successfully. This was a truly devastating incident, and you should receive all the compensation you need to cover the damages that you and your loved ones have suffered. Let a lawyer for victims of the Las Vegas mass shooting help you.
Free Second Opinions
Some attorneys are lazy or do not offer all of their clients the proper care and attention they deserve. After getting you on board, lawyers will put your case on the backburner and continue to bring more people on. In these instances, their business is based more on volume and will attempt to sign up as many cases as possible. In turn, they will spend less time on cases, resulting in severely reduced settlements. Our firm will not treat you like a number. We will be in communication with you throughout your lawsuit and will treat you like family. If you already have an attorney, don't worry – we'll give you a second review of your case 100% free of charge.
Zero Fee Guarantee – No Upfront Fees Ever
If you contact our law offices today, we can walk you through the complicated process of filing your claim completely free of charge. As a show of this commitment to you and your case, we offer our clients the benefits of a zero fee guarantee policy. Under our zero fee policy, no clients pay for our services until their cases are won. If you feel in need of a second opinion, second opinion case reviews are also free under this policy. Please feel free to give us a call, and we can guide you down the path of receiving proper compensation for your damages. An attorney for Las Vegas mass shooting victims will gladly take your call.
FURTHER INFO:
Route 91 Concert Promoter and Concert Venue Liability for Las Vegas Shooting
Is Mandalay Bay Hotel liable for the Stephen Paddock shooting in Las Vegas?
Mandalay Bay Hotel Resort Liability for Stephen Paddock Las Vegas Shooting