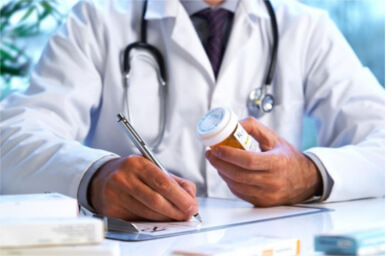 If you or a loved one has suffered as the result of a medical professional prescribing the wrong medicine or the wrong dosage you may be eligible to sue for compensation. All medical professionals are held to a high degree of standard of care, which makes them liable when this standard is not upheld. In the event of this breach of standard a medical professional, hospital, or pharmacy can be sued for negligence. If you have any questions after reading this article, please feel free to contact our law firm for a free consultation.
Standard of Care
Every medical professional is expected to live up to the Medical Standard of Care. The Medical Standard of Care is best defined as the level and form of care that a reasonably competent and skilled medical professional, with a similar skill set, would have provided under those particular circumstances. If this Standard of Care is breached in any way, the patient who had to endure this breach has the right to sue said medical professional on the grounds of medical malpractice. In the case of prescription error, every medical professional who prescribes a form a medication is liable to the consequences of said prescription error.
Pharmaceutical Errors
If a medical professional prescribes the wrong drug or the incorrect dosage of said drug, then their patient may be faced with severe debilitating side effects. Sometimes these pharmacy or hospital errors resort in minor damages, although in some cases, the results of consuming the wrong prescription may lead to severe injury or even death. There is a multitude of ways in which a patient can be administered the wrong prescription. Some of the more common ways prescription errors occur include the following:
When a patient is administered the incorrect dosage of medication
When the patient is administered the wrong medication in the emergency room (ER) or on the surgeon's table
When a drug manufacturer mislabels a specific medication
When a medical professional prescribes a drug that gives the patient an adverse allergic reaction
When a doctor writes the wrong prescription for the patient
When a medical professional fails to warn the patient of the side effects of medication
These are just some of how prescription errors can occur. The wrong medicine can be prescribed at a variety of stages of the treatment process, from the doctor's office to the operating table to the corner store pharmacy. Medication errors can occur quite easily, but the damages that a patient endures from said mistakes can be devastating. These medications can be simple over the counter drugs or potent chemotherapy and pain-killing drugs which can be deadly if the wrong dosage is administered.
If you have experienced harm due to being prescribed the wrong medicine, our attorneys can help you sue the hospital, pharmacy, or doctor responsible through a medication mistake lawsuit. To determine the nature of your case, however, you must first be able to identify who is liable for your damages.
Who Is Liable?
Any experienced medication or prescription error lawyer will tell you that to have a successful claim you must first determine who is liable for your damages. For instance, if the wrong medication was given to you by a nurse, then, in that case, the nurse who prescribed the medicine could be held liable for a medical malpractice lawsuit. Although in another instance, if a doctor prescribed you with a specific drug and the wrong medication is given to you by the pharmacy, you could sue the pharmacy for their actions. Regarding medication mistake lawsuits, whoever prescribed the medicine can be held liable for their negligent actions. That is not the same, however, in regards to mislabeled medicine. If you are prescribed a particular medication by a doctor, given that medicine by a pharmacy, but still receive the wrong medicine because of a manufacturer's error, then that manufacturer would be held liable. In these cases, one of our Los Angeles attorneys would recommend filing a products liability lawsuit. Under a products liability lawsuit, a plaintiff must be able to prove that the product that caused injury was defective, and said defect made the product dangerous. Hiring an experienced attorney will help you in discerning the nature of your specific case and the best way to go about seeking compensation.
Proving Negligence
All medical malpractice cases require that the patient show that the physicians acted in negligence. To put it simply, negligence can be defined as not exercising reasonable care, or doing something wrong during a medical procedure. For instance, if you prove that a doctor acted in negligence then you can sue the doctor for damages. Proving negligence is no easy task. However, it requires that the plaintiff provides a set of factors. If these elements of negligence cannot be proven, then the medical malpractice lawsuit will be dismissed. The elements involved in proving negligence are as follows:
The Existence of a Doctor-Patient Relationship: You must be able to show that you agreed for the doctor to perform the procedure (or in this case administer the correct medication or dosage of drugs), and that the doctor agreed to do the same. If there is no doctor-patient relationship, it is likely that your case will be dismissed.
The Doctor Was Negligent: You must be able to show that the doctor caused you harm due to a lack of competence or skill. In similar circumstances, a more competent doctor would have been able to conduct the treatment without inflicting the damages you have endured.
The Doctor's Negligence Caused The Injury: You must be able to prove that the doctor's negligence caused the harm, and not the effects of any other illness or in this case medication side effect.
The Injury Led To Specific Damages: You must be able to prove that the injury you suffered led to damages. Even if the doctor apparently acted in negligence and breached the Medical Standard of Care, no case can be made if the patient didn't suffer any real harm. Proof of harm can come in the following forms: physical pain, mental anguish, medical bills and records, and a loss of wages or future income.
Once you have proven that a medical professional acted in negligence and breached the Medical Standard of Care, you can proceed with a lawsuit. Keep in mind though, when taking any lawsuit against a health care provider to court, it is best to consult a legal expert for representation. Health care providers often have the resources to hire a whole host of attorneys who specialize in your kind of case. While every citizen has a right to represent themselves in court, it is highly recommended you seek out some form of legal assistance moving forward.
Free Consultation and Zero Fee Guarantee
Contact Normandie Law Firm today, and our team of well-versed legal consultants can walk you through the process of earning the compensation that you deserve. Our law firm is based in Los Angeles, but our attorneys practice in Orange County, Bakersfield, Modesto, Fresno, San Francisco, San Jose, Oakland, Oxnard, San Diego, Riverside, San Bernardino and throughout all of California. As a further display of our commitment to you and your case, our firm operates under a strict zero fee guarantee policy. Under this policy, you don't have to pay anything until and unless we win your case.