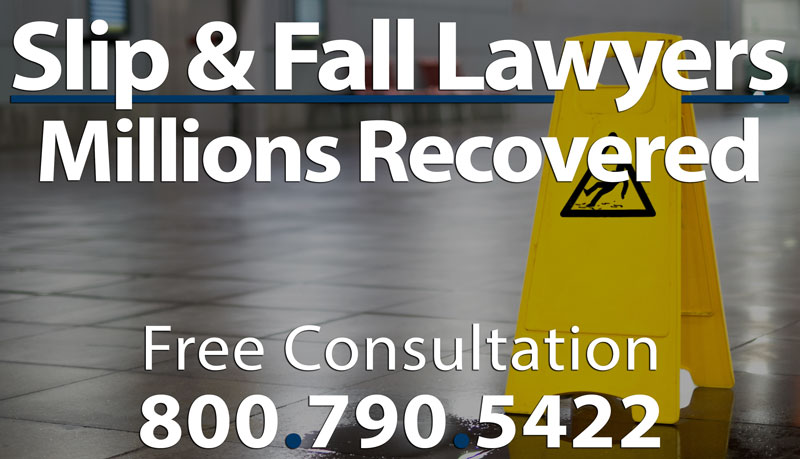 Slip and fall accidents can result in a wide variety of injuries from minor bumps and bruises to more severe injuries like spinal cord and brain damage. Victims of slip and fall accidents experience them at restaurants, grocery stores, department stores, and other places of business. When they occur on someone else's property, or at a business, the slip and fall victim has every right to sue the property owner for the damages. However, many who file a slip and fall accident lawsuit against a property owner are unaware of how to increase the settlement amount for their slip and fall accident. Fortunately, at Normandie Law Firm our skilled slip and fall attorneys can help you increase the settlement value for your slip and fall case, and can help fight for your case in court. Often the damages from a slip and fall accident can be so severe that they justify a raise in the slip and fall or trip and fall settlement value. If you believe you deserve an increase in slip and fall accident injury compensation, our attorneys can help negotiate an injury settlement. If you have any questions after reading this article, please do not hesitate to contact our law offices near Los Angeles, California for a free consultation from one of our many well-versed legal advisors.
Slip and Fall Accidents
Slip and fall accidents can occur anywhere, from your local grocery store to your favorite corner bakery. More often than not they occur as a result of damaged flooring, poorly lit aisles, and wet floors. Under premises liability legal theory property owners are expected to ensure a reasonably safe and secure environment for their visitors and patrons. If a property owner fails to uphold a safe environment and a guest is injured as a result that guest has every right to sue the property owner for the damages.
Filing a lawsuit against a property owner for a slip and fall accident can be a somewhat challenging process. One of the most crucial aspects of filing a slip and fall case against a property owner is gathering suitable evidence to support your claims. This evidence can involve photographs, video footage, medical bills, and eyewitness testimonies. It is also crucial that you report your accident to the staff or property owner as soon as possible. The sooner you report your accident, the less likely the property owner will be able to dispute your claims. This collected evidence can then be used to prove the following aspects of your case:
There was a hazardous condition or potentially dangerous condition on the property, like broken concrete or a wet floor, that presented an unreasonable risk for the person.
The property owner had to have been reasonably aware of the danger that posed risk of injury.
The property owner failed to either warn guests of the potential hazard, or did not take reasonable action to resolve the condition.
The hazardous condition resulted in the injury of a tenant or customer.
As well as gathering evidence and proving the property owner's involvement in causing your injuries, it is also crucial that you can identify the injuries and damages themselves. When clients with slip and fall cases come into our law firm asking how to increase their slip and fall or trip and fall injury settlement we always recommend that they keep accurate track of their damages. The damages you suffer as a result of an accident can play a defining role in the eventual value of your case and can mean the difference between a suitable settlement payout and receiving a minimal settlement that doesn't cover all of the damages that you endured. To give you an idea of some of the damages victims suffer after a slip and fall accident, we've included some of the common injuries slip and fall victims can endure:
Head Injuries: Injuries that affect the head include minor bumps to more severe brain injuries, called "traumatic brain injuries" or TBIs. TBIs can cause seizures, mood changes, cognitive impairment, and other side-effects. In most cases, TBIs require immediate medical treatment to prevent the most debilitating of injuries from occurring.
Hip Fractures: When you fracture or break your hip, it is likely you will require surgery and extended hospitalization treatment. In some extreme cases, it is possible that surgeons will need to implant a prosthetic hip. Out of every five hip fracture patients, one of them dies due to the trauma the body has endured.
Back and Spinal Cord Injuries: The spine is the hub for the nervous system, the bundle of nerves that control your every move. Injuring your spine can lead to temporary and permanent paralysis, along with other neurological impairments.
Shoulder Injuries: When you slip and fall, it is very likely you'll land on your shoulders. When you impact your shoulder at such an angle with enough force, it can result in a broken, fractured, and dislocated shoulder. These injuries are often treated with surgery and extensive physical therapy.
Sprains and Fractures: The force of slipping and falling can cause minor to severe skeletal injuries. In some cases, the impact with the ground can cause minor sprains; in others, it could cause debilitating bone breakage that may result in temporary, or even permanent disability. Some of the common fractures that victims suffer include hip, spine, forearm, leg, ankle, pelvis, upper arm and hand.
Increasing a slip and fall accident injury compensation amount often depends on some factors beyond just the damages. As well as being able to identify the damages, you must be able to adequately prove the existence of said damages, and show the extent to which these damages have affected your life and well being. While you can increase a slip and fall settlement from an insurance company or a lawsuit on your own the best way to ensure you receive the amount of compensation you deserve for your injuries is through the representation of a skilled attorney. With the right attorney by your side, you can better negotiate for an increase in your slip and fall accident compensation payout.
How To Increase The Amount of Recovery From A Slip And Fall Accident
As mentioned prior increasing your compensation amount after a slip and fall or trip and fall accident can depend on some factors, from collecting substantial evidence to being able to follow the correct procedures involved in filing your case. However, when clients come into our law firm asking how to increase the amount of recovery for their slip and fall accident case, we often recommend they do the following:
Take action as soon as possible: If you are involved in a slip and fall accident, you should collect as much evidence as you can as soon as you can. This evidence can take the form of photographs of the hazard which caused your accident, eyewitness accounts, or video footage showing the damages in full detail.
Report the accident as soon as possible: After an accident, you should always contact the manager or property manager and file a report with them. If you hesitate to report the slip and fall or trip and fall accident, it can be more difficult to receive full compensation for your damages.
Receive a full medical evaluation: After an accident, it is crucial that you reach out to your primary care physician and receive a full medical evaluation. In many cases, the physical injuries of slip and fall or trip and fall accidents aren't apparent right away. Fortunately, a medical professional should be able to diagnose any physical injuries endured as a result of the accident.
Immediately reach out to a legal expert: With the help of a skilled attorney, you can better ensure that you are following all the appropriate steps in ensuring you receive compensation for your damages. Later down the line, this attorney can help you negotiate your claim or fight for your case in court.
Take full record of all medical treatment: If your accident resulted in injuries that require regular doctor visits, it is critical that you keep track of all of the medical expenses you paid to receive said treatment. In most cases, the cost of medical treatment will play a crucial role in your eventual settlement.
Keep track of a loss of wages: In some instances, victims of slip and fall and trip and fall accidents may need to take time off of work to reach a full recovery. When this is the case, these victims lose wages as a result. A loss of wages can also play a crucial role in the eventual settlement of your case.
These are just a few steps you can take to ensure a positive outcome for your case better. However, it is always in your best interest that you seek legal representation from an attorney who is well-versed on fighting for the rights of slip and fall victims. Not only can an attorney help you negotiate for a higher settlement, but they can also fight for your claims in court. At Normandie Law Firm our slip and fall attorneys are ready and willing to provide you or your loved ones with all of the resources they need to earn the compensation they deserve.
How Normandie Law Firm Can Help
Receiving adequate compensation for your damages after a slip and fall or trip and fall accident is incredibly important if you wish to reach a full recovery. If you or a loved one were involved in a slip and fall or trip and fall accident and wished to increase your potential settlement amount, it may be in your best interest to seek assistance from a lawyer experienced at fighting for the rights of slip and fall accident victims. At Normandie Law Firm our experienced slip and fall accident lawyers are committed to ensuring all of our clients receive all the resources they require to earn the compensation they deserve for their damages. If you file a claim with our Los Angeles law firm, you will find that we will fight for every available compensation for your damages:
All of your medical and hospitalization treatment costs, including any future medical treatments.
Wages lost during your hospitalization and recovery at your normal rate of pay.
Compensable economic damages include loss of property or damaged property.
Compensable non-economic damages resulting from psychological trauma, include emotional distress, PTSD, pain and suffering, and anxiety.
While our law firm is based in Los Angeles, our attorneys also practice in Oakland, San Francisco, San Diego, Sacramento, Orange County, Riverside, Fresno, and throughout the state of California.
Free Second Opinions
Do you already have an attorney for your case? You may find that once you signed up with their law firm, the amount of attention your case got from the attorney curiously diminished. If you feel neglected by your attorney, it is likely they will expedite your case and try to get you to settle as quickly as possible so they can fill their wallet just as fast. Our firm will give you and your case the respect it deserves, and get you no less than you are entitled to. If you are skeptical over the work ethic of your current attorney, give our law firm a call. We will give you a free second opinion and free legal consultation. Our attorneys will sit down with you and answer any questions you may have regarding your legal case.
Zero Fee Guarantee-No Upfront Fees Ever
We offer the zero-fee guarantee to all of our clients. This means that you will not pay a cent to our firm until we do our job and get you the compensation you deserve. If we are unable to prove your case, we will not charge you for our legal services. Please, feel free to give us a call, and we will give you all of the attention you deserve.