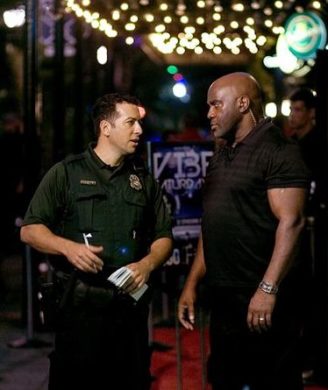 Security guard companies are currently booming. Some top security guard companies include United Guard Security, Allied International Security, Citiguard Security Guards, Eagle One Security Services, Karas Security Services Inc., Veritas Security Services, Bannerman Security, All Nation Security, Eagle Eye Protection, and Security Prime. Why are there so many security guard companies? Well, some security guard companies offer general services, while other companies offer specific services. Security guards can often be seen in office buildings, apartment buildings, party halls, and shopping centers. There are security guards to serve other locations. Nightclub security guards are undoubtedly posted outside nightclubs. Some bars also have security guards. At locations like nightclubs and bars, however, the security guard is likely referred to as a bouncer. Bouncers usually stand outside of the door and check guests' identification as they enter the building. Since many of these places are age restricted, it is important for these security guards to check identification and turn away anyone who is not allowed to enter. Bouncers might also routinely walk inside the building and make sure that everything is running smoothly. Another type of security guard is bodyguards. Normal civilians might not have the need for personal bodyguards; however, people of celebrity status or with an important position might feel safer if they are always accompanied by a personal bodyguard.
All security guards are undeniably hired to protect and ensure their client's safety. However, there have been many incidents in which security guards have overstepped their boundaries and have sexually harassed and assaulted the people they were supposed to be protecting. What can a victim do to take action against a security guard? Can victims sue the security guards or the security guard company?
You can take legal action against the individual security guard that caused you harm. But, can you file a lawsuit against the security guard company? Security guard companies are responsible for properly screening and training their guards before sending them out on an assignment. If the security guard company did not subject the guard to a background check before hiring him or her, the security guard company might be liable. Likewise, if the security guard company had previously received complaints about the guard but failed to take the proper measures to investigate the claims and take proper action, the security guard company might be liable. If the security guard company took all the correct measures—like screening, training, and monitoring the guard—it is unlikely that the company would be held accountable. For more assistance, consult with a skilled attorney with expertise in sexual harassment injury lawsuits.
After the incident, you must report the security guard responsible. You can report the guard to the appropriate security guard company and with the police. Then, you should contact an attorney to discuss filing a lawsuit against the security guard and the security guard company, if the company could be found liable. An attorney specialized in dealing with sexual harassment and sexual assault will inform you of your options for filing a lawsuit. Since neither sexual harassment nor sexual assault is a legal cause of actions, you will have to file under another category. What causes of action are available for you to file a lawsuit for sexual harassment or sexual assault? There are three different categories of lawsuits that can be related to sexual crimes. The most obvious is assault and battery for sexual assault. Another type of lawsuit is false imprisonment. If you were held against your will at any point during the assault or the harassment, you could file this claim. Victims of sexual assault and sexual harassment can also file a claim for the intentional infliction of emotional distress. You should schedule a consultation with an expert attorney with experience handling sexual assault claims to establish which cause of action is appropriate for your case. An experienced attorney will also help you figure out whether the security guard company can be considered liable for the security guard's actions. Contact a top-rated law firm with a lawyer experienced in sexual harassment and sexual assault cases will help you as soon as possible.
How Normandie Law Firm Help
Normandie Law Firm is a top personal injury law firm dedicated to giving clients the best legal guidance available. If you are the victim of sexual assault or sexual harassment by a security guard or personal bodyguard, our law firm can help. No sexual crime should go unreported. You need to report the incident as soon as possible, both to the security guard company and to the police. After an actual report has been filed, it might be easier to begin the legal process. Once you have decided to take legal action against the party or parties responsible, you must contact a law firm with expertise in sexual harassment and sexual assault cases. Our qualified attorneys with experience in sexual harassment and sexual assault cases have worked for many years to bring fair settlements to victims.
Normandie Law Firm is committed to providing clients with the best legal experience. We understand that many people decide not to file claims because of the fear that the legal process will be too complicated and time-consuming. Well, a successful lawsuit might take some time to achieve. However, the top legal staff at Normandie Law Firm will carefully explain everything you need to know.
We will not rest until you feel confident in the legal process. Providing the best legal experience includes providing clients with free consultations and free second opinions. Our free consultations allow anyone with interest in filing a lawsuit to schedule a meeting with an expert attorney. What can result from a free consultation? After one of our free consultations, you will also be an expert on the topic of sexual harassment and sexual assault. Our experienced lawyers will answer all of your questions and concerns regarding your case. Our lawyers will also thoroughly explain everything you need to know about the legal process. If you need a second opinion, Normandie Law Firm can provide that, too. Why would you need a second opinion?  If you are already looking for additional information out of your current attorney's office, that is a sign that he or she might not be providing proper legal service. Many attorneys only care about the number of cases they go through and pay little attention to the quality of service they provide. This can affect the outcome of your case. At Normandie Law Firm, our attorneys will give your case all the attention it warrants. You will never feel like we are rushing you because we will always give you and your case all the time necessary to ensure a successful case.
Normandie Law Firm understands the stress that dealing with sexual harassment and sexual assault can cause on a victim and on family. We know that pursuing legal action might add even more stress. However, we want you to have peace of mind when it comes to the financial aspect of the legal process. We offer our clients a Zero-Fee guarantee. Our free consultations and free second opinions are covered under this policy. Additionally, you will never have to worry about paying any upfront fees. Because our law firm is strictly based on contingency, you will not have to pay us anything until our lawyers win your case. Contact Normandie Law Firm as soon as possible to speak with an accomplished attorny who has experience in sexual harassment cases.
WE CAN HELP YOU FILE THE NECESSARY SEXUAL ASSAULT LAWSUIT
Sexual Harassment Lawyer to Sue Security Personnel for Attack
Statute of Limitations to File a Sexual Harassment Lawsuit Against Your Employer
Statute of Limitations to File a Sexual Harassment Lawsuit Against a Facility
Attorney for Sexual Harassment and Battery in the Workplace
CA Statute of Limitations for Sexual Harassment Lawsuit Against a Bodyguard