Samsung Galaxy Note 7 Fire Burn Injury Class Action Lawsuit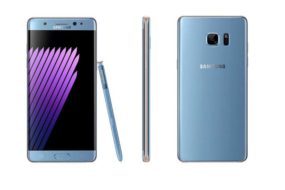 Update: Today after much speculation and deliberation with Samsung Elliot Kaye, the Chairmen of the Consumer products Safety Commission, announces the official recall of all Samsung Galaxy Note 7 devices.  The recall is due to the serious risk of explosions and fire hazards. According to the Chairmen Samsung will allow consumers either a refund or a replacement.
United States CPSC Safety Recall:  According to the Consumer Product Safety Commission website, the Samsung phone's lithium ion battery can overheat, "and catch fire, posing a serious hazard to consumers." The recall involves Galaxy Note7's sold before September 15th 2016.
The Normandie Law Firm is currently investigating possible class action and single party claims for burn injuries caused by the Galaxy Note 7 manufactured by Samsung. If you or a loved one have suffered injures please feel free to contact our law offices. So far there have been reports of hundreds of fires and explosions resulting on many burn injuries across the country.
What to Do – Steps to Take if you Have a Defective Galaxy Note 7
Below are important steps you should take in order to protect your right in a defective product lawsuit.
Do not exchange or replace the item. You need keep the product that caused the injury as potential evidence.
Seek medical attention as soon as possible.
Keep all receipts of documentation showing the purchase date and location of the purchase.
DO NOT speak with any representatives from Samsung – any comments made to them can be used against you in any future lawsuit.
Seek legal assistance from an experience attorney.
Filing a Defective Product Claim – Winning Your Case in the Court of Law
Generally in order to win a defective product claim in the court of law a victim will have to proves the existence of either a design defect, a manufacturing defect or a defect in the labeling / packaging of the consumer product.
Design Defect: A design defect takes place when at the time of manufacturing existed less dangerous design with the same level of efficacy.
Manufacturing Defect: A manufacturing defect takes place when the for sale item is patently different and as a result more dangerous than the
Defect in Labeling: A defect in labeling can be proven when the manufacturer fails to properly warn potential consumers of all known dangers or potential risks associated with the use of the product.
Compensation Available for Victims – Average Case Value and Settlement
Victims of harm due to an unsafe electronic device or consumer product are entitled to compensation for all damages sustained. Specific categories of damages recoverable include the following.
All medical and treatment care bills.
All future medical and rehabilitation care.
Economic damage including loss of income and future loss or earnings due to disability or incapacitation.
All property damage losses due to the fire.
Non-economic damages including mental anguish, pain and suffering.
Punitive damages – punitive damages are awarded when the at fault party acted with either the intent to cause harm or reckless endangerment of consumers. Reckless endangerment standards can be established if the manufacturer knew of the dangers of the Galaxy 7 battery but failed to take any action to prevent the harm.
Attorney Consultation Available: If you have any further legal questions regarding the filing of a lawsuit for burn injuries sustained due to a defective product please feel free to contact our law offices. All legal consultations are provided by our lawyers free of charge.
Further Information: