Room Essentials 4-Drawer Dresser Recall Lawsuit Attorney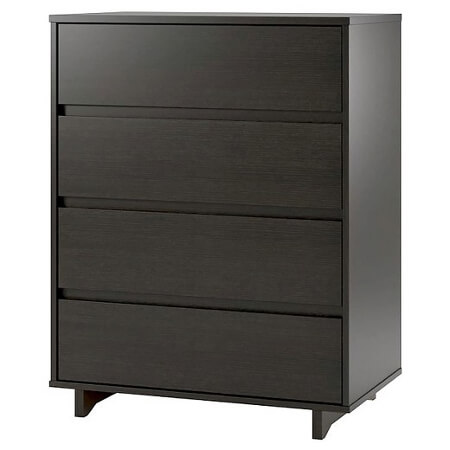 On September 13th, 2017, Target Corp., one of the world's largest retail stores, issued a recall for one of its dressers. The Room Essentials 4-Drawer Dressers are listed as being unstable if they are not somehow anchored to the wall. A dresser that is not fastened to the wall can tip over from the weight of the contents, which can cause injury to consumers and children, the latter of whom can become crushed or entrapped.
The dressers came in a variety of colors – black, espresso, and maple – and measured just over 3 feet tall, just under 3 feet wide, and were just over a foot deep. Dressers that are this size are more than enough to cause serious injury or death to small children if they fall on them.
The products, which were manufactured in Denmark, were imported to and distributed by Target in Minneapolis, Minnesota, as well Target's online stores. Around 175,000 of the units were sold between January 2013 and April 2016. The products were sold for $118 (although about 3,000 of the units were sold in Canada). Target has advised its customers to remove any unanchored dresser from a room that is accessible by young children and to return the item. Any Target store will accept the product and issue a full refund.
What prompted the recall were 12 reports of the dressers falling over, tipping, or collapsing, all without any provocation. Some of the dressers tipped over on young children. Fortunately, no injuries were reported in tandem with the falling dressers, but that is not to say that future injuries will not occur.
Other Possible Damages
These 4-drawer dressers can fall on young children, which can cause entrapment and death. The dressers are not light when they are not filled with contents, and when pounds of clothing are added, they become even heavier, and a small child may not be able to push the dresser off. This can lead to crushed bones, dislocations, head injuries, suffocation, and more. Toddlers are especially at risk due to their slow speed and general unawareness of their surroundings; it is important to keep a close watch on any child who is near a dresser, for risk of injury.
For older children and adults, the injuries that can possibly be sustained are much less severe, as they have much more strength and can easily push the dressers off. However, older children and adults can still suffer broken feet, damaged legs, sprains, dislocations, lacerations, bruising, and more. Heavy dressers should be anchored to the wall to prevent tipping.
Additionally, a falling dresser can affect more than just your physical body. As heavy as the dressers are, they can put holes in the floor from falling, land on other personal belongings and damage them, shatter glass tables if they are nearby, and fling any items atop the dresser to the ground, which can lead to them breaking or being permanently damaged in some way.
Basics of a Product Liability Claim
If you or one of your children has been hurt by a falling Target Room Essentials 4-Drawer Dresser, you may be entitled to compensation by way of a product liability claim.
Product liability claims can be filed on three separate grounds: the product was improperly designed, the product was poorly manufactured, or the product did not contain the necessary hazard warning it should have. An improperly designed product goes all the way back to the drawing board, with fault being mostly on the engineers and designers who did not catch the flaws in the concepts. A manufacturing defect can be attributed to the actual creator (as in, a factory, plant, or woodworker) or distributor (if the distributor somehow damaged the item prior to it being sold, causing the defect to come about). A failure to warn, whether on the product itself or on the packaging, can be blamed on numerous parties, such as the distributor. The distributor is responsible for affording basic care to its customers, and not warning of potential hazards is a violation of that care.
In the case of Target's Room Essentials 4-Drawer Dressers, the product was improperly designed and manufactured; it was weighted poorly and could not handle excessive contents without tipping over. This flaw should have been realized in testing to see how stable the dressers were after design and before mass production.
If your dresser tipped over and caused an injury, you can file a product liability claim against Target. In filing this claim, you can receive various types of compensation, including:
Medical Bills: Your hospitalization, surgery, physical therapy, medication, and more can all be covered by the responsible party. Further, these bills are covered from both the past and the future – meaning that, if you require further treatment, it will be taken care of. It is important to seek compensation for medical expenses due to how costly they are.
Lost Wages: An injury may sideline you from work for some time. If a dresser fell on your foot and broke it, and your job consists of you walking around all day (i.e., a waitress position or a construction worker), you will likely miss work while recovering. As a result, Target can cover these days of lost wages, as well as any future days that are set aside for additional medical treatment.
Property Damage: If the falling dresser did any damage to other personal belongings or items, you can recover compensation for them. Broken furniture and belongings can be repaid, and contractors may be hired to repair holes in the wall or floor from the impact of the dresser. It is very beneficial to have "before" photos, if possible, so that insurance agencies cannot claim the hole may already have been present.
The Benefits of Picking Normandie
At Normandie Law Firm, our team of experienced lawyers has been dealing with product liability cases for years. We have taken many claims all the way to court and won settlements for our clients reaching thousands of dollars. We are not focused on the payout, however – our concern is your safety and the safety of your family, and we emphasize getting proper healthcare treatment if you are injured. Further, we know that stress can be the silent killer, and we take pride in representing you and fighting for your rights as a consumer so that you don't have to waste needless time and energy. You should focus on recovering.
FREE CONSULTATION: Call one of our attorneys today to receive a free legal consultation on your case. We will walk you through the claim process and give you information on what we can earn for you. Our lawyers are here to help you through the ordeal of a product recall, and we advise you to ask any questions you have. Our lawyers will be more than happy to answer them. Not only that, but we also offer you a zero fee guarantee on your case – you do not pay a cent out of pocket for our legal services, and our fees are covered by the settlement if we win. In the event that we lose, you do not owe us any money, and we eat the expenses ourselves.
For more information on filing a product liability against Target concerning their Room Essentials 4-Drawer Dressers, reach out to Normandie Law Firm today.