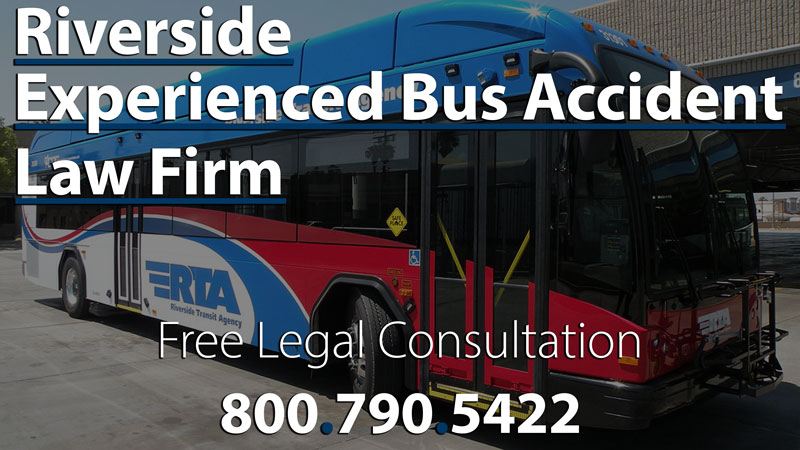 Riverside is the home of the second-largest bus service in the United States. The Riverside Transit Agency (RTA) offers the community a total of forty-four different routes. Thirty-six of those routes are local, and eight are long-distance routes. The eight long-distance routes are CommuterLink express routes that connect commuters to Metrolink, Coaster, and Sprinter stations. Riders can also reach business parks, malls, and other regional transit facilities on the CommuterLink express. The RTA covers about 2,500 square miles of Riverside County. Besides the RTA, there are other bus services that operate in Riverside. Other bus companies include Aerocoach Transportation, First Student Inc., Greyhound, Amtrak, and Complete Coach Works.
Buses offer reliable transportation at a low cost. Actually, buses provide one of the safest means of transportation. Unfortunately, no method of transportation is perfect. Although bus accidents are rather rare, they are always possible. Buses make up part of 11.9% of fatal crashes (buses and trucks share this statistic). In the United States, there can be more than 32,000 fatal vehicle accidents per year. Of these accidents, only slightly more than 250 involved a bus. There are approximately 6,000,000 nonfatal vehicle accidents yearly. However, only about 67,000 involved a bus. As you can see, the numbers for bus accidents are not very alarming. In 2015, there were less than 50 bus passenger fatalities. However, bus passengers are not the only ones who can suffer injuries or even die in a bus accident. In accidents involving school buses, about 98 people die per year. However, only 9% of these deaths are bus passengers. That means that more than 90% of these fatalities are pedestrians, bicyclists, or other drivers.
If you were injured in a bus accident, you should contact a Riverside law firm with experience in bus accidents as soon as possible. Why as soon as possible? If the bus company is a public entity, you might have less time to file a lawsuit. You might be asking yourself the following questions:
Can I Sue if I was injured as a passenger during a sudden stop?
Can I sue if I was injured during a sudden start?
Yes, you can sue. An expert attorney with experience handling bus accident claims in Riverside, Moreno Valley, and Corona will answer all of your questions and help you file a bus passenger injury lawsuit. Call one of our experienced lawyers at the top-rated Normandie Law Firm for additional assistance.
Common Causes of Bus Injuries
Passengers can injure themselves on buses even if there is no accident involved. How is that possible? Passengers can be victims of sudden stops or sudden starts. What are sudden stops and starts? When buses are stopped, drivers usually check mirrors to confirm that all passengers are seated or holding on to safety bars before they start driving. A sudden start implies that the bus abruptly starts. Passengers might not be seated or holding on to the safety bars yet; in fact, passengers might still be walking down the aisle of the bus. If the bus suddenly starts, standing passengers can potentially lose their balance and fall. Buses that are moving and suddenly stop also pose a risk. A sudden stop usually occurs when drivers try to avoid an accident. If the bus suddenly stops, passengers, both seated and standing, are lounged forward. This can cause passengers to impact other passengers and possibly hurt themselves on seats, windows, and safety bars. Another possible cause of bus injuries includes slips and falls. Spilled drinks and rainy days can create slippery bus floors. If a passenger slips and falls on the bus, he or she might sustain a number of injuries. Essentially, accidents—and subsequently, injuries—can occur if the driver is not paying attention or is intoxicated, the driver is not properly trained, or if the bus has not been properly maintained. If you are hurt in an accident, you may be entitled to financial compensation. Call an experienced attorney for more help.
Common Bus Accident Injuries
Bus accidents undeniably result in injuries. Both passengers and non-passengers can suffer injuries. The severity of the injuries is similar to injuries sustained in car accidents. However, since most buses are not equipped with seatbelts and allow passengers to ride while standing, bus injuries can be more severe. Additionally, the large size of the buses can be enough to cause non-passengers similar injuries.  Some common bus injuries include:
Whiplash (only applies to passengers)
Neck and back injuries
Spinal cord injuries
Broken or fractured bones
Broken hips
Head injuries and traumatic brain injuries
If you hit your head against a safety bar after a sudden stop, you should not shrug it off as unimportant. That injury, if left untreated, can result in a traumatic brain injury and can lead to permanent brain damage. If a passenger is injured, the driver of the bus might be liable for his or her injuries. Some accidents can result in death—of passengers and non-passengers alike. If death occurs, family members can file wrongful death claims against the bus driver or the bus company. Reach out to a qualified lawyer experienced in bus accident cases in Riverside, Moreno Valley, and Corona for more information.
Common Carriers
Common carriers are entities that transport people from one place to the other for a fee. Common carriers include buses, taxicabs, airplanes, and trains. Since buses are common carriers, they owe their passengers the highest duty of care. They must do everything possible to ensure that their passengers are safe at all times. Common carriers can be sued for failing to exercise the reasonable care that would be expected of operators. In order to have a successful claim, the victim will have to be able to prove that the bus company—or the bus driver—was negligent.
Here are the four aspects of establishing negligence:
Duty—the bus drivers owe a duty to the passengers to exercise care and diligence to ensure passenger safety.
Breach of duty—the bus driver breached this duty. He or she did not exercise enough care and caused the passengers injuries.
Causation—the breach of duty directly resulted in the victim's injuries.
Damages—the victim was injured as a result of the bus driver's actions.
An accomplished attorney with expertise in bus accident injury lawsuits will be able to help you prove these four points of negligence in court.
Normandie Law Firm
If you were injured by a bus in Riverside, California, you must contact Normandie Law Firm. We can provide the top legal representation necessary to file a bus accident lawsuit. Whether you were a passenger or non-passenger, you have rights. Normandie Law Firm, located in Riverside, Moreno Valley, and Corona can provide you with skilled attorneys with experience in bus accident cases. If you were injured on a bus, you must contact a Riverside bus accident lawyer as soon as possible. Why? Many bus companies are public entities; therefore, you have less time to file a lawsuit for your injuries. You need one of Normandie Law Firm's expert Riverside injury attorneys.
Normandie Law Firm is 100% committed to providing clients with the best legal service available. How do we ensure that we grant our clients top service? We offer free consultations and free second opinions. Our free consultations are just a phone call away. Simply call Normandie Law Firm and schedule an appointment. You will meet with one of our trusted bus accident injury attorneys. Our attorneys will answer all of your questions and concerns. Many clients come prepared with questions so that they do not forget to ask anything during the consultation. Our attorneys will dedicate themselves to providing you the best information available. We also offer clients free second opinions. If you already have an attorney at another law firm, you might find that you still have unanswered questions. If that is the case, you need a second opinion. Call and schedule your free second opinion. Our attorneys will prioritize you and your case; our entire legal staff will ensure that you are being taken care of. Many attorneys simply care about the number of cases they can sign on; that can lead to neglecting aspects of other cases. At Normandie Law Firm, our attorneys are always focused on giving you the attention necessary to ensure that your case is successful. You need a competent lawyer to sue; contact Normandie Law Firm for your free second opinion from an attorney who has experience in bus accident cases.
The staff at Normandie Law Firm understands that being injured in a bus accident—whether you were a passenger or not—can cause physical, mental, and emotional distress. Because of this, we offer clients a Zero-Fee guarantee. We do not want you to worry about finances surrounding the legal process. You will never have to worry about paying any upfront fees. Also, because our law firm is strictly based on contingency, you will not have to pay anything until our attorneys win your case. Contact us now; Normandie Law Firm has the expertise in bus accident cases you need to win your case.