Restaurant Slip and Fall Accidents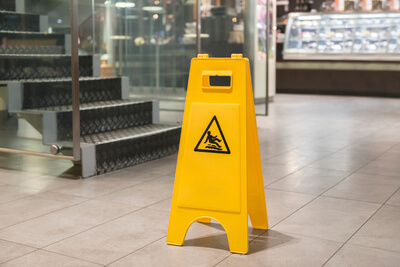 Slip and fall accidents are a type of personal injury that involves a person tripping, falling, or slipping and becoming injured on someone else's property. In these cases, there is a chance that a lawsuit can be filed and compensation awarded. Cases of slip and fall accidents are built on premises liability, as they are filed against the owner of a commercial property; or in the case of this article, restaurant owner. If you or a loved one has suffered personal injury because of the neglect of a restaurant owner and their employees, you may be eligible for compensation. Contact our top law offices today, and an expert attorney who has experience in slip and fall cases can walk you through the process of filing your case, fighting for your case, and earning you compensation for the damages.
Locations of Accidents
Slip and fall injuries are more often reported at restaurants than anywhere else. Examples of these restaurants are as follows:
Starbucks
Coffee Bean
Subway
McDonald's
KFC (Kentucky Fried Chicken)
Burger King
Taco Bell
Wendy's
Carl's Jr.
In-n-Out
Panda Express
Jack In the Box
Chipotle
Del Taco
Wing-Stop
Applebee's
Denny's
IHOP
Panera Bread
Shakey's
Chuck E. Cheese
Dave and Buster's
Slip and fall accidents at restaurants most typically occur because, within these environments, hazardous floor conditions are more likely than anywhere else. These accidents also tend to occur more often at fast food restaurants as they usually serve as many customers as possible within a short span of time. In turn, this results in spilled drinks and food. These incidents are reported to occur at 'sit down' restaurants as well. Whether at a fast food restaurant or a five-star bistro, slip and fall accidents happen. Sometimes they occur under the fault of the person injured. Many patrons disregard posted cautionary signs and the fault for their damages may be their own; although on some occasions, the slip and fall injury occurs at the negligence of the restaurant management and staff. Determining the characteristics of your specific case and the severity of your injuries can help a qualified lawyer experienced in slip and fall cases discern the possible value of your settlement and hopefully sue the restaurant for your slip and fall injuries.
Characterizing Your Slip and Fall Injury
To build your slip and fall injury lawsuit, it helps to discern the damages you have endured and the situation under which you have received the injury. One way to go about this is to figure out the injuries that you have sustained. Some common slip and fall injuries include:
Sprains and fractures
Shoulder injuries
Hip fractures
Back and spinal cord injuries
Head injuries
These are just some of the injuries that victims suffer from in the event of a slip and fall accident at a restaurant. In some cases, victims can experience post-traumatic damages like Complex Regional Pain Syndrome or Fibromyalgia which can lead to a lifetime of required medical care and can dramatically affect the extent of your compensation.
Before you pursue legal action and find a lawyer to sue the restaurant for your slip and fall injuries it is best to discern who in fact is liable for your injuries. An accomplished attorney with experience handling slip and fall cases can assist you in determining liability.
How To Sue A Restaurant For Falling?
If you slipped and fell at a restaurant and want to sue said restaurant for compensation for your damages, you must first discern whether or not the restaurant owner or their employees could be held liable. Every victim of a slip and fall injury should first ask themselves:
Should the property owner or his employees have known for the dangerous conditions because any other person in their position would have been aware of the hazardous condition of their property?
Did the property owner or employee know about the dangerous condition and do nothing to repair it.
Did the property owner or their employees cause the dangerous condition?
If you answered yes to any of these questions, the property owner could be held liable for your injuries. Even if your damages are the result of an employee and not the owner, the owner can still be held responsible for the damage. Restaurants are all held to a very high duty of care not to harm their customers. For this reason, restaurant owners are expected to do everything within reason to make sure their customers do not get injured. This duty of care extends to events that might cause any foreseeable harm to customers. For example, a customer slipping and falling on a tile floor beside a leaky pipe would be a foreseeable event that the restaurant owner is expected to warn their patrons about. On the reverse side of that, if a customer spills a drink on a tile floor, and seconds later another customer slips and falls, there is a high chance that the courts would consider that an unforeseeable event wherein the owner is not always seen as responsible. An experienced attorney will be able to help you tell the difference between what is grounds for a lawsuit and what isn't.
The best way to prove the negligence of a restaurant owner is to have sufficient evidence that shows that fact. If you have been injured in a slip and fall accident but have no definite link of proof to the restaurant being at fault your personal injury claim will more than likely fail in court. Your evidence can come in the form of photos or videos, witness statements, and medical bills and records. Any and all effective evidence must show that the event causing your injury:
Was foreseeable by the restaurant owner
Negligence of safety policies
Negligence directly caused your injury
Negligence resulted in real damages
Regardless of what evidence you have or can collect, we recommend that you immediately reach out to restaurant management about the incident. The longer you wait to report your injuries to the owner the more likely that owner is going to dispute the link between your injuries and the cause of those injuries. A restaurant owner can also be considered only partially liable (often called comparative negligence) wherein a percent of fault falls on the injured as well. If the damages you have sustained are minor, you can more than likely handle the claim on your own. However, in the event that the accident results in serious injuries like broken bones, intense burns, or broken teeth, we recommend you seek legal counsel from a skilled attorney with expertise in slip and fall injury lawsuits.
Contact Normandie Law Firm For A Free Consultation
If you or a loved one has suffered severe injury as the result of a slip and fall injury at a restaurant contact our law offices at the top-rated Normandie Law Firm today. Our attorneys with experience and slip and fall cases can guide you through the often complicated process of claiming compensation. Our Los Angeles restaurants slip and fall attorneys will pursue legal action against the restaurant, so you don't have to. As a further commitment to you and your case, our firm operates under a zero fee policy. Per this policy, in the unlikely event that we do not win your case, you do not pay us a dime. You only pay once we win your case. If you're feeling in need of a second opinion, our zero fee policy also offers second opinion case reviews for our clients. You can call our offices today for your free consultation and speak with one of our experienced lawyers.