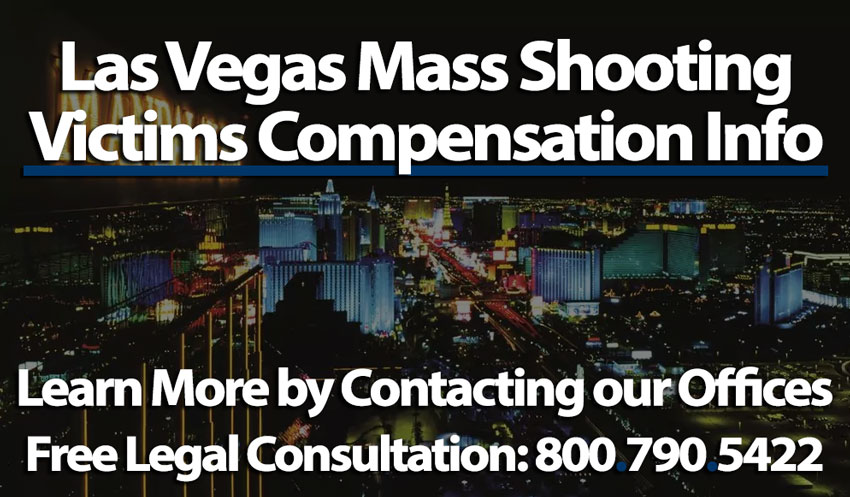 On October 1, 2017, over 500 people were injured, and at least 58 people were killed in the deadliest mass shooting in modern U.S. history. Our law firm is investigating the theory of liability in part of the Mandalay Bay Resort and Casino, Las Vegas ¬– the hotel from which the shooting occurred  – has any liability. Based on the preliminary investigations and reports, it does appear that Mandalay Bay Resort and Casino should have had proper security measures in place in order to protect against the manifestation of such incidents. In fact, it appears that under specific threat assessment reports the casino was aware that the shooter showed signs of suspicion due to the number of bags he carried into his room and was aware of the possibility of such scenario. There may be a possibility to file a Las Vegas attorney's lawsuit for mass shooting.
We have received several questions regarding the incident, of which include the following:
Is Mandalay Bay Hotel liable for the shooting in Las Vegas on the Las Vegas Strip?
Is Mandalay Bay Hotel responsible for the shooting at the Route 91 concert?
Is Mandalay Bay Liable for the deaths in Las Vegas during the Route 91 concert?
Is Mandalay Bay resorts responsible for injuries in the Stephen Paddock Las Vegas shooting?
Where can I find a lawyer to sue the Mandalay Bay resorts and receive just compensation for my injuries or loved one's wrongful death?
The Normandie Law Firm has the perfect lawyer for your case. Call us today to speak to a Las Vegas shooting lawsuit attorney and to see what we can do for you.
Hotel Liability
Typically, a hotel, or any business for that matter, is not necessarily responsible for the independent acts of a third party perpetrated against that business's clients or guests. This is in part because a hotel cannot control the actions of a rogue third party or when such a third party causes harm to any of its guests or others on the property. However, because of the details and facts from our investigation, there arise different theories of liability. One such theory is that, yes, the casino has liability when it comes to the actions of the third party. If you were affected by the Las Vegas shootings that occurred on October 1, 2017, the following arguments may help you:
1) One must first consider the volume of the weapons that were carried by the shooter up to his room. According to news reports, the attacker, one Stephen Paddock, had brought up as many as 23 different weapons into his room. These guns included such armaments as automatic and semi-automatic weapons, which would deliver massive firepower onto those he targets and inflict serious injuries. Additionally, the attacker had carried several hundred rounds of ammunition to his room. If you consider hotel security measures, it is important you understand what a reasonable person would do in a similar situation. It is very likely that one would consider it suspicious if one of the hotel guests brought up hundreds of rounds of ammunition and weapons into his room. Even if the perpetrator did not use the front entrance, there are many security cameras in place which could have detected the same man from bringing ten suitcases into his room and leaving the "Do Not Disturb" sign for the entirety of his stay.
2) The security measures that were existent at the time of the attack were simply not enough to prevent such an event. It is reasonable to assume that a hotel the size of the Mandalay Bay would run various threat or risk assessment models, like other hotels in the Vegas Strip do. It is likely to assume that the security team would put together several models and scenarios in how to deal with potential threats. This is particularly true once you take into account the geographic positioning of the Mandalay Bay on the Vegas Strip. (Many of its rooms face the strip directly and have a full view of the horizon.) With so many recent shootings in America, it would be likely that a threat of this magnitude would standout, and various security measures would be installed to ensure that these events not happen. It is clear that certain hotels in Las Vegas have such safety mechanisms to detect the entry of guns, or to detect the use of guns in the property.
3) Reports indicate that the shooter had installed security measures of his own into his room. This includes surveillance cameras outside of his hotel room, as well as inside, such as one facing the peephole of the door. These were installed in order to notify him of any incoming security attempting to enter the room. It is important that one question how the shooter was able to install this kind of surveillance equipment without raising an ounce of suspicion. In addition, as mentioned in point (1), the assailant stayed in his room for three full days with the "Do Not Disturb" sign activated outside on the doorknob. The question is whether this would have triggered a response by hotel security that there was something suspicious afoot.
4) Finally, the question is whether the entire hotel staff was adequately trained to detect a threat of this magnitude. It would seem reasonable that hotel managers would train their staff to identify such suspicious activity and notify the correct parties which could handle everything before it becomes too late. This importance holds greater truth to it when we consider the kind of atmosphere in which the U.S.A. currently lives. There were shootings at concerts and other major events over the past year; it would not be abnormal to guard and train the staff properly against these kinds of scenarios.
A lawyer for Las Vegas mass shooting victims can help you through your case. He will be well-equipped to present these arguments in an attempt to bring you fair restitution.
Conceal and Carry Laws in Las Vegas
While Las Vegas is known to have very specific conceal and carry laws, as does the whole state of Nevada, hotels are not bound by them because hotels are private property; and indeed, all hotels in the proper Las Vegas area are private property. It is up to the hotel on whether or not it allows occupants to enter with weapons. In many situations, people go to Las Vegas to attend weapons conventions or to go to a shooting range. The shooting ranges are popular with the local people of Las Vegas as well as the tourists who visit. So it is not entirely unreasonable to see someone enter the property with a number of weapons. It is also reasonable to assume that if someone enters the property with a number of weapons, even with the proper registration for each weapon, that it would be alarming. In addition, it is also reasonable to assume that if someone were to enter the property with hundreds of rounds of ammunition, it would be cause for suspicion.
Many hotels do not allow occupants to carry live ammunition on their property – they are private property and can so make their own regulations. This is a safety measure to avoid the use of weapons in the property. It would be logical to not allow the presence of live ammunition on the premise specifically for this reason. A Las Vegas mass shooting attorney will have the knowledge about firearm laws to help you earn compensation.
Filing a Wrongful Death Lawsuit
Those who were affected the most and lost loved ones because of this senseless massacre would be able to file a wrongful death lawsuit with the help of a Las Vegas mass shooting victims lawyer. Presently, we are preparing lawsuits against the estate of Stephan Paddock and other entities. We are also exploring the cause of action which was taken against eh Mandalay Bay Resort and Casino, Las Vegas for the lack of security measures as well. If you were the mother, father, sister, brother, child, husband, or wife of those who were unfortunately killed in the Las Vegas shooting, you would have a claim to file and receive damages. Las Vegas has specific rules as to who can be included in a claim for damages against. If you are considering moving forward with the lawsuit or would like additional information, please contact our law office to discuss the details of your case. A lawyer for victims of the Las Vegas mass shooting will gladly speak to you about your case.
Those victims who were injured by the shooter would also have a separate claim against the same entities: Stephan Paddock's estate and the Mandalay Bay Resort and Casino. Injured parties would have a claim for damages sustained as a result of the negligence in part of the hotel.
We at the Normandie Law Firm understand that no amount of money can replace your loved one, but we believe that you are owed some monetary compensation for the sake of justice. Compensation can help get you through the emotional pain and suffering.
We offer a free consultation, which gives you the ability to discuss the facts of your case with one of our attorneys – free of charge. There is no financial obligation. Our wrongful death attorneys will give you their initial thoughts regarding your case. If we take your case, an attorney for Las Vegas mass shooting victims can help you file a wrongful death lawsuit.
Apart from free consultation, we also offer a zero-fee guarantee. This is our promise to you that we will use every available resource to prove your case: If we cannot prove your case and get you the necessary compensation, you will not pay us for our services. We do not feel it is ethical to invoice clients who are looking for just restitution and put them in a worse situation by forcing them to pay.
Contact the Normandie Law Firm today to see what we can do for you; we are your attorneys representing the victims of the Las Vegas mass shooting.
FURTHER INFO:
Route 91 Concert Promoter and Concert Venue Liability for Las Vegas Shooting
Mandalay Bay Hotel Resort Liability for Stephen Paddock Las Vegas Shooting
Las Vegas Mandalay Bay Liability for Wrongful Death and Injury to Victims