File a Lawsuit Against SRAM for Defective Bicycle Brakes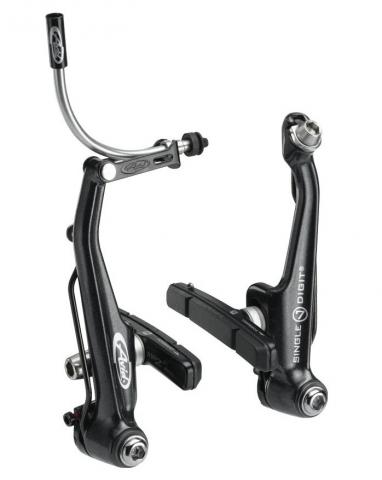 Name: Bicycle brakes
Hazard: Within the brake assembly a rivet can loosen or disengage. This defect results in braking failure, which in turn can pose a significant crash and injury hazard to the rider. 4, 2017
Remedy: Replace
Recall Date: October
Recall Number: 18-002
Description: This is a recall for the Avid SD7 bicycle mechanical rim brake. On the back of the brake arm there is a date code written in the DDMMYY date format. This printed date, represents the day, month, and year of manufacture. The brakes were sold separately by SRAM and were also installed as original equipment on EliptiGo model 11R elliptical cycles
Remedy: All consumers of this product should immediately stop using the recalled brakes and contact SRAM to receive a free replacement, as well as free installation instructions.
Incidents/Injuries: Five reports of loose or detached rivets have been reported to SRAM. No injuries have been reported as of yet.
Sold At: Specialty bike stores nationwide and online at www.jenson.com and www.REI.com from June 2014 to May 2017 for about $40, and installed as original equipment on EliptiGo model 11R elliptical cycles from October 2014 to May 2017 for about $3,500
Importer(s): SRAM LLC of Chicago, Illinois
Manufactured In: Taiwan
Units: Roughly 7,000
How Your or Your Loved Ones Can Receive Compensation
If you or a loved one has been injured as a result of the Avid SD7 bicycle mechanical rim brake, you may be entitled to collect significant monetary compensation for your damages. This compensation is intended to cover damages such as any medical expenses the injury may have caused; a loss of wages as a result of the injuries; any loss of potential future wages; pain and suffering; emotional distress; and even punitive damages. However, the process of claiming compensation for your damages can be somewhat challenging when taken on alone. While every individual has a right to represent themselves in court, the best way to guarantee a satisfactory outcome for your case is to seek legal representation from a skilled and experienced attorney.
When filing a lawsuit against SRAM for their defective bicycle brake product, it is important to understand the damages that these defective products can cause. If you have purchased a product with the Avid SD7 bicycle mechanical rim brake installed on it, you may be at risk to experiencing severe and even life-threatening damages. When using a bicycle brake, most expect the bicycle to stop in a safe and timely matter. However, when these brakes fail, the riders are subject to the full force of damage caused by either falling off the bike, colliding with another biker, or even crashing into another object on the road such as a car or light post. Some of the damages that these defective brakes can cause are listed below for your reference:
Head Injuries: Head injuries can range from minor contusions (or brain bruising) to more severe traumatic brain injuries or TBIs. Some TBIs can cause ongoing seizures, mood changes, cognitive impairment and other debilitating symptoms. In most cases, head injuries require emergency room treatment, or hospitalization and in more severe cases can result in death.
Hip Fractures: Hip fractures often require surgery and extended hospitalization. In some more serious cases, surgery may be necessary to implant an artificial hip. Out of every five hip fracture patients, one of them dies due to their injuries
Back and Spinal Cord Injuries: Injury to the spinal cord can lead to permanent paralysis, temporary paralysis and other severe neurological and sensory impairments
Shoulder Injuries: falling or collision accidents can result in shoulder dislocations or more severe forms of shoulder injuries called brachial plexus injuries. The brachial plexus is a network of nerves that connect the shoulder, arm, and hand to the spinal cord. These injuries are often treated with surgery followed by extensive physical therapy
Sprains and Fractures: The force of falling or colliding with another object on the road can cause minor to severe bone injuries. In some cases, the impact of the ground could cause minor sprains, in others; it could cause debilitating bone breakage that may result in temporary disability. Some of the common fractures that victims suffer include hip, spine, forearm, leg, ankle, pelvis, upper arm and hand.
Understanding the damages that you or a loved one have suffered as a result of this defective product can play a vital role in the outcome of your case. However, it is also important that you understand product liability law, and how it justifies the filing of your case. Under product liability law, product manufacturers are expected to keep defective products out of the hands of consumers. If a defective product does end up in the hands of a customer, under product liability law, that consumer has every right to pursue legal action against the manufacturer of that product. However, filing lawsuits against manufacturing companies can be somewhat challenging as they more than likely have the resources to employ a whole team of legal experts ready and willing to dispute your case by any means necessary. For this reason, it is important to collect adequate evidence and be able to prove the liability of the company responsible.
For starters, evidence in product liability cases can take the form of photographs, video footage, eyewitness accounts, or other accounts of defects causing injuries. This evidence is essential to the success of not just product liability cases, but any personal injury case. For this reason, it is important that you collect as much substantial evidence as possible when pursuing your lawsuit. Effectively placing liability also plays a crucial role in the success of your case. In most cases, a wide range of companies are involved in the manufacturing of any one product, and as such a defect could have occurred at any one of these stages of manufacture. For this reason, it is important that you can prove the right company is liable for the defect that resulted in your damages. Listed below are some of the common areas where a product defect can occur, and the parties that would be responsible for the damages:
Design Defects: These are the defects that can occur before the product is sent to the assembly line. The defects that occur in this stage of production are faults that make the product inherently dangerous. In most cases, these defects can lead to full-scale product recalls, and the company which organized the design of the product could be held liable for the damages.
Manufacturing Defects: These defects typically occur on the assembly line of the product. They can range from minor mistakes along the manufacturing chain to reoccurring mistakes that can result in wide-spread recalls. In these instances, the manufacturing company could be deemed responsible for the damages.
Marketing Defects: These defects occur during the marketing of a specific product. These defects include things like improper labeling, insufficient instructions, or inadequate safety warnings.
Victims of product defects also have the option of filing a class action lawsuit against the company responsible for their damages. Class action lawsuits usually involve multiple parties that were injured in the same way by the same product or event. Class action lawsuits give victims the opportunity to fight for compensation together, and can better their chances at receiving a successful outcome for their case. However, class action lawsuits typically do not offer the same level of compensation payout as other forms of suits. In most class action lawsuits, the compensation amount is dispersed amongst all of the victims involved. While product defects don't always result in the injury of large masses of people, in most cases, those who file class action lawsuits aren't expecting to receive a large settlement.
As mentioned prior, a skilled attorney can best guide you through the process of filing a lawsuit for the damages caused by this product, and any other. While you can represent yourself in court, the best way to ensure that you receive the compensation you deserve is with the help of experienced legal representation.
How Normandie Law Firm Can Help
If you or a loved one have experienced personal injury as a result of the defective SD7 bicycle mechanical rim brake, you may be eligible to file a claim for significant monetary compensation. However, in pursuing compensation, it is best to seek the assistance of a skilled attorney, as large manufacturing companies more than likely have the resources to employ their team of expert lawyers to dispute your claims. At Normandie Law Firm our skilled attorneys can guide you through the process of building your case, filing your claim, and collecting compensation for your damages. Those who file a claim with our law firm can find some if not all of the following damages compensable to them:
All of you medical and hospitalization costs
All of your future medical care and treatment
A loss of income and loss of future earnings due to long-term recovery or permanent disability due to the accident
Compensable economic damages include loss of property or damaged property.
Compensable non-economic damages include emotional distress, trauma, PTSD resulting from the accident, pain and suffering and anxiety.
Victims of this recall or other recall similar to this one can contact our law offices to learn more about how to receive compensation for their injuries. Our team of product liability attorneys is committed to ensuring that our clients receive proper representation for their claims. As a display of our commitment, every one of our clients will receive the benefits of our zero fee guarantee policy. Under this zero fee policy, all you don't pay for our services until we follow through with our promise and win your case.  If you feel in need of a second opinion, second opinion case reviews are also free under this policy. So, give us a call, and let us fight your case, so you don't have to.
FURTHER INFORMATION: