Sue Plycem for Defective Allura Decking Due to Fall and Injury Hazard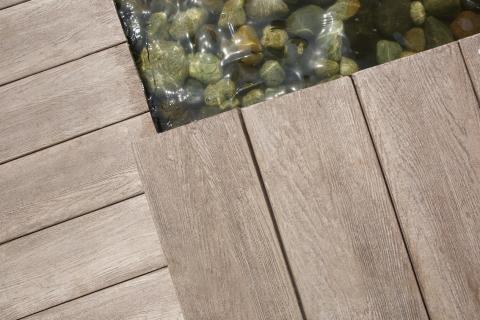 Name of product: Allura decking
Hazard: The recalled decking in questions has been reported to deteriorate and crack, causing the deck surfacing to break. Consumers can then fall through the broken deck and suffer serious injuries.
Recall Date: November 21, 2017
Recall Number: 18-044
Recall Description: This is a recall of the trademarked Allura fiber cement decking and fascia. The recalled decking was sold in 12-foot lengths and is 6 inches wide and one inch thick, and came in two styles: a hidden fastener application and a direct screw application. The recalled Allura fiber cement fascia, which was for vertical applications only, was sold in 12-foot lengths, is 8 and a12 inches wide and 7/16 inches thick. The decking and the fascia were sold in a natural wood color with a wood grain texture. There are no labels or other identifying marks on the decking materials.
Incidents/Injuries: Three reports have been filed to the Plycem company which detail the recalled decking materials. One report involved a adult male whose leg went through the cracked decking.
Sold At: Kelseyville Lumber and Trademark Exteriors as stock items and at Home Depot as a special order item from February 2014 through June 2017 for between $25 and $30 per board for the decking and about $25 to $40 per board for the fascia.
Manufacturer(s): PlycemConstrustemas, of Costa Rica, S.A.
Importer(s): Plycem USA LLC, of Houston, Texas
Manufactured In: Costa Rica
Units: Approximately 37,500 boards
How You Can Receive Compensation For The Damages
Product recalls, such as this one, can result in some truly damaging injuries. These injuries can leave a victim with damages that can be incredibly difficult to overcome. On top of the initial physical damages, there are also the medical expenses, and potential loss of wages that can result from some of these accidents. Fortunately, if you or a loved one have been made a victim of the defective Allura decking, or any other defective product, you have every right to pursue legal action against the product manufacturer. Under product liability law, product manufacturers are expected to keep defective products out of the hands of their consumers. If a consumer gets a hold of a defective product, and is injured as a result, that consumer has every right to file a personal injury lawsuit against the company responsible for the defect. However, placing liability is somewhat challenging as in most cases there are a large number of companies involved in bringing a product from design floor to retail store. Being able to accurately identify what company is responsible can play a central role in the eventual outcome of your case. Listed below are the three common areas in a product's production line where defects are likely to occur:
Design Defects: These are the defects that can occur before the product is sent to the assembly line. The defects that occur in this stage of production are faults that make the product inherently dangerous. In most cases, these defects can lead to full-scale product recalls, and the company which organized the design of the product could be held liable for the damages.
Manufacturing Defects: These defects typically occur on the assembly line of the product. They can range from minor mistakes along the manufacturing chain to reoccurring mistakes that can result in wide-spread recalls. In these instances, the manufacturing company could be deemed responsible for the damages.
Marketing Defects: These defects occur during the marketing of a specific product. These defects include things like improper labeling, insufficient instructions, or inadequate safety warnings.
As well as understanding the specific defect that caused your injuries, it is also important that you make sure to safeguard the evidence. While many recalls will suggest you return the product for a refund, this can directly hinder your ability to file a lawsuit for compensation. If you want to file a product liability lawsuit it is highly recommended that you follow the steps listed below:
Keep the product even if there is an issued recall. Returning an item for a refund will destroy any evidence you can have to pursue the case.
Whatever you do, do not tamper with the product, or attempt to fix it. Any manipulation of the product could hinder the effectiveness of the evidence.
Seek medical attention as soon as possible, so as to prevent any misconception of a gap in medical treatment
Keep any receipts or documents proving that you were the one that purchased the product
Ultimately, the best way to earn compensation for the damages suffered by this product recall and other product recalls is to seek legal representation. Having the right attorney on your side can make the difference between filing a successful lawsuit and having your case dismissed from court.
How Normandie Law Firm Can Help
If you or a loved one have experienced personal injury as a result of the defective trademarked Allura Decking you may be eligible to file a claim for significant monetary compensation. However, in pursuing compensation, it is best to seek the assistance of a skilled attorney, as large manufacturing companies more than likely have the resources to employ their team of expert lawyers to dispute your claims At Normandie Law Firm our skilled attorneys can guide you through the process of building your case, filing your claim, and collecting compensation for your damages. Those who file a claim with our law firm can find some if not all of the following damages compensable to them:
All of you medical and hospitalization costs
All of your future medical care and treatment
A loss of income and loss of future earnings due to long-term recovery or permanent disability due to the accident
Compensable economic damages include loss of property or damaged property.
Compensable non-economic damages include emotional distress, trauma, PTSD resulting from the accident, pain and suffering and anxiety.
Victims of this recall or recalls similar to this one can contact our law offices to learn more about how to receive compensation for their injuries. While our law firm is based in Los Angeles, our attorneys also practice in Oakland, San Francisco, San Diego, Sacramento, Orange County, Riverside, Fresno, and throughout the state of California.
Free Second Opinions
Other attorneys will sign you up to their firm but will disappear once your name is on the paper as they are busy signing up more cases. In these instances, their business is based more on volume and will attempt to sign up as many cases as possible. In turn, they will spend less time on cases resulting in severely reduced settlements. Our firm will not treat you like a number. We will be in communication with you throughout our lawsuit and will treat you like family. So if you already have an attorney don't worry, we'll give you a second review of your case 100% free of charge.
Zero Fee Guarantee-No Upfront Fees Ever
If you contact our law offices today, we can walk you through the complicated process of filing your claim completely free of charge. As a show this commitment to you and your case we offer our clients the benefits of a zero fee guarantee policy. Under our zero fee policy, all clients don't pay for our services until their case is won. If you feel in need of a second opinion, second opinion case reviews are also free under this policy. Please, feel free to give us a call, and we can guide you down the path of receiving proper compensation for your damages.
FURTHER INFORMATION: