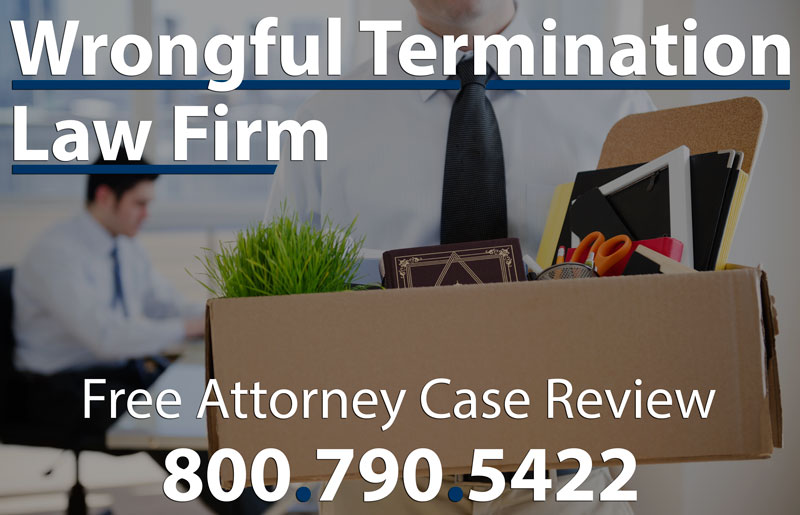 Being wrongfully terminated by an employer can be incredibly devastating. Often those who are fired illegally are not aware of the potential of termination until the moment it happens. This illegal firing can cause significant monetary damages, as well as emotional distress which can hinder one's ability to find future work. Fortunately, if you believe you were fired by your employer illegally, you may be able to sue your former employer for wrongful termination. However, when filing a wrongful termination lawsuit against your employer for illegal firing, it is highly recommended that you seek legal representation and guidance from an attorney with experience in wrongful termination cases. At Normandie Law Firm our wrongful firing attorneys can guide you through the process of building your case, filing a claim, and reaching a settlement that you deserve. If you have any questions after reading this article, please feel free to reach out to our law offices for a free consultation for your wrongful termination claim from one of our many well-versed legal advisors.
Wrongful Termination
In most cases, victims who are wrongfully terminated are unaware of their rights as workers. Fortunately, in some instances, being terminated from your job can be considered illegal. However, it is important to note that most workers in the United States are considered to be hired under an 'at-will' status. This 'at-will' status essentially means that a worker's employer can fire that worker for almost any reason without any repercussions on their part. Most workers in the United States are aware of their employment status as being 'at-will' but are unaware of the details surrounding this employment status. While most workers can be fired 'at-will' there are certain instances where an employer cannot legally terminate a worker. When this is the case, a victim of wrongful termination can sue their employer for their illegal firing practices. In most instances, one of the following characteristics must be present in your case for your termination to be deemed illegal:
If you were fired for a reason or believed reason that violates the federal and state anti-discrimination laws
If you were fired after having been sexually harassed, or in response to refusing sexual offers.
If you were fired after having breached an oral or written employment agreements.
If you were fired in such a way that it violates labor laws or collective bargaining laws
If you were fired in response to having filed a complaint against the employer.
Those who believe they have been wrongfully terminated from their place of work should seek legal representation from a law firm experienced in wrongful termination lawsuits. While you can represent yourself in court, there is no guarantee that self-representation will lead to a satisfactory outcome. The laws surrounding employment and termination can also be incredibly complicated, and without a doubt, your employer will be less lenient in seeing your side of the story. For this reason, a attorney skilled in handling wrongful termination cases can make the difference between earning significant monetary compensation and having your case dismissed from court entirely.
Filing A Claim For Wrongful Termination
Being wrongfully terminated can be incredibly damaging financially, and can cause significant emotional and mental trauma as well. Many individuals who have been wrongfully terminated find it difficult to move on and find other work and end up suffering because of it. Fortunately, victims of wrongful termination have every right to pursue legal action against their employer to receive compensation for their damages.
As mentioned prior, the laws and processes surrounding wrongful termination can be incredibly complicated, even for the individuals who have moderate knowledge of the general legal process. With the help of a skilled attorney, you can file a claim against your employer and better ensure a positive outcome for your case. Often, when victims of wrongful termination reach out to our law offices we recommend the following tips to guide them in the right direction:
Refrain from reacting negatively to your employer
As soon as you can file a complaint with your company's HR department
Reach out to a lawyer with expertise in handling employees' rights
Overview your employment contract, if you have one.
Reach out to your employer and find out why they decided to terminate you
As well as finding out why it is helpful to know who approved the firing
Obtain and review your personnel file
If you can, negotiate a severance package
Try and get written documentation of your termination and severance.
Your employer may attempt to employ intimidation tactics, do your best to disregard them
As soon as possible, return all company property you still own and comply with any post-termination procedures your employer expects of you.
Often victims of wrongful termination hope to receive severance packages. A severance package can include things like monetary compensation, as well as being able to take advantage of your employer's benefits while out of work. Sometimes employers will provide severance packages for their employees. However, if you are wrongfully terminated and you do not receive a severance package you may be able to negotiate for one. By willing to negotiate for a severance package, your employer could avoid having legal claims made against them for their actions. Some key elements in negotiating for a severance package include the following:
Keep a level head when being fired, any negative reaction could hinder your chances of receiving a severance package from your employer
Request that the offer and the terms of the offer are all confirmed in writing
Avoid settling for the first off your employer makes.
Attempt to be kept on the payroll for as long as you can
Try to negotiate for continued medical coverage while you receive payments out of your severance package
Ensure that the severance package does not interfere with any potential future employment.
In some instances, individuals are wrongfully terminated as a result of discrimination. Discrimination is defined as the mistreatment of an individual based on their race, skin color, cultural background, religious background, personal characteristics, or sexual orientation. Discrimination, and more importantly, being fired from your job by discrimination is strictly prohibited by state and federal law. If you were fired for discrimination, there are certain steps you should take to sue your employer. Some of these recommended steps are bulleted below for your reference:
Contact an HR Representative: The first thing you should do is report every incident of abuse to your company's Human Resources department. These departments are put in place to fight for the rights of their employees and resolve issues of this nature. Often, cases will be resolved at this point as a result of the actions of an HR representative. By reporting your incidents, you not only document the harassment, but you can also show a jury that you exhausted all options of solution before relying on legal action.
Collect Any and All Evidence: If your HR department fails to remedy the issue, you may need to file a report with either a state or federal anti-discrimination agency. Before you do so, you should gather any and all evidence you need to support your claims. This evidence can include things like photographs, video footage, or audio recordings of incidents of harassment; text messages, phone calls, emails, or other points of contact shared between you and your employer or; eyewitness testimonies from co-workers, customers, or even family members that back up your claims.
File a Report With an Anti-Discrimination Agency: Before you can file a lawsuit against your employer, you must file a report with either the federally run Equal Employment Opportunity Commission (EEOC) or a state-run agency. These agencies will review your case, and either give you the approval to sue or reject your right to sue an employer. During this period, it is highly recommended that you keep a low-profile at work as you do not want to give your employer any evidence to later dispute your claims in court.
Move to Court or Resolve: If the anti-discrimination agency approved your case, you and your attorney would receive a 'right-to-sue,' letter, giving you the go-ahead to take your case to court. However, at this point, many cases settle as companies would rather settle a case than expend the exuberant legal fees to fight the case in court. It is up to you whether you want to take your case to court or not, and before making a choice, it is highly recommended that you reach out to your lawyer for advice on the best course of action.
Regardless of the specific aspects that are present in your case, it is always in your best interest that you seek legal representation from an attorney well-versed in the subject of worker's rights and wrongful termination lawsuits. With a skilled attorney, you can better negotiate with your employer for a severance package, or can ensure that you have the resources to fight for your case in court.
How Normandie Law Firm Can Help
Being wrongfully terminated for any reason can be an incredibly damaging and traumatic experience. Many individuals who experience wrongful termination may be unaware that the actions of their employer are illegal and could result in significant legal action. If you were wrongfully terminated from your job, it might be in your best interest that you seek legal consultation from an attorney that is well-versed on employee rights. Our experienced wrongful termination lawyers can guide you through the often complicated process of filing your claims, reaching out to a disability discrimination agency, and fighting for your case in court. Those who have experienced financial damages as a result of wrongful termination can contact our law offices to learn more about how to receive compensation for their injuries. While our law firm is based in Los Angeles, our attorneys also practice in Oakland, San Francisco, San Diego, Sacramento, Orange County, Riverside, Fresno, and throughout the state of California.
Free Second Opinions
Other attorneys will sign you up for their firm but will disappear once your name is on the paper as they are busy signing up more cases. In these instances, their business is based more on volume and will attempt to sign up as many cases as possible. In turn, they will spend less time on cases resulting in severely reduced settlements. Our firm will not treat you like a number. We will be in communication with you throughout our lawsuit and will treat you like family. So if you already have an attorney don't worry, we'll give you a second review of your case 100% free of charge.
Zero Fee Guarantee-No Upfront Fees Ever
If you contact our law offices today, we can walk you through the complicated process of filing your claim completely free of charge. As a show this commitment to you and your case we offer our clients the benefits of a zero fee guarantee policy. Under our zero fee policy, all clients don't pay for our services until their case is won. If you feel in need of a second opinion, second opinion case reviews are also free under this policy. Please, feel free to give us a call, and we can guide you down the path of receiving proper compensation for your damages.