L.A. County To Pay $4 Million To Families of Couple Killed In 2013 Palmdale Crash Involving Speeding Deputy | 10-4-2017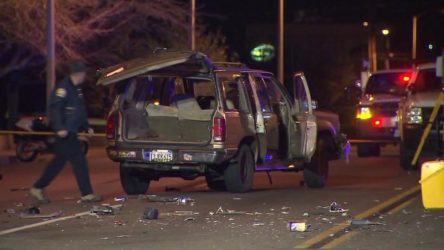 L.A. County has approved a $4 million payout to the families of those who suffered wrongful death after a sheriff's deputy raced through an intersection in Palmdale at more than 80 miles per hour, striking a car in the process. The tragic accident occurred four years ago, and according to reports, Sara Paynter and Robert Delgadillo were killed when their Ford Explorer was struck by the L.A. County Sheriff's deputy cruiser. Reports also show that the cruiser had been traveling at approximately 83 miles per hour when the posted speed limit was 50 miles per hour.
Kamal Jannah, the deputy responsible for the wrongful death, was not responding to an emergency and did not have their lights or siren on at the time of the collision. The two victims, Paynter (20 years old) and Delgadillo (31 years old) were thrown from the back seat of the SUV and were pronounced dead at the scene. The deputy and two others involved in the accident suffered minor injuries as a result.
How You Can Receive Compensation For Your Damages
If you or a loved one has suffered injuries as a result of this incident or any other similar auto collision involving law enforcement officers you may be eligible for significant monetary compensation. Losing a loved one or suffering traumatic injuries as the result of the actions of a law enforcement officer can be incredibly devastating. Fortunately, through the filing of a personal injury or wrongful death lawsuit against a law enforcement officer you could find damages like medical expenses, a loss of wages, and even a loss of future wages covered through a monetary settlement. However, suits made against law enforcement officers come with their own set of hurdles and challenges. Police officers, sheriffs, deputies and other law enforcement members have broad powers that they can use to carry out their duties. While state and federal laws impose restrictions and limitations on the extent a police officer can break the laws to enforce the laws, these officers can still be held liable for the damages they may have caused.  Law enforcement officers are funded by the government and as such fall under sovereign immunity. This essentially makes them immune from lawsuits based on their performance of them doing their jobs. However, the victim of a damaging incident involving a law enforcement officer can be overcome if it is proven that the law enforcement engaged in the willful unreasonable conduct. Unlike most cases regarding personal injury and wrongful death, simple negligence cannot make a law enforcement officer liable for the damages.
While building a case to sue the police is difficult it is not impossible. Victims of incidents like the one mentioned above can still seek compensation through the pursuit of a lawsuit; it is just far more challenging to do so. For this reason, it is highly recommended that you seek assistance from a lawyer with a wealth of experience in fighting for the rights of those who have been injured or experienced damages as a result of the actions of law enforcement officers. When suing a law enforcement officer for misconduct, it is important that you do the following to ensure a satisfactory outcome for your suit:
Speak to a civil rights attorney as soon as you can, as they will better understand the complexities that come with suing a police officer or law enforcement officer for the damages caused by blatant misconduct.
Collect as much evidence as possible by taking pictures of the injuries, gathering eyewitness accounts, and holding on to any clothing or any other property that was damaged by police.
Report the incident to the police department, as well as the United States Department of Justice and the United States Attorney General's Office.
In regards to wrongful death suits, it is vital that you are one of the eligible parties that can file a lawsuit. The laws that dictate who can sue for wrongful death can vary from state to state. For example in the state of California, one of the following must apply to you or the individual pursuing legal action:
The deceased person's "putative spouse" or the putative spouse
The deceased person's stepchildren
The deceased person's parents
Once you have gone through the necessary steps of building a foundation for your case, it is important that you can prove that the law enforcement officer's direct actions resulted in the damages that you or a loved one had suffered. In every claim of negligence, it is highly recommended that you have substantial evidence to back up your claims. Some examples of suitable evidence include the following:
Photographs of the crash scene and the damages
Video Footage from dash cams, street cams, or any other source showing details of the accident
Eyewitness accounts from those who may have seen the incident take place
Medical records that detail the damages you or your loved ones may have suffered.
Expert references from other experienced law enforcement officers that help ensure that the officer in question was acting negligently.
Once you have collected adequate evidence you must then use this evidence to prove the following components to any successful claim of negligence:
Duty: The plaintiff (injured or damaged party) must be able to show that the defendant (law enforcement officer) owed a legal duty to the plaintiff under the particular circumstances of the case.
Breach: The plaintiff must be able to show that the defendant breached said legal duty through specific actions or failure to act appropriately
Causation: The plaintiff must be able to show that the defendant's actions or lack thereof caused the plaintiff's injuries
Damages: The plaintiff must be able to show that they endured some specific damages. This can usually be shown through the presentation of medical records, a loss of wages, or a loss of potential income.
When taking on law enforcement officers or any other government entity, it is always in your best interest to seek legal representation from an attorney experienced in handling cases of this nature. State and federal laws lay out strict guidelines in filing lawsuits against law enforcement officers, and even one mistake can result in the complete collapse of your case. For this reason, having the right attorney on your side can either make or break your case. While every individual has a right to pursue legal action alone, there is no guarantee that going it alone will result in a favorable outcome.
How Normandie Law Firm Can Help
Victims of the incident above, or any other incident similar have every right to pursue legal action against the law enforcement officer responsible for the damages. However, taking on a law enforcement officer for using excessive force or misconduct can be incredibly challenging alone. Fortunately, with the help of a skilled attorney, you can find the monetary compensation you deserve for the damages you wrongfully had to endure. Our law firm has years of expertise in fighting for the rights of those injured or wrongfully killed by law enforcement. Those who file their case with our Angeles law firm could find some if not all of the following damages compensable to them:
Past and Future Medical Bills
Loss of Wages
Loss of Potential Future Wages
Pain and Suffering
Emotional Distress (depression, anxiety, PTSD, etc…)
Punitive Damages
At Normandie Law Firm we can help you sue the party responsible for your damages and can guide you through the process of building a case, filing a claim, and collecting compensation for the damages. While our attorneys are based in Los Angeles, they also practice in San Diego, Orange County, Riverside, Bakersfield, San Francisco, Fresno, Sacramento and throughout the state of California.
Free Second Opinions
Other attorneys will sign you up to their firm but will disappear once your name is on the paper as they are busy signing up more cases. In these instances, their business is based more on volume and will attempt to sign up as many cases as possible. In turn, they will spend less time on cases resulting in severely reduced settlements. Our firm will not treat you like a number. We will be in communication with you throughout our lawsuit and will treat you like family. So if you already have an attorney don't worry, we'll give you a second review of your case 100% free of charge.
Zero Fee Guarantee-No Upfront Fees Ever
If you contact our law offices today, we can walk you through the complicated process of filing your claim completely free of charge. As a show this commitment to you and your case we offer our clients the benefits of a zero fee guarantee policy. Under our zero fee policy, all clients don't pay for our services until their case is won. If you feel in need of a second opinion, second opinion case reviews are also free under this policy. Please, feel free to give us a call, and we can guide you down the path of receiving proper compensation for your damages.