How To Prove A Sidewalk Trip and Fall Accident Case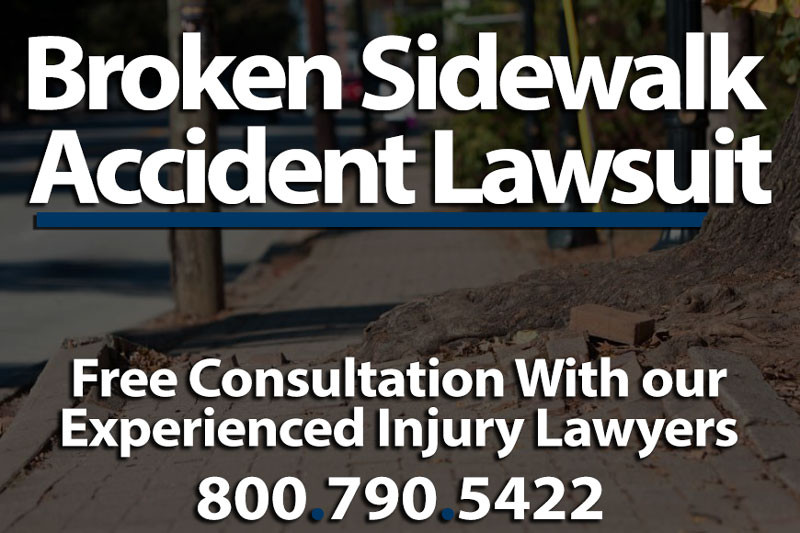 Sidewalk trip and fall cases can be difficult. These cases are often litigated claims against the various city or public entity, which makes them challenging. Raised sidewalk claims against the city are difficult for a few reasons, particularly because it requires that you show some degree of notice on behalf of the city. If the city or public entity has knowledge of the dangerous condition then you can potentially seek recovery. It is important that you speak with a sidewalk injury attorney to better understand your rights.
Proving Notice of a Dangerous Condition
In order to prove a dangerous condition on a city street it is necessary to take a deposition of person most qualified. If you are dealing with the City of Los Angeles it is likely a district manager that has information with regards to that information. Generally, these managers are charged with inspecting their various region or location.
In certain cases they are only required to do a "windshield" inspection of the property. These inspections occur when the manager drives through the area and looks from his or her car to determine if any of the surface streets need an inspection. However, these inspections are often performed improperly and fail to identify real issues.
If the property or area where the fall is located happens to be on a historic or heavily trafficked street then it may require more detailed inspections. Such streets are often referred to as "signature streets", which require monthly or bi-monthly inspections of the street for issues.
When the street is located near a school a duty is imposed on the city to make sure that street is safe. If the various public entity fails to address the defects that exist they can be subject to liability for the harm suffered. In most cases you will find that the city or county had knowledge of the defect, however because of financial issues and or bureaucratic systems the defects were not fixed.
It is important that you consult with a side walk defect attorney in Los Angeles to better understand the issues surrounding your case. If you have been injured our office would like to hear from you and discuss the matter further. All consultations are completely confidential and free of charge.
Statute of Limitations
Statute of limitations refer to the time you have to file a claim for your damages. When dealing with a city entity in Los Angeles you typically have 6 months from the date of the accident to file a claim for your damages. It is important that both a city and county claim is filed. These forms should be processed by your attorney, if you do not have an attorney make sure you protect the statute by filing these forms.
If you fail to file the necessary forms within 6 months from the date of the accident you will be barred from pursuing a claim for damages. Therefore, it is critical to the success of your case that you file a government claim immediately to protect the statute. Always, send your correspondence via certified mail with receipt and tracking so that you have proof of the correspondence and delivery.
What is My Case Worth
Figuring out case value depends on a few factors, most importantly the degree of your injuries. How bad were you injured as a result of your case? Did you require surgery? What are your medical bills associated with the accident? Generally speaking to determine what your injuries are you need to look at the entire portrait or picture. How has the injury changed your life? It is not merely the injury itself that is important, but the residual components that have equal significance.
If you have been hurt our office would like to speak with you about your case and determine whether you have a viable claim.
Further Reading:
Loss of Pregnancy due to fall accidents