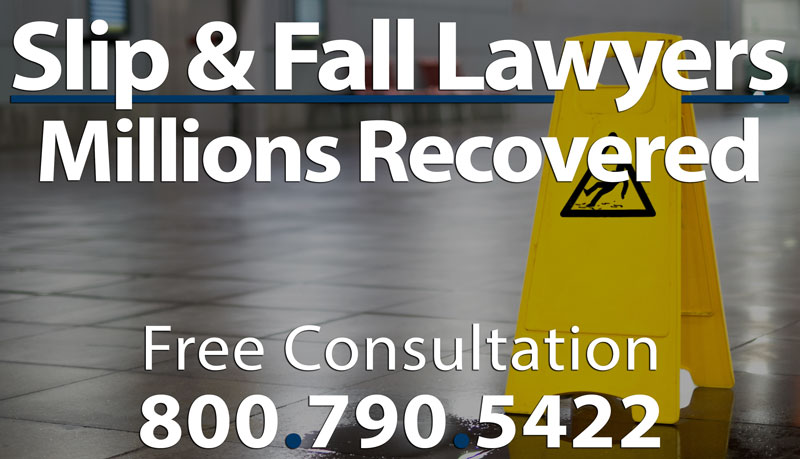 Slip and fall accidents can leave victims with a wide range of injuries from minor bumps and bruises to truly devastating traumatic brain injuries. These damages, especially those that are more severe can require extensive medical treatment to reach a full recovery. Things like hospitalization and the necessary residual physical therapy can be incredibly expensive and can put a victim under a mountain of debt that can be challenging to overcome. Slip and fall accidents can also happen at any time at places like local restaurants, your favorite corner bakery, and even, in the case of this article, your city mall. Fortunately, victims who suffer from a slip and fall or trip and fall injury at a mall can sue the mall for their damages. When filing these mall slip and fall claims it is crucial that you seek legal representation from a mall injury attorney that is well versed in the process involved in filing slip and fall lawsuits. At Normandie Law Firm our Los Angeles attorneys are experienced in handling case of this nature and can guide you through the often arduous process that can take a victim from filing a mall accident claim to receiving monetary compensation for their damages. If you have any questions after reading this article feel free to reach out to our law offices in Los Angeles, California, for a free consultation from one of our skilled legal advisors.
Malls & Slip and Fall Accidents
Malls are known for their large scale and customer accessibility. Malls can be either inside, or outside depending on the layout, and can include a wide variety of businesses from electronic stores to fine dining restaurants. Malls, like any other place of business, is expected to live up to premises liability law theory. Premises liability essentially states that a property owner is responsible for the damages of an injured shopper or visitor if they are injured by a hazard that could have been reasonably avoided. Malls, like most large places of business, are expected to ensure their premises are safe for their customers. If a customer slips and falls on the ground at the mall as a result of a hazard that could have been avoided, that customer has every right to sue for the damages.
However, the process of filing a mall slip and fall claim can be fairly challenging as some criteria need to be fulfilled to bring your case to an eventual settlement. One of the supporting factors in every slip and fall mall accident injury claim is being able to identify the cause of the accident. Being able to show how the accident happened plays a crucial role in the outcome of any personal injury case. Listed below are some of the common causes of slip and fall accidents at malls that you should be aware of:
Mall parking lots and sidewalks: slip and falls in Mall parking lots and sidewalks can occur as a result of uneven pavement, or some other potential floor hazard that results in the customer slipping or tripping and falling.
Mall entrances and exits: another area where a customer can slip and fall are at a Mall entrance or exit. These accidents can be caused by wet floors or even items left on the floor. It is up to the staff to be able to monitor and maintain their premises efficiently.
Slips and Falls near food vendors: food and drink vendors inside Mall also pose a significant risk as spilled beverages, and food can result in slip and fall hazards. These areas are expected to be efficiently monitored by staff and owners
Slips and falls near Mall bathrooms: Mall Bathrooms and washrooms also should be regularly checked and monitored for slip and fall hazards. One major way to prevent hazards of this kind is to place adequate wet-floor hazard signs.
Slip, and fall accidents in Mall's housewares, and electronics department: While less common than the other causes, this section of the store should also be monitored for potential slip and fall hazards. Even if the hazard is caused by another customer, if the staff does not respond in time to either notify or remedy the hazard Mall could be found liable.
Slip and falls in Mall grocery department: Slip and fall hazards can commonly arise here as a result of dropped items, or even malfunctioning leaking refrigerator systems. If a refrigerator is broken and causing a slip hazard, customers should be notified to keep away from the refrigerator until the hazard is remedied.
While the cause can play a central role in the eventual outcome of your case, the specific injuries you suffered as a result of the slip and fall accident can dramatically alter the eventual settlement payout amount of your case. Identifying the injuries and supporting the existence of those injuries through substantial evidence can mean the difference between a full compensation amount that covers all of the damages suffered and received a settlement payout far below what is necessary to cover your damages. Listed below are some of the common injuries suffered as a result of slip and fall accidents:
Head Injuries: Head injuries can range from minor contusions (or brain bruising) to more severe traumatic brain injuries or TBIs. Some TBIs can cause ongoing seizures, mood changes, cognitive impairment and other debilitating symptoms. In most cases, head injuries require emergency room treatment, or hospitalization and in more severe cases can result in death.
Hip Fractures: Hip fractures often require surgery and extended hospitalization. In some more serious cases, surgery may be necessary to implant an artificial hip. Out of every five hip fracture patients, one of them dies due to their injuries
Back and Spinal Cord Injuries: Injury to the spinal cord can lead to permanent paralysis, temporary paralysis and other severe neurological and sensory impairments
Shoulder Injuries: slip (trip) and fall accidents can result in shoulder dislocations or more severe forms of shoulder injuries called brachial plexus injuries. The brachial plexus is a network of nerves that connect the shoulder, arm, and hand to the spinal cord. These injuries are often treated with surgery followed by extensive physical therapy
Sprains and Fractures: The force of slipping and falling can cause minor to severe bone injuries. In some cases, the impact of the ground could cause minor sprains, in others; it could cause debilitating bone breakage that may result in temporary disability. Some of the common fractures that victims suffer include hip, spine, forearm, leg, ankle, pelvis, upper arm and hand.
While the damages and the cause of the damages can make a significant difference in your case, they still play a small role in comparison to the complex legal process involved with bringing your case to court and reaching a settlement. For this reason, it is in your best interest that you seek legal representation from a lawyer with experience in handling mall slip and fall lawsuits.
How To Sue A Mall For Personal Injury After A Slip And Fall Accident
Clients who come into our law firm seeking legal representation for their mall slip and fall lawsuit often ask our attorneys a wide variety of questions regarding the process by which a slip and fall victim can file their case. While every case is different, and there is no one universal way to bring a case to court and then eventually to a settlement, there are some guidelines you should follow when filing your injury claim against a mall. To give you an idea of what kind of questions our clients with cases of this nature ask, we've compiled some of our most frequently asked questions:
How to sue Mall for a slip and fall accident?
What is the best way to file a trip and fall claim against Mall?
How can I sue Mall for personal injury?
How do I file a trip and fall lawsuit against Mall?
The first thing we tell all of our clients asking how to file a slip and fall lawsuit against a mall is that they collect all the evidence they can regarding their case. This evidence can take the form of detailed photographic evidence of your damages, security camera footage from the mall, eyewitness accounts from those at the scene, and even medical records that detail the specific injuries that you suffered. It is also important that you report your accident to the management or staff as soon as possible as the sooner you report your injuries, the less likely the mall will be able to dispute your claims.
We make sure our clients are made aware of the statute of limitations and how they influence their case. The statute of limitations is the state-mandated time limit an injured person has to bring their case to court. If this time limit is not followed, the injured party could find their case dismissed from court entirely. For example, the statute of limitations in the state of California dictates that those injured at a mall as a result of a slip and fall accident have two years from the date of the accident to bring their case to court. There are also some exceptions to the statute of limitations that could alter how the statute of limitations influence your case. Listed below are some of the common exceptions founded in cases of this nature:
The Defendant was out of State for a period: If a defendant was absent from the state, the statute of limitations pauses until the defendant returns.
The plaintiff is a minor: If the injured party is a minor, meaning below the age of 18, the statute of limitations does not run until the said minor turns 18.
Mental incompetence of the plaintiff: If a plaintiff is judged as mentally incompetent during their injuries or the actions of the defendant, then the statute of limitations are paused throughout this incompetence.
Death of the plaintiff: If a plaintiff dies before the statute of limitations runs its course, then a lawsuit can still be filed in the statute of limitations period. However, if six or fewer months remaining on the statute of limitations at the time of the plaintiff's death, then the suit must be filed within six months of the plaintiff's death.
Plaintiff's prison sentence: If a plaintiff is imprisoned, California law dictates that the statute of limitations is tolled until the plaintiff is released, or for two years whichever comes first.
Plaintiff's Military Service: If a plaintiff is serving in the military the statute of limitations is automatically tolled for the entire duration of the plaintiff's service
The statute of limitations can be incredibly complicated, so it is in your best interest that you seek legal assistance from a mall injury attorney well-versed in cases that occur in your state.
Another crucial part of any personal injury case is being able to prove the negligence of the mall management and staff. As mentioned prior, malls are influenced by premises liability law, essentially making them responsible for any reasonably avoidable accident that causes injury to a customer. The evidence you gathered would be used to not only prove the liability of the mall management or owners but to prove that their negligent actions led to specific injuries. Listed below are the components that make up every successful claim of negligence:
Duty: The plaintiff (injured or damaged party) must be able to show that the defendant (Mall staff or retail owner) owed a legal duty to the plaintiff under the particular circumstances of the case.
Breach: The plaintiff must be able to show that the defendant breached said legal duty through specific actions or failure to act appropriately
Causation: The plaintiff must be able to show that the defendant's actions or lack thereof caused the plaintiff's injuries
Damages: The plaintiff must be able to show that they endured some specific damages. This can usually be shown through the presentation of medical records, a loss of wages, or a loss of potential income.
Sometimes our clients will even ask about what the potential value of their case might be. While the settlement of every case can vary dramatically, we've included some common settlements and verdicts of similar cases for your reference:
A woman was awarded $950,000 after her knee was injured when she tripped over a manhole cover.
A 34-year-old medical secretary slipped on ice and fell at a New York Walmart, sustaining an injury to her left arm that required surgery and prevented her from using her hand. She was awarded $600,000 for her damages.
A woman slipped and fell on a puddle of liquid soap in a Costco Store, shattering her kneecap. She received $400,000 for the damages and suffered a partial loss of mobility and permanent pain in her knee.
Regardless of the situation surrounding your slip and fall case, it is always recommended that you seek legal representation from a lawyer to help you sue for damages. While it is within every individual's right to represent themselves in court, the best way to guarantee a successful outcome for your case is with the help of a legal expert.
How Normandie Law Firm Can Help
If you or a loved one have suffered injury after a slip and fall accident at a Mall as a result of a failure in Mall policy, or the negligent actions of staff or owners, you may be eligible to file a lawsuit against the party responsible for your damages. However, when filing this kind of lawsuits it, is in your best interest to seek assistance from an attorney who can sue the mall. At Normandie Law Firm our Los Angeles personal injury lawyers can guide you through the often complicated process of building a case, filing a claim, and collecting compensation for the damages. If you file a claim with our law firm, you could find some if not all of the following damages compensable to you:
All of you medical and hospitalization costs
All of your future medical care and treatment
A loss of income and loss of future earnings due to long-term recovery or permanent disability due to the accident
Compensable economic damages include loss of property or damaged property.
Compensable non-economic damages include emotional distress, trauma, PTSD resulting from the accident, pain and suffering and anxiety.
Victims of Mall slip and fall accidents can contact our law offices to learn more about how to receive compensation for their injuries. While our law firm is based in Los Angeles, our attorneys also practice in Oakland, San Francisco, San Diego, Sacramento, Orange County, Riverside, Fresno, and throughout the state of California.
Free Second Opinions
Other attorneys will sign you up for their firm but will disappear once your name is on the paper as they are busy signing up more cases. In these instances, their business is based more on volume and will attempt to sign up as many cases as possible. In turn, they will spend less time on cases resulting in severely reduced settlements. Our firm will not treat you like a number. We will be in communication with you throughout our lawsuit and will treat you like family. So if you already have an attorney don't worry, we'll give you a second review of your case 100% free of charge.
Zero Fee Guarantee-No Upfront Fees Ever
If you contact our law offices today, we can walk you through the complicated process of filing your claim completely free of charge. As a show this commitment to you and your case we offer our clients the benefits of a zero fee guarantee policy. Under our zero fee policy, all clients don't pay for our services until their case is won. If you feel in need of a second opinion, second opinion case reviews are also free under this policy. Please, feel free to give us a call, and we can guide you down the path of receiving proper compensation for your damages.