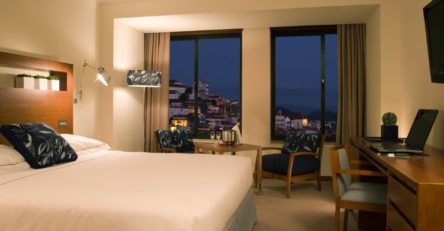 At one point or another, mostly everyone will step foot in a hotel or a motel. Motels are common stops for people on road trips—as they offer a decent place to sleep at a reasonable price. Hotels, on the other hand, are not just places to stop to sleep. Many hotels now contain halls that can be rented out for private parties, like weddings. In private events like weddings, it is common that guests spend the entire weekend at the hotels. Why would wedding guests spend the entire weekend at hotels? In reality, they might not spend every second of the weekend in the hotel; however, they will always come back to it. For example, for a wedding that required all guests to travel, guests would likely attend the wedding and then come back to the hotel to relax and unwind. Most hotels now have pools, spas, restaurants, and even bars. Some guests might not be interested in venturing out into an unfamiliar city. Therefore, they spend time in the hotel using the different amenities available to guests.
So, where might guests feel safer? Motels seem to be more geared towards one-night stays and usually are right off of busy roads. Additionally, motel rooms are directly accessible from parking lots. Since many motels are open 24 hours, gated parking lots might remain opened an unlocked during the whole night. Also, motels offer a small office, usually separate from all rooms, where there might be only one staff member. Here, there might be a security guard, although it is unlikely. Hotels, on the other hand, appear to offer a safer atmosphere. Hotel rooms are not accessible from the street level like motel rooms. Any visitors must check in at reception before going into rooms. Reception usually consists of more than one hotel staff member, and there is a presence of hotel security.
With this contrasting description of motels and hotels, one seems safer than the other. However, in both motels and hotels, employees have access to all rooms. Do you feel safe knowing that an employee can access your room at any time? Of course, room access is necessary for employees to clean the room and provide guests with extra amenities like clean towels or extra pillows. However, what happens when employees overstep their boundaries and enter your room while you are sleeping with the intention of hurting you?
For help filing a lawsuit against a hotel, contact one of our experienced lawyers at the top-rated Normandie Law Firm. Our accomplished attorneys with experience in sexual assault cases can assist you.
Example of Incident in a Hotel
In 2008, a woman visited Las Vegas for business. When she arrived, she checked in, took care of some aspects of her business, and then proceeded to go to dinner with coworkers. When she returned to the hotel at 2 a.m., she was intoxicated. However, she was well enough to take the elevator up to her floor, enter her room, and lock the door behind her. She had shared the elevator with a hotel employee. This same employee later entered her room while she was asleep and raped her.
The accused employee had come up clean on background checks; however, he had been previously disciplined for sexually harassing a female coworker. Regardless of this previous incident, the employee continued to work in a position where he was under no close supervision and had direct access to guest rooms.
Initially, the court decided that the hotel could not be held liable for the employee's actions. However, after reviewing information about the employee's past discipline for sexual harassment, and reviewing general misuse of keycards for unauthorized access to guest rooms, the court decided that the hotel was liable because the attack was foreseeable. For this specific case, the victim was able to sue the hotel for rape.
If you have further questions, consult with an expert lawyer experienced in hotel sexual assault cases.
Motel and Hotel Duty to Guests
Motels and hotels are responsible for their guests' wellbeing. Motels and hotels have a general duty to ensure the safety and security of all guests through reasonable care. That is, they must correct hazards or issue appropriate warnings to prevent guest injury. Motels and hotels are not liable for open and obvious hazards; however, the harassment or assault hazard that an employee might pose is not open and obvious. In the previous example, the accused employee had previously been disciplined for sexual misconduct. Therefore, the hotel should have foreseen that the employee could be a danger to guests. However, the hotel did not exercise reasonable care to prevent the employee from having unlimited access to guest rooms. Therefore, the hotel was negligent and held accountable for the employee's actions.
Although motel and hotel employees can pose a threat to guests, it is possible that other guests can become the source of danger. Are motels and hotels still responsible for the safety and security of guests if their employees are not the source of the threat? Motels and hotels must always implement reasonable care to promote the safety and security of their guests. Yes, this includes potentially going against other guests. Motels and hotels might have to evict or restrain any disorderly guests that might cause harm to other guests. A motel or hotel might escort a guest back to his or her room if it's decided that the guest will no longer cause problems once he or she is in the room. More severe actions include calling the police to remove the disorderly guest. There is another dilemma, however. The hotel must not cause predictable injury or harm to the disorderly guest after removal of the property. For example, if a guest complains about a drunken guest soliciting a minor in the lobby, staff would have to act to prevent something more serious from happening. However, if the guest causing problems is drunk, he or she might be in danger if the hotel evicts him or her. A drunken person wandering the streets might be hit by a car or robbed. To prevent liability for any harm to the disorderly guest as a result of his or her eviction, the hotel must take measure to ensure that the guest is safe. Such measures might include calling the police or arranging a ride to another location.
For more help, call a qualified attorney with expertise in hotel sexual assault injury lawsuits.
Normandie Law Firm
Normandie Law Firm is a Los Angeles law firm dedicated to fighting for client compensation. We know that sexual harassment and sexual assault can occur when you least expect it. Sexual harassment at a hotel or a motel should not be tolerated. You must speak up and take legal action against your attacker. At Normandie Law Firm, our skilled attorneys with experience handling sexual assault claims in Los Angeles will help you file a sexual harassment lawsuit against a hotel or a sexual assault lawsuit against a motel. No matter what happened to you or where it happened, our sexual harassment and sexual assault lawyers in Los Angeles will do everything possible to ensure your case is successful. Our top law firm can help you sue for sexual assault by a hotel employee, sue for sexual assault at a hotel by another hotel guest, or sue for sexual harassment at a motel. If you were victimized in a hotel's restaurant, you could sue the restaurant for sexual assault and battery. Contact Normandie Law Firm—a law firm in Los Angeles with expertise in sexual harassment and sexual assault cases.
Normandie Law Firm understands how difficult it can be to deal with sexual harassment or sexual assault. Therefore, we want to provide you with a Los Angeles lawyer to sue a hotel for sexual assault or sue a motel for unwanted touching. Our Los Angeles lawyers are available to you at no charge. Our law firm offers our clients free consultations. You can come in and simply inquire about filing a hotel sexual assault lawsuit. An attorney who has experience in sexual assault cases will answer all of your questions and even offer you extra information about the legal process and about what you can expect to get out of a sexual harassment lawsuit against a hotel. Additionally, our law firm offers free second opinions. You might have already tried starting the legal process with another law firm. However, you might consider that your current attorney is not the proper attorney to sue a hotel for sexual harassment. If that is the case, you need an experienced sexual harassment attorney as soon as possible. Your case might result unsuccessful if your attorney is not competent enough. Also, some attorneys might only be interested in speeding through your case so that they can move on to the next case. At Normandie Law Firm, we ensure that each case is given all the time necessary to guarantee a successful case. Contact Normandie Law Firm as soon as possible for a free consultation or free second opinion with an experienced attorney.
Normandie Law Firm also offers clients a Zero-Fee guarantee. You will never have to worry about having to pay any upfront fees. You will be able to begin the process of filing a lawsuit against a hotel for sexual assault at no cost. Because our law firm is strictly based on contingency, you will not pay anything unless our trusted lawyers win your case.