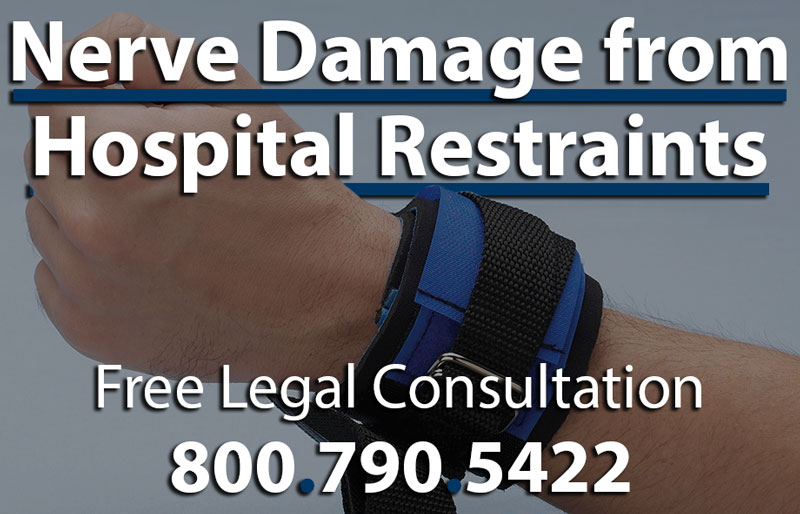 When people visit hospitals for a routine treatment from their primary care physician hardly ever do they expect to suffer a life-altering nerve damage injury like CRPS. Unfortunately, for many, this is the case, and as a result of poor treatment are forced to experience a lifetime of nerve treatment and debilitating pain. However, hospitals that cause nerve damage from leaving restraints on for an extended period can be found liable for the damages, can be sued for their medical negligence. With the help of an experienced lawyer, you can sue the hospital for their error and can earn compensation to cover damages such as medical expenses, a lotss of wages, and pain and suffering. At Normandie Law Firm our Los Angeles lawyers have a wealth of experience in hospital nerve damage lawsuits. Our hospital restraints nerve damage lawsuit attorneys are committed to ensuring all of our clients receive the resources they need to earn the compensation they deserve their damages. If you have any questions after reading this article, please feel free to reach out to our law offices near Los Angeles, California for a free, consultation from one of our many well-versed legal advisors.
Hospitals and Medical Negligence
When patients enter a hospital for treatment, they can expect to receive a certain degree of care. Known as the standard of care, all hospitals, clinics, surgical rooms, and other medical facilities are expected to provide reasonably competent care for all of their patients. If this standard of care is neglected and a patient is injured because of it, they can file a lawsuit against the hospital for their negligence. However, the process of filing a lawsuit against a hospital can be incredibly complicated, especially for things like nerve damage.
CRPS, or Complex Regional Pain Syndrome, is one of the more commonly occurring forms of nerve damage that a patient can be diagnosed with after not being restrained properly. CRPS is a chronic nerve condition that afflicts the nerves that control sweat glands and blood cells. CRPS is an incurable condition, and it can cause debilitating pain to those unfortunate enough to be diagnosed with it. Some of the common symptoms of CRPS are bulleted below for your reference:
Chronic pain which has a burning sensation: This symptom is characterized as being far more significant than the original injury that caused the condition to begin with. It is often excruciatingly painful, and victims note that the afflicted area is sensitive to touch sound and temperature.
Inflammation of the afflicted area: The area that is afflicted with CRPS often swells as a result. This inflammation is often characterized as a bruising, mottling, or reddening of the skin.
Spasms: The damage to the nervous system results in muscle spasms, which can affect everyday mobility.
Insomnia and other mood disorders: CRPS has also been shown to cause significant changes to the limbic system causing things like short-term memory loss, disruptions in sleep patterns, and mental confusion.
Decreased mobility of affected area: Some patients have complained of being unable to effectively move the part of the body affected by this condition. This includes joint stiffness as well and can require extensive physical therapy to reach some form of recovery.
Spreading: Sometimes, when left untreated, CRPS can spread from the initially affected area to other parts of the body, making the condition far more challenging to treat.
Very little is known about CRPS, and general physicians often misdiagnose the condition. The best way to mitigate the pain caused by CRPS is to treat it as soon as possible, and often this misdiagnosis leads to a worsening condition. While the medical community knows very little about CRPS, it can come in two forms which can both cause the same amount of pain and discomfort:
CRPS Form I: CRPS I is identified as a nerve disorder that occurs after a minor injury. This form of CRPS usually afflicts the arms or the legs, and are caused by injuries like a break or fracture, a puncture injury, infections, or a spinal cord injury. It is important to note that 90% of all CRPS cases are diagnosed as form I
CRPS Form II: Injury often causes CRPS II to a specific nerve. This is the least common form of CRPS, taking up as little as 10% of all diagnosed CRPS cases.
When filing a lawsuit against a hospital for CRPS, it is crucial that you seek legal representation from a Hospital restraints CRPS lawyer to guide you through the process. Having the right lawyer by your side can truly make the difference in your case, especially cases involving medical malpractice and negligence. Any hospital can be found liable for the damages caused by poor restraint procedures. Listed below are some of the hospitals in the Los Angeles area that could inflict nerve damage on a patient for poor restraint procedure:
Cedars-Sinai Medical Center
Kindred Hospital Los Angeles
Good Samaritan Hospital
Martin Luther King Jr. Community Hospital
St. Vincent Medical Center
Ronald Regan UCLA Medical Center
Los Angeles Community Hospital
Children's Hospital Los Angeles
Dignity Health California Hospital
LAC+USC Medical Center
Pacific Alliance Medical Center
East Los Angeles Doctors
Shriners for Children Medical Center
Keck Hospital of University of Southern California
Huntington Hospital
LAC/USC General Hospital
Gatways Hospital and Mental Health Center
Resnick Neuropsychiatric Hospital
Grand Park Convalescent Hospital
Advent Health White Memorial
Memorial Hospital of Gardena
Suing A Hospital For Nerve Damage
If a hospital fails to uphold the standard of care all medical facilities and physicians are expected to provide they can be sued for medical malpractice. Medical malpractice is an error that occurs when a hospital, doctor, or other physician causes injury to a patient through negligent action or omission of valuable information. For example, if you were diagnosed with CRPS as a result of poor restraint procedures by a hospital you may be able to sue that hospital for medical malpractice. However, filing a claim for medical malpractice can be a complicated and challenging task. Unlike other personal injury cases, medical malpractice requires different legal procedures and a higher burden of proof. For this reason, it is in your best interest to retain an attorney to help you sue the hospital for the damages.
One of the main aspects of filing a lawsuit against a hospital for medical malpractice is having substantial evidence to prove all the points of your claims. This evidence can include items such as photographs of the restraints, video footage showing a poor following of procedure, or medical records that detail the specific injuries the physician's negligent actions caused. To file a medical malpractice lawsuit you must also retrieve expert testimony. Expert testimony is often retrieved from another similarly skilled physician and is used to show that your doctor breached the standard of care all patients expect to receive. This evidence can then be used to prove the negligence of the doctor or physician. A claim of medical negligence requires that you can prove the following was evident in your case:
The existence of a doctor-patient relationship: Patients who think they have experienced medical malpractice in the emergency room must be able to prove that there was a physician-patient relationship. This relationship essential means that there was an agreement wherein the patient agreed to be treated, and the physician agreed to treat said patient.
The physician's negligence: The patient must be able to prove that the doctor or physician's negligence caused the damages endured. The physician's care is not expected to be perfect; however, it must at least meet a medical standard of care. This is where expert testimony comes into play, as you must be able to prove that your physician's care did not meet the care of another reasonably competent and skilled physician.
The physician's negligence caused the injury: The patient must be able to show that it is 'more likely than not' that the physician's specific actions directly caused the injury the patient is suffering from. To do this, a patient must retain a medical expert to testify that the physician's negligence caused the injury
The injury led to specific damages: The patient must be able to prove that they have suffered particular damages caused by the injury. Some of these particular damages include: physical pain, mental anguish, medical expenses, lost work, or lost earning capacity.
When filing a medical malpractice lawsuit, there are also some other factors that can dramatically affect the outcome of your case. For this reason, it is highly recommended that you seek legal representation from a hospital restraints CRPS lawyer well versed in the subject of medical malpractice legal procedure. Some aspects that can affect the outcome of your case are listed below:
The Statute of Limitations: The statute of limitations that surround any case is the specific deadlines wherein you can bring their case to court. If this deadline is ignored, then it is likely that you could find your case dismissed entirely. In most states, the time for bringing a medical malpractice case forward, is somewhere between six months and two years (depending on the state) a lawyer will help in determining the best time to submit your case.
Medical Malpractice Review Panels: Some states require that injured patients submit their claim to a medical malpractice review panel. This panel is made up of medical experts who will hear your argument, review the evidence and expert testimony, then decide whether malpractice is evident in your case. This panel does not award damages to patients. However, it is an obstacle that must be overcome to take your medical malpractice case to court.
Special Notice Requirements: In some states, patients are required to give the physician a notice of the malpractice claim in the form of a basic description. This is done before a patient can file anything.
Expert Testimony: In medical malpractice cases, expert opinions are crucial to the success of a case. State rules vary in determining what makes an individual qualified to provide this testimony, but in most cases, it is someone who has experience in the same field of medicine that involved the patient's injuries.
Limits on Damage Awards: Some states establish a limit on the amount of money that a patient can be awarded for their damages. Seeking legal assistance can help in determining if this award cap applies to you and your case.
How Normandie Law Firm Can Help
CRPS and other nerve damage conditions can be incredibly debilitating and can adversely affect the day-to-day routine of an individual. If you or a loved one has suffered from one of these damaging nerve conditions as a result of the negligence of a hospital, you may be eligible to file a claim for significant monetary compensation. At Normandie Law Firm our Los Angeles medical malpractice attorneys are committed to ensuring all of our clients receive all the resources they require to earn the compensation they deserve for their damages. If you file a claim with our law firm, you may be able to find some if not all of the following damages compensable to you:
All of you medical and hospitalization costs
All of your future medical care and treatment
A loss of income and loss of future earnings due to long-term recovery or permanent disability due to the accident
Compensable economic damages include loss of property or damaged property.
Compensable non-economic damages include emotional distress, trauma, PTSD resulting from the accident, pain and suffering and anxiety.
Victims of medical malpractice can contact our law firm to learn more about how to receive compensation. While our law firm is based near Los Angeles, our attorneys also practice in Oakland, San Francisco, Riverside, San Diego, Sacramento, Orange County, Riverside, Fresno, and throughout the state of California.
Free Second Opinions
Other attorneys will sign you up for their firm but will disappear once your name is on the paper as they are busy signing up more cases. In these instances, their business is based more on volume and will attempt to sign up as many cases as possible. In turn, they will spend less time on cases resulting in severely reduced settlements. Our firm will not treat you like a number. We will be in communication with you throughout our lawsuit and will treat you like family. So if you already have an attorney don't worry, we'll give you a second review of your case 100% free of charge.
Zero Fee Guarantee-No Upfront Fees Ever
If you contact our law offices today, we can walk you through the complicated process of filing your claim completely free of charge. As a show this commitment to you and your case we offer our clients the benefits of a zero fee guarantee policy. Under our zero fee policy, all clients don't pay for our services until their case is won. If you feel in need of a second opinion, second opinion case reviews are also free under this policy. Please, feel free to give us a call, and we can guide you down the path of receiving proper compensation for your damages.