It is unlikely to expect being injured by a slip and fall incident or by an object falling on your head when visiting your local Home Depot. Mistakes happen, however, and in the event of these incidents being caused by acts of negligence and misconduct, it is within your right to sue the Home Depot for the accident. If you or a loved one has been injuries by accident at a Home Depot or Home Depot parking lot you may be eligible for compensation. At the top-rated Normandie Law Firm in Los Angeles, our experienced lawyers and skilled legal experts can walk you through the process of filing your claim and pursuing recovery for the damages you have endured. Contact our top law offices today to receive a free consultation.
Home Depot
Home Depot is one of the largest home improvement and building supply retailer in the world. It provides customers with a broad range of products and services that involve anything related to construction and home improvement. Founded in 1979, Home Depot now has locations scattered across the United States, as well as Mexico, China, Canada and Puerto Rico. Home Depot stores typically have items on elevated shelves and have plenty of equipment that requires prior knowledge to safely operate. For this reason, Home Depot store staff is expected to perform with the utmost care in assisting customers. When this standard of customer and store care is not lived up to accidents can, and likely will, happen. These incidents can result in minor bumps and bruises, but also have been known to cause serious injuries which the store owners should be held accountable for. This standard of care extends beyond physical damage as well. For instance, in 2016, a class action lawsuit was settled against Home Depot for a data breach that resulted in the monetary damages of over 50 million cardholders. Home Depot was held accountable and a settlement of $19.5 million was reached to compensate the damaged parties. Regardless of the kind of damage, if it occurs as the result of negligence or misconduct, the Home Depot, or any place of business, can be held accountable and sued for the injury of a customer.
In The Event Of An Accident
Accidents do happen, and when they occur as the result of the negligence or misconduct of others that party should be held liable for the damages that are sustained. In regards to places of business, an expert attorney who has experience in store accidents can be retained to file a  Home Depot personal injury lawsuit and sue the store for damages.
A variety of damages can be inflicted at a Home Depot. These can include:
Slip (Trip) and Fall
Falling Merchandise
Assault and Battery
Sexual Assault
Customer Injury
Each one of these possible injuries all requires their legal proceedings, and each case can have a different nature.
Slip and Fall Accidents At Home Depot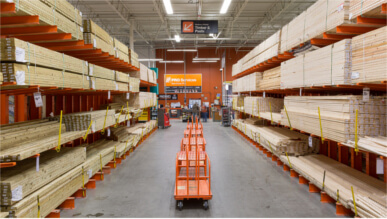 Slip and Fall Accidents most commonly occur at fast food restaurants; however, that is not to say that they cannot happen at other places of businesses as well. Slip and fall accidents can result in damages such as:
Head Injuries
Traumatic Brain Injury
Hip Fractures
Back and Spinal Cord Injuries
Shoulder Injuries
Other Sprains and Fractures
Slip and fall accidents can typically occur because of a slick floor. If this slick space is properly labeled as cautious by the staff, the odds of filing a successful slip and fall accident lawsuit are relatively low. Although, if, for instance, the space is not properly labeled as such, and the staff is aware of the dangers, then the store and the owners can be held liable for the damages. To discern whether or not you may have a successful slip and fall accident lawsuit, you must first determine liability. To place the store as responsible one of the following must be true:
The owners and staff caused the spill or damaged floor which caused the injury.
The owners and staff were aware of the dangerous floor conditions and did nothing to mitigate or wan of dangers
The owners and staff should have known of the floor conditions, and any 'reasonable' person would have made actions to repair or clear the floor.
All of these factors play into the nature of any single slip and fall case. Contact our law offices today, and one of our qualified Los Angeles attorneys with experience in Home Depot slip and fall cases can help you determine the nature of your case.
Falling Merchandise at Home Depot
Home Depot stores are known for their high shelves and large stock of home improvement and construction supplies. Plenty of this equipment is heavy, and in the event that something isn't stocked properly and falls, the ensuing damages can be debilitating. Below is a list of possible injuries that one can sustain after a falling merchandise incident:
Head Injuries
Brain Injuries
Spinal Injuries
Back & Neck Injuries
Shoulder Injuries
Knee Injuries
Torn Ligaments
Soft Tissue Injuries
Broken & Fractured Bones
Neurological Damage
Coma
Paralysis
Beyond the physical damages that an individual can sustain after a falling merchandise incident, the monetary damages from required hospital treatments can also be debilitating. These damages can be reimbursed to a victim with help from an accomplished attorney with experience handling Home Depot injury claims.
Assault at Home Depot
Sexual Assault and Assault and Battery are all incidents that one can rarely expect from entering a Home Depot, but as stated before, things happen, and in the unfortunate event that these incidents do occur, it is best to be prepared. Assault and Battery cases against a place of business like Home Depot, all depend on the negligence of the Home Depot security policies. If you plan to sue a Home Depot for an injury caused by customer attack you must prove that the negligence of the Home Depot security caused the damages endured. The differences between Assault and Battery can be best defined as varying forms of violence inflicted upon an individual. Assault is any sort of inflicted violence that does not involve actual contact. Assault can include things like threats and an intent to harm. Meanwhile, Battery cases rely on actual contact being made against a victim. However, a common defense within battery cases is that the defendant was only issuing his right to defend himself. A security guard that inflicted damage on a victim can also argue that they were just following security policies. Assault and Battery cases can be tricky, especially when there is not a substantial amount of evidence to back them up. It is recommended that you retain consultation from an accomplished lawyer experienced in Home Depot Assault and Battery cases, Home Depot Security Assault Lawyer, or a Home Depot Security Attack Lawyer to help proceed with your claim.
Sexual Assault cases are much like Assault and Battery cases as in they rely on the negligence of proper store security policies. Discerning the nature of any one sexual assault case can be tricky. A victim can either initiate a civil lawsuit or a criminal lawsuit against the guilty party. In criminal sexual assault lawsuits, the victim is put before a court and asked to relive the experience in front of a jury of strangers. Filing a criminal lawsuit of sexual assault can be an incredibly devastating experience for the victim. Criminal trials also require a higher burden of proof known as 'beyond a reasonable doubt.' In these cases, there is a lesser chance that the defendant can be convicted. Fortunately, a victim can file a civil sexual assault lawsuit which requires a lesser burden of proof, known as, 'preponderance of the evidence.' Regardless, sexual assault lawsuits against any entity should not be taken on alone. If you hire a Home Depot sexual assault lawyer at our firm, they can walk you through the process of claiming proper compensation for your damages.
About Normandie Law Firm
If you or a loved one has experienced personal injury as the result of the negligence or misconduct of Home Depot, you may be eligible to sue the Home Depot for customer injury. At Normandie Law Firm, you can retain legal counsel from an experienced attorney in Los Angeles. We offer each one of our clients free consultation as well as the proper assistance in finding the most efficient path to resolving your case. Contact us today, and we can discuss the incident, the pain you have suffered, your damages, and all of your options moving forward. To further our commitment to you and your case, our firm operates under a zero fee guarantee. This means that in the event that we do not manage to get you proper compensation you don't owe us any money. You only pay once we win your case. Feel in need of a second opinion? Don't worry, all second opinion case reviews are free of charge as well. Call us today, and you can take your first steps towards getting the recovery you deserve. An attorney with expertise in Home Depot injury lawuist will be able to take your call.