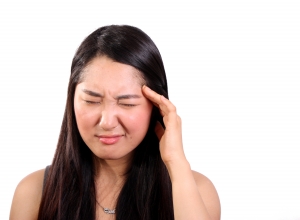 According to statistics from the Center for Disease Control (CDC), auto accidents cause the greatest number of brain injuries in the United States. Many individuals who have been involved in car accidents and are suffering from headaches may be suffering from a Traumatic Brain Injury. A TBI, or traumatic brain injury, is a severe blow or jolt to the head resulting in a disturbance of the major functions of the brain. Individuals who have suffered from trauma to the head during auto accidents often experience long-term medical and cognitive issues. A headache is the most common symptom of damage to the brain. Severe and chronic headaches following a car accidents can be a symptoms of PTHS – Post Traumatic Headache Disorder. If you need further information on PTHS or other traumatic brain injuries, call an accomplished attorney who has experience in headache injury cases today.
There are several different types of headaches following mild to moderate trauma sustained to the head. (1) Headaches caused by whiplash following a car accident, (2) Cluster headaches, (3) Post Traumatic tension headache, (4) Migraine headaches following an accident. Our experienced lawyers can help you move forward.
Common Signs and Symptoms Associated with Traumatic Brain Injury Following an Auto Accidents
Some of the most common signs and symptoms of a TBI or traumatic brain injury are as follows:
If you feel you have any of these symptoms, seek medical attention to receive a doctor's diagnosis. If your injury were caused by another party, reach out to a skilled lawyer experienced in headache injury cases to pursue legal action.
Effects of Brain Injury
Some of the most common side effects of a traumatic brain injury following a car accident include:
1. Cognitive issues: Difficulty in remembering, attention deficit complications including the inability to concentrate for an extended period of time, inability to make proper decisions, inability to follow daily tasks.
2. Perceptual issues: Bumping into objects, visual cut offs, apraxia, spatial issues, blindness.
3. Emotional and Behavioral Disturbances: Including difficulty in self-control, impairment of self-awareness, lack of general inhibition, impulsiveness, deviation in self-perception, mood swings, inability to control one's emotions, over or under-sensitivity to societal issues, depression, PTSD, and anxiety disorders.
4. Issues with proper communication: Difficulty in following and or initiating conversation with others, failure to understand what others are telling you, failure to understand non-verbal communications with others.
These effects can be debilitating and have a profoundly negative impact on your life. Call one of our experienced lawyers to learn more about filing a personal injury claim against the responsible party.
Compensation Available for Victims of Brain Injury
Average Case Value: Victims of Personal injury including brain injury following an auto accident are entitled to recovery for all damages incurred. A calculation of the settlement value of your case will be based on several important factors including:
(1) The specific types of injuries suffered
(2) Total cost of medical and health care expenses incurred
(3) A calculation of lost time at work and a loss of future wages due to long-term injuries
(4) Level of emotional anguish also referred to as pain and suffering compensation
(5) Whether punitive damages can be recovered from the at-fault party. Punitive damages are difficult to acquire and only an experienced attorney with experience handling headache injury claims will be able to net them for your settlement.
Seeking Legal Help: Seek medical treatment as soon as possible if you are experiencing headaches following a car accident. In some instances, such headaches can be a sign of more severe head injuries. If you have legal questions regarding financial recovery for your injuries, feel free to contact our top law offices where an expert attorney with expertise in headache injury lawsuits will give you a free consultation.
As a client of the top-rated Normandie Law Firm, you are given a zero fee guarantee on your claim – you owe nothing out of pocket for our legal services. We are only paid if we win your case, and that payment comes from the settlement itself. If we lose, you owe us nothing at all.
Contact one of our qualified attorneys with experience in headache injury cases today.