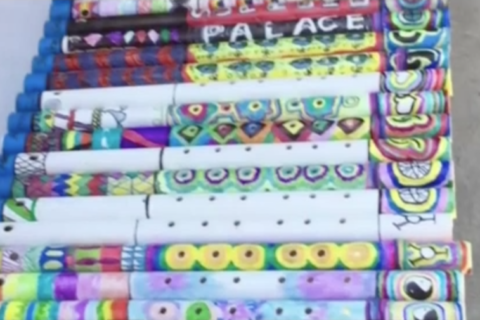 Our law firm is currently investigating a case in Orange County Schools involving a teacher giving students flute tainted with bodily fluids. The case is also being investigated by the California Department of Justice and the United States Postal Service. If you or a loved one is a student or teacher at school districts throughout Southern California and have been in contact with one of these tainted musical instruments you may be eligible to file a claim for compensation. At Normandie Law Firm, our Los Angeles attorneys can assist you in filing a lawsuit against the school district responsible for your damages. If you have any questions after reading this article, please feel free to reach out to our California law firm for a free consultation by one of our well-versed legal associates.
The Case: Teacher May Have Given Flutes Tainted With Bodily Fluids to Schools In Southern California
Both state and federal agencies are currently investigating an incident wherein a teacher may have given out handmade flutes tainted with the suspect's bodily fluids to school districts across Southern California. According to a report made on Friday by the Orange County Register, some of these targeted school districts include Fountain Valley, Capistrano, and Newport Mesa Unified School Districts, although there are also reports that the flutes could have ended up in as many as 13 districts across Southern California. The flutes were brightly colored, and made of PVC pipe. There are also reports that the flutes may have been a part of the Flutes Across the World music program.
According to letters sent home to parents described the teacher who handed out the flutes as an independent contractor, and led the Flutes Across the World Program, for fifth-grade students, (ages 10-11).
If you or a loved one has been exposed to one of these flutes, you may be eligible to sue the school or school district for the negligent hiring of this independent contractor. When filing a lawsuit for this case, it is important to note that it is in your best interest to seek a skilled California attorney to assist in the complex process of suing for negligence.
Lawsuits Against Schools
Places of education, whether public or private are responsible for the safety and security of their students. In this case, the school or school district in question could be held liable on account of poorly reviewing who they hired on as an independent contractor to distribute these flutes. The damages of this incident can leave the victims with both physical illnesses as a result of exposure to another's bodily fluids, and emotional distress from the trauma this incident may have caused. However, when filing a lawsuit for these damages, it is important to note that the process of suing a public school differs significantly from suing a private school.
Public schools and school districts are typically funded by the government on a per-pupil basis. For this reason, public schools are considered government agencies. The process of suing a government agency is quite complicated as there are some rules and regulations that dictate whether or not you can file a successful lawsuit against them. One of the major rules that protect public schools is 'sovereign immunity.' Sovereign immunity essentially declares when a public school can or cannot be sued for damages. However, a government agency such as a school can let itself be hit with a lawsuit in certain situations. When pursuing legal action against a public school in this case or any other case, it is in your best interest to seek legal representation from someone skilled in the field of pursuing lawsuits against other government agencies.
Private schools operate differently in that the process of filing a lawsuit against them is very similar to that of a lawsuit being filed against a place of business, in that they are directly responsible for any harm that a student or patron has experienced as a result of their negligence. Private schools are funded by the tuition costs they charge their students. Admittance to a private school is also dependent on a student's grades, and the submission of an application. That is not to say that suing a private school is easy by any means, every lawsuit has its hurdles, and with this case, it is important that you seek representation from a skilled lawyer in California.
With a case such as this, it is essential that you can prove the negligence of the defending party. Listed below are some of the key components to any successful claim of negligence:
Duty: The plaintiff (injured or damaged party) must be able to show that the defendant (public or private school or district) owed a legal duty to the plaintiff under the particular circumstances of the case.
Breach: The plaintiff must be able to show that the defendant breached said legal duty through specific actions or failing to act appropriately
Causation: The plaintiff must be able to show that the defendant's actions or lack thereof caused the plaintiff's injuries
Damages: The plaintiff must be able to show that they endured some specific damages. This can usually be shown through the presentation of medical records, a loss of wages, or a loss of potential income.
Since this case is still developing, there is no telling the scope of damages that have been inflicted as a result of this incident. For this reason, it is important that you reach out to a legal professional to assist you in understanding your rights, and the best next steps you should take in moving forward.
How Normandie Law Firm Can Help
If you or a loved one is a victim of this incident, our law firm can assist you in suing the law firm responsible for your damages. Clients who file a claim with our law firm could see some, if not all of the following damages compensable to them:
Past and Future medical expenses
Loss of Income
Loss of potential future income
Emotional Damages (anxiety, depression, PTSD, etc…)
Punitive Damages
Victims of this incident or incidents like this one can contact our law offices to learn more about how to receive compensation for their injuries. At Normandie Law Firm, we can help you sue the school or school district responsible for letting this incident occur. Our attorneys are committed to ensuring all of our clients have the resources necessary to win their case.
FREE LEGAL CONSULTATION: As a show this commitment to you and your case we offer our clients the benefits of a zero fee guarantee policy. Under our zero fee policy, all clients don't pay for our services until their case is won. If you feel in need of a second opinion, second opinion case reviews are also free under this policy. Call our law offices today for a free consultation by one of our skilled attorneys, and we can discuss the incident, your damages, and the path to receiving proper compensation for your damages.