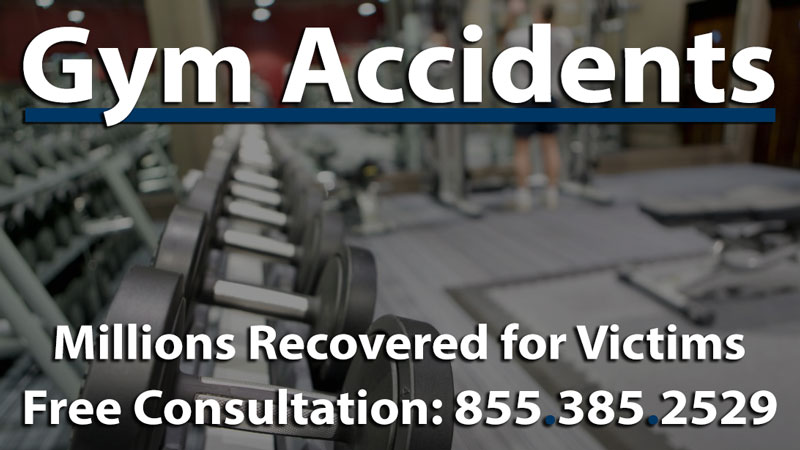 When people visit their local gym, the last thing most people think about is how they might get injured in an accident. Unfortunately, accidents can happen and when they do they can result in some truly devastating injuries. In fact, gyms can be quite hazardous if not well-taken care of. Things ranging from faulty work out machines to slippery floors can result in any number of injuries. Fortunately, if you or a loved one have experienced an injury at a gym or were injured while working out as a result of an unreasonably dangerous condition you may be able to sue the gym for your injuries. However, when filing this lawsuit against a gym for negligence, it is always in your best interest that you seek assistance from an attorney experienced in gym injury accident cases. At Normandie Law Firm our Los Angeles gym accident attorneys can walk you through the process of building a case, filing your claim, and collecting compensation for the damages that you have suffered. If you have any questions feel free to contact our law offices in Los Angeles, California, for a free consultation by one of our skilled legal associates.
Suffering An Injury At The Gym
Whether you work out at your local fitness club, lift weights at the corner fitness center, take cycling classes at the nearby cardio gym, or just work out at the local YMCA, accidents can happen. When these accidents occur at gyms, they can leave gym patrons with some injuries that can result in damages that reach beyond just the physical implications. Gym injuries can also result in a significant financial burden caused by the medical expense needed to treat the damages suffered. Fortunately, victims of gym accidents may be eligible to sue the gym for their damages. However, in moving forward with legal action, it is important to understand where your accident occurred, what kind of injury you're received, whether or not there was a liability waiver, and if the negligent actions of gym staff and owners led to your specific damages.
For starters, there are a variety of gyms and fitness centers scattered across California. Some of these popular gyms include:
24-hour Fitness
Planet Fitness
LA Fitness
Equinox
Sports Club
Bally's Total Fitness
Spectrum Health Club
360 Health Club
YMCA
Gold's Gym
Crunch
Easton Gym Co
Depending on what gym you were injured at you may or may not have had to sign a liability waiver. These waivers typically make it so that the gym owners and staff can't be held liable if you are injured while working out on their premises. In these cases, it is useful to have a skilled attorney on your side to help you navigate the complexities associated with liability waivers. Identifying where the injury took place, and whether your gym required that you sign a liability waiver can play a vital role in the outcome of your case. If you are hoping to sue a gym for faulty equipment or a hazardous environment that caused your injuries, it is also recommended that you can sufficiently identify the specific damages that you suffered.
The Damages Caused by Gym Accidents & Who Is Liable?
If you suffered a gym, fitness center, or health club accident, you could be inflicted with any number of debilitating injuries. Identifying what kind of injury you sustained can make a significant difference in the outcome of your case. In most cases, the more severe the injury, the more likely you are to receive a higher compensation amount. Listed below are some of the common injuries that gym accidents can cause:
Fractured Bones
Traumatic Head Injury
Sprains and Strains
Nerve Damage
Spinal Cord Damage
Brain Injury
Eye Injuries
Crush Injuries
Any of these injuries can result in extensive medical treatment which may or may not even lead to a full recovery. For this reason, gym accident victims can sue for monetary compensation. However, when suing a gym, it is important to identify how your injuries occurred. Being able to describe how you received your injuries can help determine whether or not the gym owners and staff are even liable for the damages. For example, suffering muscle strain from simply improperly using equipment that is properly labeled with instructions as to how to use the said equipment, will not usually constitute the gym owners as liable. However, slip and fall accidents caused by an unreasonably hazardous environment, or having poorly fastened weights fall on the head of a gym patron can in most cases lead to the gym owner and staff being liable for the damages. Under premises liability law, property owners can be held liable for the damages if their patrons are injured by a hazard that could have reasonably been remedied.
Premises Liability Law and Gyms
As stated above, premises liability law dictates that property owners should be held liable for the damages if one of their patrons is injured by a reasonably preventable hazard. However, one of the key aspects of premises liability law is being able to prove that the property owner, or in this case, gym owner, was, in fact, liable for the damages. Doing so requires adequate evidence which can take the form of photographs of a defective workout machine, video footage of the hazard, eyewitness accounts of the incident, or medical records showing the specific damages that you suffered. While evidence plays a crucial role in the outcome of a case, it is also important that victims report the incident to the owners or management as soon as possible. The sooner you report the gym accident, the less likely the gym owners are going to be able to dispute your claims. With ever premises liability lawsuit, you must be able to show that the following was evident in your case to effectively prove that the property owner was liable for the damages:
There was a hazardous condition or potentially dangerous condition on the property, like faulty workout equipment or a slippery floor, which presented an unreasonable risk of harm.
The property owner should have been aware of the dangerous condition
The property owner failed to either warn guests of a reasonable condition and did not take reasonable action to remedy the issue.
The hazardous condition resulted in the injury of a tenant or patron.
Once you have been able to prove the liability of the gym owner, you must then be able to prove that their negligent actions directly resulted in your injuries. Doing so requires a successful claim of negligence. In claims of negligence you will typically use the above forms of evidence to support the following components to your claim:
Duty: The plaintiff (injured or damaged party) must be able to show that the defendant (gym owner or property owner) owed a legal duty to the plaintiff under the particular circumstances of the case.
Breach: The plaintiff must be able to show that the defendant breached said legal duty through specific actions or failure to act appropriately
Causation: The plaintiff must be able to show that the defendant's actions or lack thereof caused the plaintiff's injuries
Damages: The plaintiff must be able to show that they endured some specific damages. This can usually be shown through the presentation of medical records, a loss of wages, or a loss of potential income.
While proving the liability and negligent actions of a gym owner are important it is also key that you follow the statute of limitations that influence your case. The statute of limitations is the period in which an injured party has to bring their case to court. If the injured party fails to bring their case to court at the designated time, they could have their case dismissed from court entirely. The statute of limitations vary from state to state, and as such, it is important to have an attorney on your side that understands how the statute of limitations influence your specific case. For instance in the state of California, if you were injured at a gym you have two years from the date the injury occurred to bring your case to court.
As mentioned prior it is always in your best interest to have a skilled personal injury attorney to help you file your gym accident lawsuit. Having the right attorney is your best chance at a guarantee to receive a satisfactory outcome to your case.
How Normandie Law Firm Can Help
If you or a loved one has suffered some form of gym accident injury, you may be eligible to file a claim for significant monetary compensation for your damages. Although when pursuing legal action against a gym owner it is highly recommended to have an attorney on your side that knows the ins and outs of premises liability law and gym injuries. At Normandie Law Firm our skilled Los Angeles gym accident attorneys can walk you through the whole process from filing a claim to collecting compensation for the damages suffered. If you file a claim through our Los Angeles law firm, you could find some if not all of the following damages compensable to you:
Past & Future Medical Expenses
Loss of Wages
Potential Loss of Future Wages
Pain and Suffering
Emotional Distress (anxiety, depression, PTSD, etc.…
. Punitive Damages
Our Los Angeles attorneys have a wealth of experience in fighting for the rights of injured gym patrons and can help you sue the gym responsible for your damages. While our law firm is based in Los Angeles, our lawyers also practice in San Diego, San Francisco, Riverside, Oakland, Fresno, and throughout the entire state of California.
Free Second Opinions
Other attorneys will sign you up to their firm but will disappear once your name is on the paper as they are busy signing up more cases. In these instances, their business is based more on volume and will attempt to sign up as many cases as possible. In turn, they will spend less time on cases resulting in severely reduced settlements. Our firm will not treat you like a number. We will be in communication with you throughout our lawsuit and will treat you like family. So if you already have an attorney don't worry, we'll give you a second review of your case 100% free of charge.
Zero Fee Guarantee—No Upfront Fees Ever
If you contact our law offices today, we can walk you through the complicated process of filing your claim completely free of charge. As a show this commitment to you and your case we offer our clients the benefits of a zero fee guarantee policy. Under our zero fee policy, all clients don't pay for our services until their case is won. If you feel in need of a second opinion, second opinion case reviews are also free under this policy. Please, feel free to give us a call, and we can guide you down the path of receiving proper compensation for your damages.