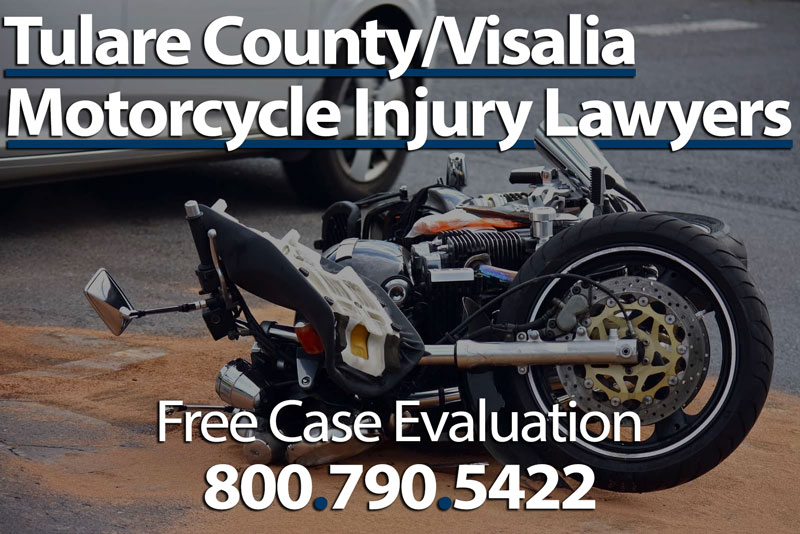 Those who ride motorcycles must always pay careful attention to the road and to other drivers; even the smallest mistake can lead to debilitating injuries and severe consequences. It is no surprise that you need a special license to operate a motorcycle given how dangerous it can be, especially in more densely populated areas. When an accident occurs, you should be aware that you have certain rights as a victim – you can earn compensation for your damages provided you were not at fault for the accident. However, it can be difficult and confusing going about attaining this compensation, as the legal system and insurance companies are notoriously difficult to maneuver around. Our experienced lawyers at the Normandie Law Firm in Visalia can help with the legal process around filing a motorcycle accident lawsuit. Our clients often call us wondering how to proceed after getting injured in a motorcycle accident. They ask us questions like:
I need a motorcycle accident lawyer in Visalia. What law firm should I go to?
Where can I find experienced Visalia motorcycle accident attorneys?
Who are the best California motorcycle accident attorneys?
Common Causes of Motorcycle Accidents
Like many accidents on the road, motorcycle accidents often occur because of the negligence of a driver. People who have been driving cars their whole lives grow accustomed to making room for other cars, and they tend to pay attention to cars more than anything else. When you share the road with automobiles the majority of the time, you become used to driving around them. With the rising popularity of motorcycles in big cities, however, there are more accidents occurring each year; this can be partially explained by the fact that other drivers are inexperienced with maneuvering around motorcycles.
Motorcycles are smaller than cars and are, in general, more difficult to spot while driving. They stay in your blind spot longer and sometimes come up alongside you without you noticing. This leads to many more accidents than if a vehicle were coming up in the same manner.
Some drivers will:
Ignore the right of way and turn in front of motorcycles at left turns, stoplights, stop signs, and intersections
Attempt to change lanes while a motorcycle is occupying a lane
Open a door while a motorcycle is passing by
Sideswipe or crush a motorcycle that is lane splitting, or riding in between cars on the dotted lines on the road
Rear end a motorcycle because they thought they had more time or space to stop
In many cases, the drivers were distracted or negligent while driving. If you were harmed in a motorcycle accident, reach out to our Visalia law firm for help in earning compensation.
The damages that you can receive in a motorcycle accident may be long-lasting or even fatal. It is not uncommon to see riders suffer numerous broken bones and fractures, sprains, concussions, traumatic brain injuries, spinal cord and back damage, internal organ damage, internal bleeding and hemorrhages, coma, paralysis, and death. If a loved one were killed in a motorcycle accident, you may have the ability to file a wrongful death lawsuit. An attorney in Visalia can help.
What to Do after a Motorcycle Accident
After you have been in a motorcycle accident, you should immediately seek medical attention. Because motorcycles are so dangerous to ride, you may be severely injured in a crash. The lack of safety features means that injuries that happen on motorcycles can be fatal or life-threatening. When in a car, you will be kept in place by the seatbelt while the airbags will deploy to prevent you from smashing into the windshield or being crushed by the steering wheel. Motorcycles do not have seatbelts, and if a crash is particularly strong, you may be ejected from the bike. These ejections can cause debilitating damage. Even if you are involved in a minor accident, you should still get help from paramedics or make an appointment with a doctor at your earliest convenience. Occasionally, injuries will not manifest themselves right away because of the adrenaline killing the pain. Additional tests by a medical professional can determine if you really are healthy in the wake of an accident.
If you have been cleared as healthy, you should then talk to the police and to the opposing driver in order to collect the necessary insurance information and information about the individual. You should never leave the scene without gathering this information, as it may be nearly impossible to track a person down after an accident occurs if no details are exchanged. The insurance information will allow you to contact the insurance agency and file a claim for compensation.
You should also gather evidence while at the scene of the crash. You can take photos of the car and your motorcycle, as well as the road that the accident took place on. If any witnesses saw the event and wanted to give testimony, you could provide photos and videos of their statements. You may also find it wise to snap photos of your injuries to prove that they were caused by the accident itself.
Lastly, you should hire a Visalia lawyer for help litigating your claim. Insurance agencies tend to delay or even outright ignore accident claims that feature injuries. They will do everything they can to not pay out a fair settlement. Our experienced Visalia lawyers can stay on top of your case and will make sure it is dealt with as quickly as possible. In the event that you were not harmed, you may not need to enlist any legal help, as insurance companies are generally more lenient and less likely to be stubborn when it comes to property damage alone.
Per the law, you may be able to earn a sizeable settlement for your damages. Our attorneys at Normandie Law Firm can help.
Earning a Settlement
Compensation for motorcycle accident victims can be collected through various means. A motorcycle accident may put you in the hospital for some time and require an extended stay in the hospital for you to recover. No matter what the damages, you should be compensated for your injuries. You may be able to earn:
Coverage of medical expenses, including surgery, hospitalization, physical therapy, medication, and more. If your injuries require you to undergo future medical procedures, those treatments can also be covered.
Lost wages, from both the past and the future. You likely missed time from work because of your injury, but you can also be reimbursed for those earnings if future treatments would require you to miss time as well.
Property damage, which can cover repair or replacement costs of your personal belongings that were damaged in the accident, including cell phones, laptops, and your motorcycle itself.
Pain and suffering, or noneconomic damages, are handed out in the event that you experience PTSD, fear, anxiety, mental scarring, and emotional trauma in the wake of the accident.
Punitive damages, which are additional forms of monetary compensation taken from the defendant in order to dissuade him from committing the action again. However, many courts view these damages as unnecessary, and only a skilled lawyer will be able to win them for your case.
In order to earn the fairest compensation under the law, talk to a Visalia attorney with experience in motorcycle accidents at Normandie Law Firm today.
How Our Firm Helps
Our team of expert attorneys at the Normandie Law Firm has been practicing law and dealing with motorcycle accident cases for years. We are an empathetic group of lawyers who concern ourselves first and foremost with the health of our clients. Our goal is always to bring you fair compensation so that you can comfortably recover in the wake of your accident. You should not be worried about legal issues while healing.
Call us today to speak with a motorcycle accident attorney in Visalia. You can receive a free consultation about your case where we will discuss your injuries and what you expect to earn. Any questions you have can be answered by an experienced attorney. For clients who choose to use our legal services, you receive a zero fee guarantee on your case as well – meaning you pay no out of pocket expenses during the entire litigation process. Our payment comes only if we win your case, and it's taken from the settlement we earn for you. If we lose, you owe us nothing at all.
Contact Normandie Law Firm in Visalia today to receive more information from a motorcycle accident attorney.