Escalator Accident Attorney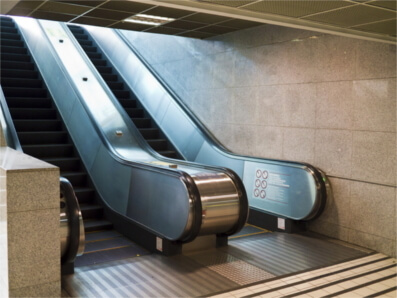 According to the U.S. Bureau of Labor Statistics and the Consumer Product Safety Commission, escalator and elevator accidents injure 17,000 and kill 30 people every year in the United States. The damages from these accidents can often last a lifetime and can inflict more than just the initial physical trauma. Elevator and escalator accidents can cause injuries that may require extended periods of hospitalization which can in itself place a significant financial burden on the victims. If you or a loved one has endured injuries from an elevator or escalator accident due to the result of the misconduct or negligence of another, you may be eligible to claim substantial monetary compensation. At one of the top law groups in the state, Normandie Law Firm, our skilled Los Angeles escalator and elevator attorneys can guide you through the process of building your case, and eventually file your claim. If you have any questions after reading this article, please feel free to contact our top law offices for a free consultation. An attorney who has experience in escalator injury lawsuits will be able to help you.
Elevator and Escalator Accidents
A majority of elevator and escalator injuries involve slip and trip and fall accidents. These often occur due to mechanical error and a lack proper maintenance. Some common injuries an individual can endure from a slip (trip) and fall accident on an elevator or escalator are as follows:
Head Injuries: head injuries can range from minor contusions (bruising) to severe, even life-threatening Traumatic Brain Injuries (TBIs).
Hip Fractures: Hip fractures often require intensive surgical procedures to ensure a full recovery. Oftentimes, these procedures involve replacing the fractured hip with an artificial one.
Back and Spinal Cord Injuries: The back and spinal cord are some of the most sensitive parts of your body as they are the center of your nervous system. If either is damaged due to a slip (trip) and fall, there is a risk of inflicting damage to the entire system.
Shoulder Injuries: Shoulder injuries include damages like shoulder dislocation or brachial plexus injuries. Brachial plexus injuries affect the network of nerves that connect the spinal cord to the shoulder, arm, and hand.
Sprains and Fractures: The impact of landing on the ground can inflict serious tension to the joints and ligaments of the body. The most fractures occur in the hip, spine, forearm, leg, ankle, pelvis, upper arm and hand.
If you have experienced these injuries or any similar injuries as a result of an accident on an escalator, you may be eligible to file a claim against the maintenance team, place of business, or elevator or escalator manufacturer responsible. In order to file a successful lawsuit, it is helpful to understand the cause of your accident. The aspects surrounding an accident's cause can determine the whole nature of a case, and can even affect the value of an eventual settlement. An expert lawyer who has experience handling elevator injury claims can give you further information. Some common escalator injury causes are as follows:
Missing teeth on the escalator track
Loose or missing screws or other components
Excessive space between the moving walk area (steps) and the escalator sides
Broken or missing steps
General malfunction
Some common elevator injury causes are also listed below:
Improperly maintained equipment
Design defects
Elevator doors becoming jammed
Elevator miss leveling at landings
Uncontrolled closing of elevator doors
Any of these common elevator and escalator malfunctions and defects can justify a lawsuit; however, the nature of the lawsuit itself depends on the source of the injury. The best way to determine who might be liable in your specific case is to seek out appropriate and accomplished legal consultation. For instance, if you experience a slip and fall accident on an escalator, you are going to want to employ a qualified personal injury lawyer for your slip and fall escalator injury. Likewise, if your elevator accident occurs in Los Angeles, California, you may want to hire a Los Angeles attorney to help represent you in court as they would be more learned on the nuances of local L.A law.
Defining Liability
Businesses like malls, airports, and hotels are all likely to have elevators and escalators for their customers to navigate through their place of business. All places of business are expected to provide a standard of care for their customers. So, in regards to this article, it is up for the place of business to fix and maintain their elevators and escalators whenever needed. Under the theory of premises liability, all property owners are required to ensure things like elevators and escalators are working properly. When this is not the case, the property owner can be held liable for the damages. To file a successful lawsuit against a property owner for damages, one must be able to prove the owner's negligence. An attorney with expertise in elevator injury lawsuits can help prove the liability of the responsible party. The negligence of a property owner can be established by proving the following elements of a negligence claim:
Duty: You must be able to show that the property owner owed a legal duty to you
Breach of Duty: You must prove that the owner breached this legal duty through specific actions or the lack thereof.
Causation: You must show that the owner's actions or inactions, caused the damages that you are seeking compensation for.
Damages: Finally, you must show that you have suffered harm in some form. This can be in the form of medical expenses or evidence of a loss of wages.
Sometimes though, there is a shared fault between the property owner and the injured party. Often referred to as comparative fault, this theory limits an owner's liability for an injury by thoroughly evaluating any evidence of the injured party's negligence. For instance, if a person was injured by running up and down an escalator and a mechanical issue causes the individual to slip and fall, it is likely that the property owner will be deemed to only be partially responsible for the damages.
Accidents can also occur beyond both the owner's and the injured party's control. These instances can occur when there is an inherent defect in the escalator or elevator's design or manufactured components. In this case, neither the property owner nor injured party could be held liable, rather the product's manufacturer could be found liable for the damages. Under Product Liability Laws, product manufacturers are expected to thoroughly check and fix defects as they arise in their products. These laws also make it so that consumers can more easily file a lawsuit if they receive a defective product. Where the defect occurs in a product's production line can determine who is liable. For instance, design defects would make the company which designed the product liable for the damages. Likewise, manufacturing defects would place liability upon the company in charge of manufacturing the product.
Regardless of the circumstances of your injury, it is highly recommended that you seek proper legal consultation before pursuing a lawsuit. Having an experienced attorney on your side can make the difference between filing a successful claim for compensation and having your case dismissed from court.
How Normandie Law Firm Can Help
If you or a loved one has been injured as the result of an elevator or escalator accident, you may be eligible to collect significant monetary compensation. At Normandie Law Firm, our experienced lawyers can walk you through the steps of filing your claim.
Free Consultation
Our law firm provides free consultations to all injured victims of accidents. Even if you already have an attorney, you may want a second opinion. We can provide second opinions free of charge as well. Contact us to speak with a lawyer experienced in elevator accident cases.
No Upfront Fees Ever
Under our zero fee guarantee policy all of our clients only pay for our services once their case is won. Our fee structure is contingency-based; meaning we do not collect any fees unless and until we get you money. For more information, call one of our attorneys with experience in elevator accident cases.