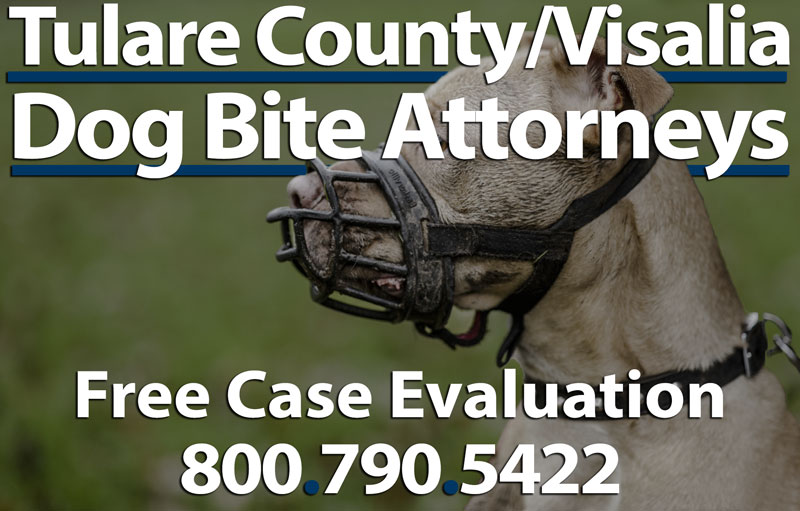 Dog bite laws can be confusing, and you should not be expected to know the ins and outs of all the legal details of a relatively uncommon injury and lawsuit. There are many nuances that accompany dog bite lawsuits, and you should be keenly aware of exceptions and rules before you attempt to file a lawsuit. A dog bite injury can be severe, but that is not a reason to rush a claim. Our Visalia dog bite attorneys at Normandie Law Firm are here to make sure you go about filing your personal injury claim the right way. We have years of experience handling dog bite claims and promise to bring you the settlement you deserve. Our clients often call us with questions regarding their lawsuits against dog owners; examples of these questions include:
What is the best Visalia dog bite law firm?
Where can I find Visalia attorneys who have experience in dog bite claims?
I need a Visalia law firm for my dog bite lawsuit. Who can I call?
Important Information about Dog Bite Laws
Perhaps the most important piece of information that you can learn about dog bite laws is that the state of California operates on strict liability. This means that the owner of a dog is wholly responsible for the dog's actions and is liable for any damages that occur from any injuries. In other states, there is what is known as a "one bite rule;" this rule essentially allows dogs to have an instance where a bite is allowed and not punished by law. The court has agreed that the dog may not have any history of violent behavior and a single outburst does not warrant harsh punishment, or that there were extenuating circumstances in the incident. This is not true in California: any incident can result in consequences for both the owner and the dog.
Exceptions to the Rule
There are various exceptions that allow dog owners and dogs to not be on the receiving end of a dog bite lawsuit. An attorney in Visalia can give you a comprehensive list of exceptions, but some of the most common ones are:
Trespassing: If a dog bites a trespasser, the trespasser cannot file a dog bite lawsuit. Trespassers are generally considered anyone who is illegally on private property. They may be crossing a backyard, robbing a house, walking through a field, inside of an apartment building, or else not invited onto a property. If a dog is present on this property, there is a chance an attack can occur, as dogs are naturally protective of their territories and owners. They will do whatever it takes to make sure their pack, essentially, is not harmed. Trespassers lose certain rights when committing a crime.
Military or Law Enforcement: Military personnel and law enforcement officers have dogs, usually German Shepherds, at their disposal. These dogs are trained to accomplish a number of tasks: they can sniff for drugs, detect bombs, protect officers, search for suspects, and take down criminals. The dogs are trained to bite and incapacitate, and those who are fleeing the police are likely doing so in the wake of committing a crime. The victim cannot sue the cops for doing their jobs.
Wrong Owner: Dogs are not always handled by their owners. Some owners choose to temporarily leave their dogs in the care of others; they can have dog walkers walk the dog around the neighborhood, let it roam at the play group or dog park, allow the groomer to keep it for a while, or let a friend watch the dog while they go on vacation. If a dog bites another person while in the care of someone who is not the owner, the individual caring for the dog cannot be sued. Only the owner of the dog can have a claim filed against him.
Also, it is important to note that the law applies to dog bites, and not dog attacks. This means that dogs that attack you, tackle you, scratch you, or push you down are not able to be used as grounds in a lawsuit. The dog must actually bite you in order for you to have a relevant claim.
Statute of Limitations
The statute of limitations on dog bites is 2 years from the date of the injury, or 2 years from the discovery of the injury. This number is common to nearly all personal injury claims. If you wait too long to sue the dog owner, your claim may be deemed ineligible, and it will be thrown out. It is imperative that you seek the assistance of a Visalia lawyer with experience in dog bite lawsuits to ensure that you will not be late on any deadlines.
There are some exceptions to the statute of limitations, known as a tolling of the statute. Your lawyer can alert you to more, some of the most common include bites that happened to minors (those under the age o 18 are able to wait until the day of their 18th birthdays before the statute of limitations for a dog bite lawsuit starts) or if the victim is physically or mentally incapable of filing a claim (due to being in a coma or in an altered state of mind after the injuries).
Types of Injuries from Dog Bites
Dogs are strong animals with sharp teeth, strong bites, and sharp claws. The animals can very easily pierce skin with their bites, and they are difficult to fend off due to their speed and occasional size. Some common types of injuries that victims of dog bites sustain include:
Skin lacerations
Broken bones and fractures
Scarring
Deep flesh wounds
Infections
Nerve and muscle damage
The location of the bite can also be severe. A bite on the arm may not be as potentially fatal as a bite to the neck; some dogs instinctively attack the neck, and if so, you may be able to earn ample compensation for your injuries. An expert Visalia lawyer will be able to give you more information about medical assistance after a dog bite attack.
Settlement Value
In the wake of a dog bite attack, you may be able to earn compensation for your injuries. Our experienced Visalia dog attack attorneys can make sure you are fully covered for your damages. The types of compensation you can receive include:
Medical expenses, including surgery costs, hospitalization fees, medication costs, physical therapy, and more. You can also be reimbursed for any additional future procedures that need to be done.
Property damage, for any damaged goods or clothing from the incident.
Lost wages, of both future and past varieties, for days you missed at work due to your injury or recovery from the injury.
Pain and suffering, which includes post-traumatic stress disorder, fear, anxiety, psychological trauma, mental scarring, and more.
You should not be expected to be held responsible for damages occurring from an injury that was not your fault. Our experienced Visalia dog bite lawyers can help
Normandie Law Firm's Assistance
If you have been injured by a dog bite, you should enlist the help of a dog bite lawyer in Visalia to help bring you a fair settlement. Our attorneys are aggressive and will not stop until we bring you the compensation you deserve. We have years of experience working with dog bite claims, and our empathetic lawyers know that you will need all the time you can get to recover. Let our law group help you while you get better.
Call us today for a free consultation with an expert lawyer. You can receive all the information you need about your dog bite claim; we encourage you to ask any questions you have, and we will answer them to the best of our ability. We believe that the more informed our clients are about the legal process, the better our relationship is.
Additionally, all clients we take on are offered a zero fee guarantee on their claims. This means that you will pay no out of pocket expenses throughout the litigation process. Our attorneys cover all costs, and we only get paid if we win your case. The fees will come from the settlement we earn for you. If we lose, you do not owe us anything at all, and we eat the costs.
Contact us today to speak with a dog bite lawyer in Visalia.