Disney Employee Killed in Crosswalk While Walking to Burbank Studio Lot; Suspected DUI Driver Arrested | 9-7-2017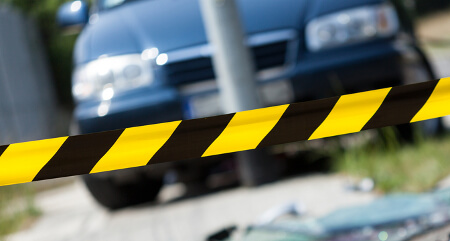 Our law firm is currently investigating an accident that occurred on September 7, 2017.
On Thursday a Walt Disney Studios employee was fatally struck by a vehicle while walking to work in Burbank on Thursday morning. The driver was arrested on suspicion of vehicular manslaughter while intoxicated. Burbank police reported that investigators believe alcohol, drugs, or a combination of both was an apparent factor in the crash that killed 54-year-old Michelle Landes. According to Burbank Police Department she was struck while crossing a marked crosswalk at Alameda Avenue and Lincoln Street at about 9:10 a.m. After the vehicle struck Landes, it struck three other people; Landes was pronounced dead at the hospital.
The driver of the vehicle, 37-year-old Stergios Economos, was arrested and is currently being held on $100,000 bail. An unidentified passenger in his vehicle was detained but has yet to be released. Disney CEO Bob Iger notified Walt Disney Studio employees of the incident via email.
"We lost a valued Cast Member this morning in a tragic accident outside the Alameda Gate of the Disney lot," Igor wrote in the email, "A number of other Cast Members witnessed the tragedy, and are understandably very shaken by the experience,"
The crash occurred very close to the Alameda Avenue entrance to the Disney lot in Burbank.
How Normandie Law Firm Can Help
If you or a loved one has suffered any physical injuries or property damages as a result of the negligent conduct of others behind the wheel, you may be entitled to monetary compensation for all the damages that you have suffered. If you file a claim with Normandie Law Firm you could find some, if not all, of these following expenses compensable:
Any and all medical expenses
Loss of Income
Loss of potential future income
Emotional Damages (anxiety, depression, PTSD, etc…)
Punitive Damages
Victims of this incident or incidents like this one can contact our law offices to learn more about how to receive compensation for their injuries. Our team of attorneys is committed to ensuring every one of our clients has the resources to put up a fair fight for their case. As a show this commitment to you and your case we offer our clients the benefits of a zero fee guarantee policy. Under our zero fee policy, all clients don't pay for our services until their case is won. If you feel in need of a second opinion, second opinion case reviews are also free under this policy. Call our law offices today for a free consultation by one of our skilled attorneys, and we can discuss the incident, your damages, and the path to receiving proper compensation for your damages.