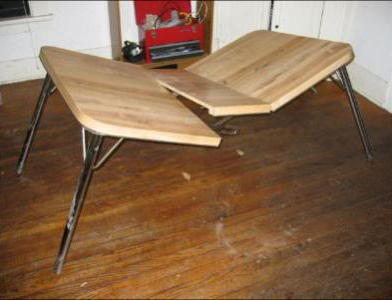 The collapse of a table at a business or workplace can, in certain situations, cause severe damage to those who experience it. Often, these injuries can result in significant compensation not just for the injury itself, but for the loss of wages, medical bills, and pain and suffering endured by the victim. If you or a loved one has experienced an injury due to a broken table, you may want to seek expert legal counsel from an accomplished lawyer to sue for the damage caused. At the top-rated Normandie Law Firm, our team of top legal experts can guide you through the complex of pursuing legal action and earning you the proper compensation for the damages. Contact our law offices today and receive a free consultation from one of our skilled attorneys with experience in broken table injury cases.
What Classifies A Broken Table Injury
Injury by a broken or defective table should not be taken lightly. While in some cases, injuries can be minor and require little to no legal action, incidents that result in serious injury may require extensive legal action and the assistance of a lawyer with experience handling defective table injury claims. Whether you have experienced an injury at a restaurant or your place of work the repercussions of the event could be severe. Damaged table injuries are considered to be any injury inflicted because of a defective or damaged table at a place of business or workplace.
Damaged Tables At Restaurants
The injury caused by damaged tables at restaurants is considered the most common type of broken table injury. They most often occur at small 'mom and pop shops' mainly because these locations lack the resources that places like McDonald's or Starbucks retain to keep up with regular inspection and maintenance. That is not to say that damaged table incidents do not happen at these larger restaurant chains. Mistakes happen. A large chain can forget to inspect a table just as easily as a small 'mom and pop' shop. Challenging these larger chains in court is more difficult, however, as just as they have the resources to maintain their equipment they have the resources to retain expert legal counsel. For this reason, a qualified lawyer experienced in defective table injury cases is a crucial asset to have.
Broken Tables At The Workplace
Broken table injuries are also reported to occur at the place of work as well. The employer of your place of work is expected to supply a safe workplace, and if this standard of safety is not upheld, then your employer should be held liable. If you are injured because of a broken table you can collect compensation; however, this is not always in the form of a settlement. Often, payment for damages comes in the form of workers comp. An experienced attorney can help you file a claim against your workplace if need be.
Other Broken Table Incidents
Broken table injuries occur at other locations as well, and the owners or operators of those places should be held liable if there is proof of neglect to maintain the premises. If you experienced an injury because of a defective product, however, you will need to bring your lawsuit to the manufacturer of said product, not the owner or operator of the location where the product was placed. Regardless, if you hope to seek legal action after an injury is caused by a broken table, it is best that you seek out the help of an attorney who has experience in broken table cases. Business owners and manufacture companies typically have more resources at their disposal to hire a team of legal experts. In this case, it is best not to try and represent yourself in court. At Normandie Law Firm, we can guide you and your family in finding the best course of action for pursuing compensation.
Filing A Broken Table Lawsuit
The nature of a broken table lawsuit can change depending on the injury, where it occurred, and how the incident took place. For instance, depending on the extent of your injuries, if your broken table accident took place at work you might only be able to claim workers' compensation. Based on a policy upheld in all 50 states, employees are expected to receive reparation for their damages through an employer-provided workers' compensation insurance. However, you may pursue further legal action if your employer does not carry suitable workers' compensation insurance or if the injury was caused by an intent of violence by the employer. At the same time, if your injury occurred at a restaurant because of a defective product manufactured by a third party company you will be required to seek legal action by the product manufacturer, not the restaurant. Defining the 'where and how' of your injury will assist your attorney in deciding how best to pursue compensation for your damages.
If legal action is to be pursued, a burden of proof must be provided. A burden of proof is the obligation of the plaintiff to prove their assertions. In regards to table injury lawsuits the plaintiff must provide proof of:
An owner or operator's awareness of the state of disrepair of the table in question
An owner or operators neglect to repair or remove said table after acknowledging state of disrepair
The owner or operator's breach of their duty to keep patrons or employees safe
Plaintiff injuries (medical bills, loss of wages, loss of future income, pain, and suffering)
In filing a broken table injury lawsuit, it is best to have substantial evidence. This evidence can be anything from photographs to witness statements to medical bills and records. If you have sustained a serious injury as the result of a broken table at a place of business or work, you have every right to seek legal counsel. While every person can represent themselves within the court of law, the complex process of filing a personal injury lawsuit should not be taken on without an attorney with expertise in defectable table injury lawsuits.
Contact Us For A Free Consultation
If you or a loved one has suffered serious injury as the result of a broken or defective table contact our law offices at Normandie Law Firm. Our capable Los Angeles table collapse attorneys can walk you and your family through the steps of filing a successful lawsuit against the party responsible. At Normandie Law Firm we operate under a strict zero fee guarantee policy. This policy means that if we do not get you money, you don't pay us anything. Looking for a second opinion? Per our zero fee policy, second opinion case reviews are free of charge. If you have any questions or if you would like to learn more about our services, please call our law offices. One of our experienced lawyers will be available to take your call.