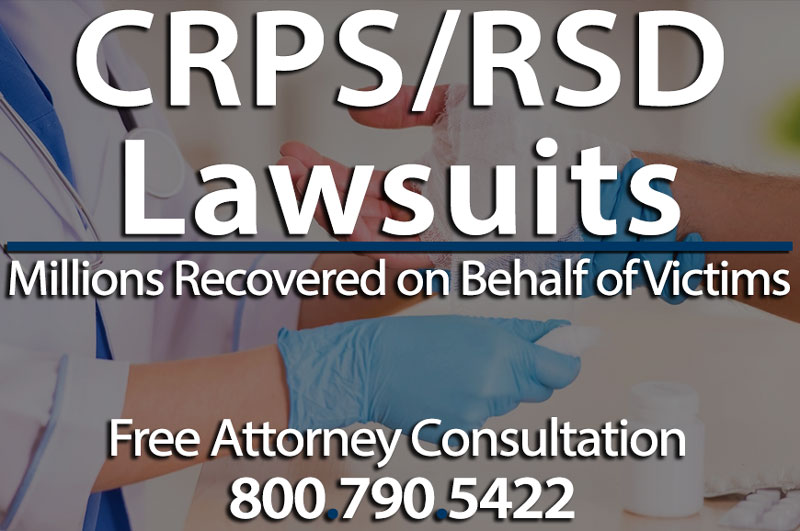 CRPS Caused By A Motor Accident
If you or a loved one has suffered from Complex Regional Pain Syndrome, as the result of an auto accident you may be eligible for legal compensation. Complex Regional Pain Syndrome or CRSP for short is a severe and chronic neuroinflammatory disorder that can leave its victims with an often incurable debilitating pain. As well as severe physical pain, CRSP can cause emotional and financial stress that can worsen a victim's condition. If you or a loved one has endured a CRPS injury because of negligence behind the wheel, you should not be left to pursue legal action alone. Contact our top law offices at Normandie Law Firm today, and an accomplished attorney who has experience in CRPS cases can guide you through the complexities of filing a lawsuit against the responsible party and get you the compensation that you deserve.
What is CRPS?
CRPS is a disorder that causes severe inflammation of the nerves and is triggered by an indirect or direct injury to said nerve. In most cases of CRPS, the pain that comes from the original injury isn't nearly as intense or long-lasting as the pain that is caused by this disorder. Most victims of CRPS never experience a full recovery and treatment of the disorder's symptoms can amount to extensive medical expenses, which, in some cases, can worsen symptoms of CRPS. More info on these symptoms can be found by contacting a medical professional or by calling an experienced attorney. Below is a list of some of the common symptoms of CRPS:
A deep aching pain
Pain with a nature that is described as freezing or burning
Increased skin sensitivity
Pain that arises from things that should not cause pain (putting on clothes, showering)
Hyperalgesia: heightened sensitivity to painful stimulation
Abnormal swelling of affected area
Abnormal hair growth
Abnormal nail growth
Skin discoloration
Skin temperature abnormalities
Increased activity of sweat glands in affected area
Limited motor function
Muscle weakness
Paralysis or dystonia
These are just some of the symptoms victims of CRPS can experience. Unlike most nerve disorders the symptoms of CRPS are challenging to pinpoint as those with CRPS experience their symptoms at varying times and frequencies. For this reason, diagnosing CRPS is a painful task, as not all victims show signs of the disease at the same time. Treatments of CRPS can be quite costly as well and are often performed on a constant reoccurring basis, as they never cure the symptoms entirely. These procedures all involve a form of pain management, which include:
Sympathetic nerve blocks: the process of putting anesthetic next to the spine to block signals to nerves affected by CRPS
Sympathectomy: surgical destruction of the affected nerves
Spinal cord stimulation
The use of an intrathecal drug pump to deliver pain relief to affected area.
Typically, the causes of CRPS come in two varieties. Type 1 is the most common of all forms of CRPS diagnosis. It causes usually occur after there is indirect damage to the particular nerve. Type 2 is the least common form of CRPS diagnosis. Often called causalgia, Type 2 causes occur when there is direct damage to a particular nerve. In almost all cases, CRPS injuries occur after victim experiences some forceful trauma to an extremity. This could be anything from surgical error to dog bites, and with regards to this article, car crashes. An expert lawyer experienced in CRPS cases can help you.
Filing a Car Accident Lawsuit
The damages received from a car accident can be devastating. On top of the repair expenses that you may require, depending on the extent of the crash, medical bills can be financially crippling, especially if there is a loss of wages or a loss of possible future income. Thankfully, with the help of a skilled attorney with expertise in CRPS injury lawsuits, you can file for a settlement to cover the damages that you have had to endure. To file a successful claim, some steps must be taken before moving forward.
Collect any and all evidence that points to who caused the accident, as well as any and all damages that the crash caused.
Record everything that has happened after the crash. Typically this will include things like medical bills, loss of wages, and doctor visits.
Collect the information of witnesses (if any) that may have observed the accident. Make sure to contact these individuals afterward to confirm their information.
If you speak to the others who were involved in the accident, take notes, and document said conversation.
If you decide to finally file a claim, be sure to let the individual(s) know that you are planning to file a suit against them.
While there is no set time limit in determining when you can or cannot file a suit against someone, you should not allow too much time to pass after the incident. The sooner you take legal action, the more likely you are to win the settlement that you deserve. One of our qualified attorneys with experience in CRPS cases can inform you if your case is within the statute of limitations or not. Placing liability is also an important factor in making your car accident lawsuit. A suit can be made against the driver of another vehicle, the city or county wherein the accident occurred, or the manufacturer of a malfunctioning or dangerous vehicle.
One of the questions most frequently asked by clients hoping to file a car accident claim is, 'What is the value of my claim?' Determining the amount of any particular claim depends on the factors involved in your specific case. One of the largest defining factors is the severity of the damages that you have endured. Determining how much you have suffered in damages can help a legal consultant find a settlement amount that you deserve. These damages can also include medical bills, loss of wages, a loss of future income, or the extent of damages incurred on your vehicle. For instance, a truck accident that caused a six-car pileup is more likely going to accrue a higher settlement amount than a minor motorcycle collision wherein only one party was involved. An attorney with experience handling CRPS claims can give you an estimate of your case value. Some other factors that come into play with property damage car accident claims are as follows:
The prior condition of your automobile
The features of your vehicle (such as air conditioning, alarm, MP3 player)
Any recent maintenance on your car (tune-up, oil change, or transmission services)
The make, model, and year of your automobile.
These factors need to all be considered when making a case before filing your CRPS caused car accident claim.
CRPS Caused by Car Accidents
CRPS resulting from a car accident can be a devastating event. If you or a loved one has been diagnosed with CRPS after a car accident, you may be eligible for significant compensation. The damages experienced by a car crash alone are worth a settlement. If said accident caused your CRPS, the amount of your settlement could see a significant increase. Typically in regards to car accidents, CRPS occurs when a heavy object hits or crushes a part of the body which in turn affects the nerves.
CRPS is a debilitating condition that can amount to a loss of income, loss of future revenue, and exuberant medical expenses. It is highly recommended that you seek legal counsel if you have been diagnosed with CRPS as the result of any traffic accident. Whether you were diagnosed with CRPS by having a car, truck, or motorcycle running over your foot, or if it was caused by a traumatic traffic accident, you can file a claim and receive a settlement for your damages.
Contact For Free Consultation
If you or a loved one has developed CRPS as a result of a car accident you need to fight for your right to compensation for the damages and the pain inflicted by this debilitating injury. At the top-rated Normandie Law Firm, our team of well versed legal experts and attorneys will work to get you the compensation that you deserve for your injuries. We offer each one of our client's free consultation as well as the proper assistance in finding the most efficient path to resolving your case. Give us a call today, and we will discuss the incident, the pain you have suffered, your damages, and all of your possible options moving forward. As a further display of commitment to you and your case, our firm operates under a zero fee guarantee. This means that in the unlikely event that we do not manage to get you the proper compensation you do not owe us any money. You only pay once we win your case. If you feel like you need a second opinion as to the value of your case, please don't hesitate to contact our law offices. Per our zero fee guarantee policy, all second opinion case reviews are 100% free of charge. Call one of our experienced lawyers today for your free consultation.
OUR ATTORNEYS CAN HELP YOU FILE A LAWSUIT FOR YOUR CRPS
What is Complex Regional Pain Syndrome? How to Diagnose CRPS?
Nerve Damage Medical Malpractice Attorney
File a Lawsuit for Your CRPS Ankle Injury After a Car Accident
Pursue a Legal Claim After Your CRPS Back Injury