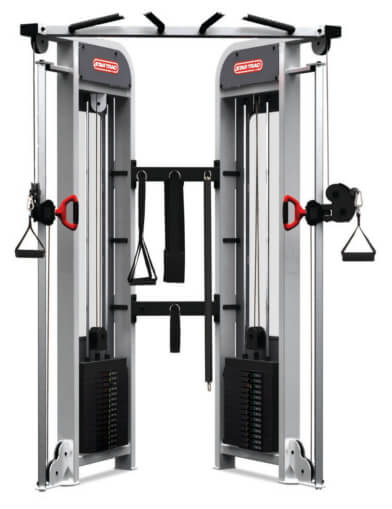 Our law firm is currently investigating a recently recalled gym equipment, the Core Inspiration Cable Crossover pulley machine. This equipment has been known to cause severe injury due to it falling on consumers inflicting dangerous, and sometimes life threatening crush injuries. If you or a loved one has experienced injury as a result of one of these machines you may be entitled to file a significant claim for compensation. At Normandie Law Firm, our skilled personal injury attorneys can assist you in building your case, and eventually file your lawsuit. If you have any questions after reading this article, please feel free to contact our law offices for a free consultation.
Product Information
Name of Product: Exercise Machines
Hazard: The height adjusting carriage assembly tends to loosen and can fall on the consumer, posing a risk of dangerous impacts
Remedy: Repair
Recall Date: July 12th, 2017
Recall Number: 17-755
Model Number: N/A
UPC Code: N/A
Details of the Recall: The recall involves five different styles of the Inspiration Cable Cross Over and Dual Adjustable Pulley machines installed primarily in fitness centers and gyms. These units are made of stainless steel and have adjustable pulleys with single hand adjustment designs and high-low cable positioning components. "Inspiration" is printed on each of the Dual Adjustable Pulley models, and "Star Trac" or "Nautilus" is printed on the Cable Cross Over models
Remedy for Recall: Consumers of this product should stop using the recalled exercise machines and contact Core Health & Fitness machines immediately. The firm is contacting all known purchasers directly.
Incidents: There have been 48 reports of the height-adjusting carriage assemblies loosening and falling, resulting in 31 reports of injuries, including cuts that require staples or stitches.
Sold At: Core distributors nationwide from November 2010 through April 2017, and by Unisen distributors from 2001 to 2010 between $2,700 and $8,400
Manufacturer: China and the United States
Importer(s): Core Health & Fitness of Vancouver, Wash.
Units: Approximately 3,600
Product Liability Laws & Negligence
All products are expected to fall under the premises of Product Liability Laws. Product Liability Laws make it so that defective products do not end up in the hands of consumers. They also allow for consumers to more easily pursue legal action against the company that may have produced them. However, it is important to note that in your suit you identify where the defect occurred. Where a defect occurs on a product's line of production, can help determine the nature and possible outcome of your lawsuit. Listed below are three of the common periods wherein a product defect can occur:
Design Defects: These defects are typically present in the product even makes it to the manufacturing floor. A design defect is an inherent flaw in a product which deems it unsafe for consumer use. In most cases, a design defect will result in large scale recalls as they are more likely to affect a wide number of products
Manufacturing Defects: These defects occur during the product's assembly. In this case, the company which organized the manufacturing of the product would be deemed liable for the damages
Marketing Defects: These are defects that occur in the way the product is marketed to the public. This can include defects like improper labeling, insufficient instructions, or inadequate safety warnings.
Companies are expected to uphold a level of ensured safety for their product's consumers. When this duty of safety is breached due to a product defect a lawsuit can be filed against the company responsible. However, with all personal injury lawsuits, it is required that the plaintiff or injured party prove the negligence of the defendant or production company. While it is in your best interest to retain the consultation of an attorney to assist in proving negligence, it is still helpful to understand the key elements that exist within a common claim of negligence. These key elements are bulleted below:
Duty: The plaintiff (injured or damaged party) must be able to show that the defendant (manufacturing company) owed a legal duty to the plaintiff under the circumstances.
Breach: The plaintiff must be able to show that the defendant breached that legal duty through a specific action or failing to act.
Causation: The plaintiff must be able to show that the defendant's actions or lack there of caused the plaintiff's injuries
Damages: The plaintiff must show that they endured specific damages. This can usually be demonstrated through the presentation of medical bills, medical records, a loss of wages, or a loss of potential income.
How Normandie Law Firm Can Help
If you have purchased a Core Health and Fitness exercise machine, we recommend that you send a report to Core Health and Fitness and Land America Health and Fitness for a free refund or replacement of the product. We also recommend that you act immediately as these machines can pose a dangerous threat to those who use them. If you or a loved one has already suffered injuries as a result of this exercise machine, then you may be eligible to file a lawsuit and collect proper monetary compensation. If you file a claim with us you could find some, if not all, of these following expenses compensable:
All of you medical and hospitalization costs
All of your future medical care and treatment
A loss of income and loss of future earnings due to long term recovery or permanent disability due to the accident
Compensable economic damages include loss of property or damaged property.
Compensable non-economic damages include emotional distress, trauma, PTSD resulting from the accident, pain and suffering and anxiety.
Further, make sure that you do not return the product. It will be used as evidence for your claim. Make sure you:
(1) DO NOT return the item to the manufacturer ot receive a refund; that will destroy all evidence you have to pursue the case.
(2) DO NOT tamper with the product or try to fix it.
(3) Seek immediate medical attention with a doctor so that there is no gap in medical treatment.
(4) Hold on to any receipts or documentation of purchase.
Free Consultation and Zero Fee Guarantee
Victims of this recall or recalls similar to this one can contact our law offices to learn more about how to receive compensation for their injuries. Our team of legal experts is committed to ensuring that our clients receive proper representation for their claims. As a display of our commitment, every one of our clients will receive the benefits of our zero fee guarantee policy. Under this zero fee policy, there are never any upfront fees with our services. The legal consultation is provided free of charge, and if we take your case, you don't have to pay us a dime upfront. We will collect our fees if and when we get you money. If we do not get you money, you owe us nothing. Our main offices are in Los Angeles but we are active in the entire state of California. So no matter where in California you're located, you can take advantage of our services.