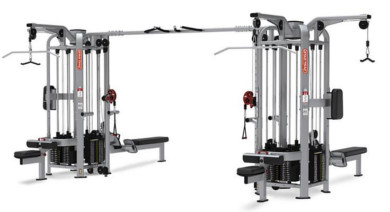 This month, Core Health and Fitness issued a recall for approximately 3,600 units of its Inspiration Cable Cross Over and Dual Adjustable Pulley machines. These machines have caused injury to over 30 people due to faulty design. You can identify the machines by what is printed on each model: on the Dual Adjustable Pulley products, the word "Inspiration" is printed on the machine; the words "Star Trac" or "Nautilus" are printed on the Cable Cross Over models.
The models have been in circulation and development since 2001, being sold by Unisen from 2001 to 2010 and by Core from 2010 to 2017.
At Normandie Law Firm, we give you all the information you need on product recalls, the ensuing claims, and what to expect from settlements. If you have any questions after reading this article, or to speak with an attorney regarding a possible lawsuit, please contact our law offices.
Common Injuries from Pulley Machines
The pulley machines, which are generally used for numerous exercises in gyms, physical rehabilitation centers, and health and wellness clubs, have pulleys that can be adjusted to different heights. Users can attach different handles to the pulleys, including steel straight bars, iron T handles, firm rubber pull up bars, and coarse ropes.
When the carriage malfunctioned, the attached equipment released, leading to extended danger due to the extra force from the weight resistance. The injured users needed stitches or staples to the head after these detachable handles broke off, or after the carriage that housed the rope became unstable and fell.
Injured at Home versus Injured at the Gym
If you were injured by an Inspiration machine while at the gym, it will be difficult to ensure that the business kept the malfunctioned equipment as evidence for its own claim as opposed to returning it to the manufacturer. You are more likely to have ample evidence if you owned an Inspiration machine yourself.
How to Win a Case
When filing a claim for a defective product, you must make sure that the product's malfunction was not due to your own error or misuse. If an injury occurred due to the fault of the manufacturer, a defective product claim will be easier to prove in the court of law.
The options for proving product defectiveness are:
Original Design Defect: When the product was initially designed, it may have had faults and issues that were not readily apparent or otherwise outright ignored by the developers. Ample, in-depth testing may not have occurred, leading to overviews in creation. If the creators chose to do nothing about the apparent design flaw with their product, you may have a stronger case.
Manufacturing Process Defect: If the design of the product was adequate and had no issues, there may have been errors in its manufacturing while at the processing plant or factory. The assembling machines may have made mistakes or the workers who put it together may not have done so efficiently, resulting in unsturdy, weak, or ill-fitting pieces.
Labeling and Packaging Misinformation: The product may not have had any warning labels or risk factors printed on the packaging, in the user's manual, or on the machine itself. These labels are to be made apparent and obvious to any viewer. Without a warning, it is impossible to know what constitutes a risk and what movements and uses can be considered safe.
Steps to Take after a Defective Product Injury
In the event that you have sustained an injury due to a defective product, you should immediately seek medical treatment to ensure that you do not have any lasting damages or immediate problems.
You should locate your purchase receipt, whether it be in the form of a printed receipt, an electronic receipt, or even a proof of delivery from a mail carrier.
If you have already contacted the manufacturer, it is not advised to accept an offer from the company. Often, this offer of compensation will be in the form of a new product or supplementary products, with a value that may not be equal to the product you own.
Further, if the manufacturer offers to take the product from your home, do not agree. The product can be used as illustrative evidence in a defective product claim in order to prove to a judge or jury that the issue is with the equipment and not the user.
Lastly, contact a product liability attorney who can accurately represent you. A specialized attorney will have extensive knowledge on defective product cases and the laws relating to them, and you should opt for experience and expertise in your selection.
These steps can be simplified:
(1) DO NOT return the item to the manufacturer ot receive a refund; that will destroy all evidence you have to pursue the case.
(2) DO NOT tamper with the product or try to fix it.
(3) Seek immediate medical attention with a doctor so that there is no gap in medical treatment.
(4) Hold on to any receipts or documentation of purchase.
Determining your Proper Compensation
The projected value of a settlement from a defective product injury claim can vary depending on a few different factors.
Permanence of Injury: If your injury permanently affects your body in some way, you are likely to receive more compensation. Examples of this include loss of a limb, neurological damage, paralysis, and chronic pain and stiffness. Responsibility for your injury can be attributed to the manufacturer.
Medical Treatment: An injury that causes you to undergo extensive and in-depth medical treatment can lead to more compensation. Simple injuries like sprains or breaks usually only require a diagnosis, surgery, and small amount of therapy, but more severe injuries, like spinal cord damage, may require lengthened treatment and close care.
Loss of Income: If a defective product causes you an injury that results in you being forced to take time off from work, your compensation may increase to account for lost wages. Damage to your fingers from a faulty product may prevent you from typing for your job, for instance, and keep you out of work for some time.
All of these factors will be considered when calculating your potential settlement, and understanding each one is important in order to fight for the best compensation possible. As each variable moves up and down, so does the value of your case.
Free Consultation with our Firm
Normandie Law Firm offers a free consultation to anyone who has been injured by Core Health and Fitness products, as well as to those of other defective products. Our Los Angeles firm works with clients across the state and is willing to provide representation for anyone who is in need of an adequate product liability attorney.
Call us today for your free consultation and let us net you the fair compensation you're entitled to from a defective product.