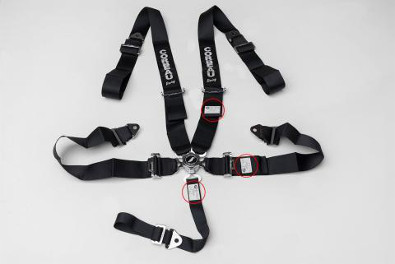 There has been a recall by Corbeau USA for its 5-Point Camlock Harness Belts manufactured between April 2016 and April 2017. The recall went into effect July 2017. Our law firm is currently investigating a possible lawsuit against all the responsible parties. If you have been affected by this product and would like to speak with an experienced attorney and possibly sue for your damages, please contact us for a free consultation.
The harness belts are intended for off-highway vehicles that reach high velocities, such as racing cars and the like. The harness belts keep an individual strapped to the seat of the vehicle, preventing him from being tossed around or ejected from the seat in the event of an accident or crash. However, the defective product has the problem of one of the belts randomly unlocking during use, leading to possible ejection from the vehicle. This can result in serious injury or even death. Our skilled attorneys with experience in product liability cases can help you move forward with legal action.
Current Issues and Possible Risks
As of July 2017, there have been no reported incidents of injury due to a malfunctioned 5-Point Harness Belt. The tests were conducted independently by Corbeau, who realized the problem and issued the recall.
Automotive racing is a dangerous sport that requires many preventative measures and adherence to safety standards. If harness belts, seatbelts, or roll bars are faulty, the driver or passengers can sustain life-threatening injuries while racing. Any defective or malfunctioning products in a racecar should be replaced immediately.
Possible injuries include lacerations, broken bones, nerve damage, and even death.
In the most extreme case, death, surviving family members can file a wrongful death lawsuit that operates in conjunction with the defective product lawsuit. Our top qualified lawyers who have experience handling product liability claims can help.
If the Company Reaches out to You…
If you are contacted by Corbeau USA to fulfill their request of replacing your 5-Point Harness Belt with an updated, working model, only do so in the event that you have not sustained an injury as a result of the product's malfunction.
If no injury has occurred, there is no reason to keep the belt as evidence, as there will be no ensuing court case or possible claim. Remember, merely because the product is defective and poses serious risks to health and wellness if it malfunctions does not mean you have a case against the manufacturer if no injury has occurred. Even in the case of a malfunction, you need to sustain an injury to bring the claim to court.
Regarding Corbeau USA's Harness Belt: if one of the belts came loose during a drive and unlocked, but you managed to complete the race and not sustain any injuries, you would not be able to issue a claim for product liability. It does not matter if you were nearly injured or were faced with the possibility of it; as long as no injury occurs, you have no case.
If you have questions, contact an accomplished attorney who has experience in product liability claims. To put it simply, here are the rules you should follow for defective product claims:
(1) DO NOT return the item to the manufacturer ot receive a refund; that will destroy all evidence you have to pursue the case.
(2) DO NOT tamper with the product or try to fix it.
(3) Seek immediate medical attention with a doctor so that there is no gap in medical treatment.
(4) Hold on to any receipts or documentation of purchase.
Which Kind of Claim to File
With respect to products that have caused injuries, victims are able to file three different types of claims to attempt to receive compensation. Negligence Cause of Action dictates that the owner of the company was remiss in his duty of care to the public; Breach of Warranty Cause of Action relates to merchantability and statutorily enacted laws; and Product Liability deals with problems with the product itself, whether by design flaw or lack of labeling.
In the case of Corbeau USA's 5-Point Harness Belt, a product liability lawsuit is the recommended course of action, and your claim can be helped along with the assistance of one of our experienced lawyers.
Statute of Limitations on Product Liability
Statutes of limitations for filing defective product claims vary from state to state, but here in California, you have a two-year limit from the date of the injury to file a claim against a company requesting compensation for damages sustained due to a defective product.
As the Corbeau USA 5-Point Harness Belt has only been in circulation for a little over one year, any claim made against Corbeau for injuries sustained due to the product's malfunction will fall well within the statute of limitations. However, in the event of an injury occurring in a few years, you will still have ample time to file a claim. On occasion, exceptions from courts are granted to cases that have exceeded the two-year limit.
Steps to Take after Injury
If you have been injured due to a malfunctioning harness belt, your first course of action should be to seek immediate medical treatment to deal with any damages you have sustained. You may need to call an ambulance or a helicopter to be lifted to an appropriate hospital if the injuries were severe.
After making sure that you have been treated, you should request copies of your medical report to have on file as back up evidence for your claim.
The harness belt that you were using should not be removed from the vehicle's seat, nor should it be returned to the manufacturer for a replacement. Hold on to the product, as it can be used as evidence in court.
What to Expect from a Settlement
Depending on the severity of the injury you sustained from the product's malfunction, you may be able to receive a fair amount of compensation.
There are three factors that determine how much restitution you can receive in the event of injury, and each one must be weighed individually by the judge or jury to determine compensation.
If you were using the product as it was intended to be used and its malfunction caused you to sustain a permanent injury (paralysis or loss of limbs), accrue high medical costs (multiple surgeries or extended hospital stays), and lose out on wages at work (from hospitalization or work restrictions), you may be looking at a sizeable settlement. You can receive an estimate by contacting an expert lawyer experienced in product liability cases.
How We Help
The top-rated Normandie Law Firm is Los Angeles's premier practice. Our team of attorneys is well versed in defective product laws, and we have handled many cases wherein malfunctioning products have caused injuries to consumers. Our expertise guarantees that we will fight for what you deserve to receive from a product liability claim.
If you have sustained an injury due to a malfunctioning product like Corbeau USA's 5-Point Camlock Harness Belt, call our firm today to receive a free consultation. We will discuss your injury, your case, and what we think is the route to the most successful outcome for you. Our team of attorneys is more than happy to assist you with any questions you have.
Reach out to us today to speak with an attorney with expertise in product liability injury lawsuits.