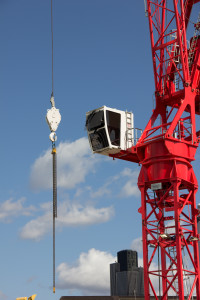 A construction accident happens almost every day. In today's society, there is construction happening all around us. Whether you are working at the site or just an innocent bystander, construction sites are dangerous places. If you have been injured in a construction accident, your right to recovery hinges on if you were employed and working directly on the site or just an innocent bystander that was injured. When you are an innocent bystander, California personal injury law governs your recovery, and generally, the person or entity at fault will be responsible for paying for your damages.
On the other hand, if you are employed by the construction company and were injured at the site, then you may be entitled to compensation from more than one source. Many personal injury attorneys overlook this fact and subsequently recover less for their clients than what they are legally entitled to. Our top law firm does not operate in this way and always makes sure that we maximize the amount of compensation recovered for our clients, thanks to the help of our experienced lawyers. 
Statistics on Construction Accidents:  Every year, thousands of construction site workers and innocent bystanders suffer serious injuries due to construction site accidents in Los Angeles. There are many common causes of construction accidents, including failure to conduct safety inspections, the hiring of untrained workers, and failure to abide by OSHA safety standards. Victims of personal injury due to the negligent or wrongful acts of others are entitled to full and just compensation for all damages incurred, including medical costs, rehabilitation care, pain and suffering, lost wages, and disability care.  
Attorney Assistance: Our top-rated law firm is proud to represent individuals who have suffered serious injuries in construction site accidents in the city of Los Angeles and surrounding communities. To speak to an accomplished attorney who has experience in construction site accident cases, call (855)385-2529. All consultations are provided free of charge.
Leading Causes of Construction Accidents
Insufficient training
Scaffolding accidents
Crane accidents
Electrical accident/ Fire
Harness Accidents
Falling objects
Improper use/maintenance of equipment
Poor safety precautions/oversight
Mechanical Failure
Hoist accidents
Defective equipment
Collapsed structures
Exposure to toxic substances
Compressed gasses
Slip and fall
Fire and Explosion
Common Injuries Caused by Construction Site Accidents
There are numerous injuries which can take place in and around a construction site due to the negligent or wrongful actions of liable parties. Some of the most common injuries our clients have experienced are as follows:
Death of a Loved One in a Construction Accident – Wrongful Death Lawsuit Information
In certain jurisdictions within California, certain family members of individuals who have died in construction-related accidents are entitled to compensation. To learn more about wrongful death lawsuits, see here.
Winning Your Construction Site Injury Lawsuit in the Court of Law
Construction accident claims can be difficult to litigate and usually require expert legal attention and resources. You are advised to find an attorney with expertise in construct site injury lawsuits. There are several causes of action which can be brought forth to prove liability on the part of a construction company, property owners, developers, and manufacturers of defective construction equipment, including:
WORKERS COMPENSATION – EMPLOYEE INJURIES
If you are a construction worker who was injured on the job then you have the right to be compensated for your injuries. Typically, a worker that was injured on the job doesn't have the right to file a lawsuit against their employer because they are entitled to workers compensation benefits provided by workers' compensation insurance. The Occupational Safety and Health Administration (OSHA) helps protect workers from health and safety hazards on the job. In California, if you are employed by a construction company and are injured at work, then you may file for workers compensation benefits. Our attorneys with experience in construction side accidents can help you file a lawsuit. OSHA helps workers to:
Inspect their workplace;
Use their rights under the law without retaliation or discrimination;
Receive information and training about hazards, methods to prevent harm, and the OSHA standards that apply to their workplace;
Receive copies of test results done to find hazards in the workplace;
Review records of work-related injuries and illnesses;
Receive copies of their medical records.
An experienced attorney can help you file a complaint with OSHA. Additionally, your employer may NOT fire, demote, or take any other retaliatory measures against you for filing that complaint. A worker who has been retaliated against by his employer after filing a complaint with OSHA should contact our leading law offices immediately. A worker pursuing workers' compensation benefits only needs to prove that the injury occurred, irreverent of any surrounding circumstances. If the claim is accepted, then the worker will be entitled to benefits. Additionally, our law firm will maximize the amount of your recovery by getting you workers compensation benefits in conjunction with any additional third-party claims. Our qualified attorneys are here to help you recover the compensation you deserve.
Theories of Liability for Construction Accidents
Negligence
Some employers purchase workers' compensation insurance to protect themselves from being named in a personal injury lawsuit. However, if your construction accident was the result of negligence, then you may be able to recover additional compensation against a separate entity or 3rd party. Negligence can be difficult to prove and recovering compensation from a 3rd party can be a headache. If you are a worker that was injured at a construction site then you should contact one of our experienced personal injury and construction accident attorneys for a 100% free consultation.
Product Liability
If the injury was caused by a defective product used on the worksite, then any manufacturer in the chain of distribution may be held accountable for your injuries. For example, if you are operating a piece of machinery that causes your injury due to a mechanical defect, or failure to warn/inadequate warning, then you may be able to recover compensation from the retailer, manufacturer, wholesaler, and any other entity that had custody or control over the defective product.
Who Can be Held Liable
WHO IS LIABLE?
Construction accidents and injuries can be a complicated area of law. That is why you should always consult an experienced personal injury attorney immediately following your injury. Liability hinges on a multitude of factors, but generally all of the following entities may be held liable for your injuries:
Construction site owners
In these cases, liability hinges on the degree of control that the owner has over the premises, compared to a degree of control over the work being produced itself. Construction site owners are not always held liable for injuries suffered on their premises. However, if the landowner takes an active role in the work being performed on the construction site, then the owner or possessor of the land will be held liable for individuals that are injured on the premises. The duty of the landowner does not extend to workers injured due to potentially dangerous conditions that should be obvious to the "invitees." Additionally, a landowner's liability may be lessened depending on the independent contractor's knowledge and required duties.
General & Sub Contractors
Under OSHA (explained above), general and subcontractors have a duty to provide workers with a reasonably safe work site. Additionally, they also have a duty to warn of any hazards at the sight or inherent in the job itself. General and subcontractors have a duty to make sure all employees on-site are performing the work delegated to them safely. If an employee is injured as a result of a general or subcontractor's lack of oversight, please call our law offices today so we can help you through the process of a complex construction accident claim. A lawyer experienced in construction site injury cases will be glad to walk you through the legal process.
Prime Contractors
Prime contractors are only responsible for the work covered in their written contract, or for any work that is delegated to subcontractors. If they delegate work to a subcontractor, the only way the prime contractor can be held liable is if they have exclusive responsibility for those subcontractors.
Architects & Engineers
The best way to determine if an architect or engineer will be liable for your injuries is to look at the contract they have with the construction site owner. Architects and Engineers make progress observations that ensure compliance with specifications, design plans, and site-inspection with various code regulations. Design professionals, (as architects and engineers are usually called), will be held liable for any injuries sustained by construction workers if they were performing professional services during the design and/or construction phase of the project.
Manufacturers
If you are an innocent bystander and were injured at a construction site, you are entitled to compensation for your injuries. Construction companies are held to certain standards and they have rules that must be followed. If these rules and regulations are broken, and you are injured as a result, then you have a right to be compensated by a third party. Under certain circumstances, you may be able to file a claim for compensation in conjunction with multiple 3rd-party agencies.
Injured Bystander Rights
If you are an innocent bystander and are injured at a construction site, the normal rules of personal injury law apply. Any innocent bystander that is injured at or near a construction site is entitled to be compensated for the injuries they have suffered. Compensation may include but is not limited to:
All medical bills and treatment related to your injuries
Lost wages
Future lost wages
Emotional distress
permanent disability/ disfigurement
Pain and suffering
Punitive damages (where applicable)
Out-of-pocket expenses
Any costs you have incurred as a result of your injury
Statute of Limitations For Filing a Construction Site Accident Lawsuit in the State of California
Every civil case in the state of California must be filed within a certain time frame. Failure to file a case within the legally delineated timeline will result in the elimination of your right to financial recovery via legal means. In the state of California, the civil based injury cases against non-public entities must be filed within two years from the date of the injury. Cases against public-owned and public-run institutions must first go through a review process with the agency in question; thus claim must first be filed with the agency within 180 days (6 months) from the date of the incident or injury. In certain circumstances, courts may wave a statute of limitations. Example of instances where courts have allowed for exceptions to the filing deadline for a construction site accident are as follows:
If you believe you may be eligible for an exception to the statute of limitatons, an expert attorney with experience handling construction site injury claims can help you.
Value of a Construction Accident Lawsuit
An important question asked by many of our clients during legal consultations with our construction accident attorneys is, "What is the average case settlement in a construction accident lawsuit?" Additionally, they ask, "How much money am I entitled to if I file a lawsuit?" The average value of most personal injury lawsuits is based on several important factors unique to every client. The five most important factors in determining the average value of an injury lawsuit include:
1. The severity of the harm suffered, found via evidence from a diagnosis in the injuries suffered and medical costs for treatment of the condition.
2. Need for future medical and rehabilitation care and long-term disability care of the injured victim.
3. Calculation of Pain and Suffering, found in evidence via emotional anguish, depression, and PTSD.
4. Lost wages and loss of future earning or income capacity of the victim.
5. Availability of insurance and or assets on the part of the at-fault party.
Contact a Los Angeles Construction Accident Attorney NO RECOVERY = NO FEES, EVER!
 Always remember that you can call our accomplished law offices to get the help that you or your family member needs and deserves. One of our skilled personal injury attorneys is always available to take your call and give you the direction and guidance that you're looking for. Our team of attorneys realizes how difficult and complex a construction accident case can be, so don't hesitate to call our offices for your 100% free consultation, and we will make sure that all of your personal injury needs are met.
Our qualified Los Angeles Construction accident attorneys are available for a free and confidential case evaluation of your claim at any time of day or night, 24/7. If you have any further legal questions regarding your claim feel free to contact our expert legal team toll-free at (800) 790-5422.