Car accidents in the city of Los Angeles have become far too common.  The city's congested roads and negligent or inattentive drivers have led to countless motor vehicle accidents, causing hundreds of serious and debilitating injuries. Contact the city's top-rated Normandie Law Firm if you require legal representation for your car accident claim. Our highly skilled attorneys have years of experience in car accident cases and will be able to help you recover the maximum compensation you deserve in the wake of an injury.
Steps To Take Following a Car Accident:
Seek medical attention if injured.
Contact your local law enforcement officials and file an accident report.
If possible, write down important information regarding the driver and vehicle of the at-fault party, including insurance information, license plate, and the make and model of the vehicle.
Do not speak with insurance adjusters. Insurance companies will use any statements made to them to lower or extinguish your rightful claim for compensation.
Contact a top Personal Injury Law Firm and ask for a legal consultation regarding your rights. Unlike many other law firms, we provide all clients with a free no-cost case review by an experienced attorney.
Leading Causes of Auto Accidents on Los Angeles Roads: Some of the leading causes of traffic accidents in Los Angeles include:
Negligent driving: Speeding is the number one cause of auto accidents in the United States. Exceeding the designated speed limit or making illegal lane changes without the proper use of signals substantially increases the risk of auto collisions.
Distracted driving: Forms of distracted driving with the greatest threat of causing accidents include text messaging, the use of a mobile device, eating, putting on makeup, and viewing previous accidents, otherwise known as rubbernecking.
Driving while under the influence of an intoxicant: According to reports published by the National Highway Transportation Administration, nearly 11,000 individuals are killed in accidents caused by drunk drivers on the road.
Defective manufacturing of automobiles: Defective car parts, including airbags, brakes, and tires, result in thousands of car accidents each year. Victims of injuries caused by defective auto parts are entitled to file a product liability lawsuit against auto manufacturers.
Poor climate conditions: The roads may be slick and slippery during rain storms.
Defective and poorly maintained roads: Some roads are uneven, bumpy, and cracked, while others have potholes and no grip.
Common Injuries Resulting from Car Accidents: Some of the most common serious injuries resulting from auto accidents are as follows:
Filing a Personal Injury Lawsuit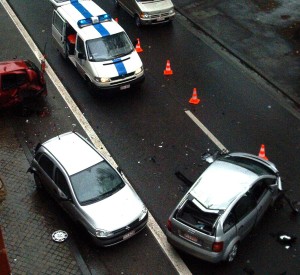 The interests of insurance companies are to lower their financial exposures to any claims filed by victims of accidents. Negotiating alone with insurance agents places you at an immense strategic disadvantage. Legal representation greatly enhances a plaintiffs capabilities in achieving the maximum monetary compensation owed by insurance companies. We advise any individual who has been injured in a car accident to speak first with an attorney who has experience in car accidents before any negotiations or statements with insurance companies take place.
Proving Your Case in the Court of Laws: Personal injury lawsuits are usually litigated based on a negligent cause of action. Cases based on negligence require the proving of several elements:
1. The defendant has a duty to the injured party: All drivers owe other motorists a duty to drive their vehicles in a safe and reasonable manner.
2. The defendant breached the duty of reasonable care owed to the injured party: Breach of a driver's duty is established through any wrongful or negligent act, including speeding, failure to use a turn signal, and driving on the wrong side of the road.
3. The breach of the duty was the cause of the accident.
4. The accident resulted in significant injury to the plaintiffs.
Statute of Limitations for Filing a Car Accident Case in the State Of California:
A statute of limitations is a time limitation placed on a victim's right to file his or her claim in the court of law. Failure to file a claim within the statutorily allotted time period can eliminate a plaintiff's right to financial recovery. The time period for filing a lawsuit for personal injury in the state of California is two years from the date of the accident. An attorney with expertise in car accident injury lawsuits can make sure your case does not extend past the statute of limitations.
·       What if My Time Period has Run Out: In certain circumstances, courts will allow for a temporary halting or tolling of the statute of limitations. Some of the most common instances where courts have allowed for a tolling of a statute include minor statute of the victim (under the age of 18), mental incapacitation, and physical incapacitation of the victim.
Compensation available for victims of car accidents: Individuals injured in car accidents are entitled to compensation for all damages suffered as a result of the collision. The level of compensation available is based on several factors including:
Compensation for all medical costs and prescription drug cost
All future medical and rehabilitation needs, including corrective and revisional surgeries when required
Pain and suffering compensation, including mental trauma, post-traumatic stress disorder, and depression resulting from the accident
Los wages due to inability to work and loss of future income due to long-term continued disability
Punitive damages, which are awarded when the driver of the vehicle displays an intent to cause harm or a reckless disregard for the life or health of other motorists on the road. Only a lawyer with adequate experience handling car accident claims will be able to win these damages.
Fatalities Caused by Auto Accidents: In the state of California certain relatives of the deceased hold the right to file a wrongful death cause of action against the at-fault driver. For more on wrongful death lawsuits, see here.
Cost of Legal Representation: Our leading personal injury law firm represents victims of personal injury on a contingency fee basis, meaning you don't pay any out of pocket expenses unless and until we have successfully litigated your case. We feature a team of experienced lawyers who will make sure to earn you the maximum compensation possible for your claim.
Free Attorney Consultation: Our accomplished attorneys are available 24/7 to answer any legal questions you may have regarding the filing of a personal injury claim. We have numerous attorneys with experience in car accident cases and our qualified opinions will help you make an informed decision. All legal consultations are provided free of charge and are completely confidential. Contact us toll-free – (800)790-5422 to speak with an expertlawyer experienced in car accident claims.