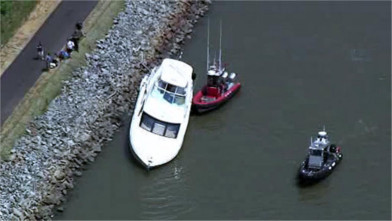 If you or a someone close to you has suffered a personal injury as a result of a boating accident, you may qualify to hire an expert lawyer with experience handling boating accident claims and receive compensation. A boating accident lawsuit is unique in the field of personal injury law because there are a lot of laws that intersect to determine the outcome of the case. Our experienced lawyers at the top-rated Normandie Law Firm can explain further.
Every year, thousands of people suffer injuries in boating accidents, whether they are in a privately-owned boat, a yacht, a jet ski, a ferry or any other kind of watercraft; don't be one of the many who takes on the expenses of these accidents alone. In California alone, there are nearly 900,000 registered water vessels, making for crowded waterways and the likelihood of a boating accident all the more likely. Boating injuries can be equally if not more so dangerous and lethal than car accidents, so don't let your case go unheard. If you have been injured in an accident, you should reach out to an accomplished and experienced attorney to help make your case heard.
Cause of Accidents
Almost all damages caused by boating accidents are preventable. In most cases, boating accidents are caused by an inexperienced operator or simple inattention to the waterways. Most inexperienced boaters underestimate the dangers of watercraft. These accidents are most often caused by collisions with other vessels in the water. Another frequent cause of boat injuries is by a flooded or swamped boat. These cases are made more severe when operators are not well trained on the safety procedures and the equipment necessary when a boat begins to take on water. The last leading cause of boat accidents is grounding. Grounding is when a vessel sails too close to shore and collides with land masses. The following is a list of other common causes of boating accidents:
Operating under the influence
Operator inattention
Reckless driving
Inexperience
Falling overboard
A failure to yield to oncoming vessels
A failure to properly maintain vessel
Fuel line leakage
Collision with debris in the water
Capsizing
These accidents do not occur randomly. Boaters ignore the proper procedures, like wearing lifejackets or traveling beyond the designated safe zones. Operating a water vessel while under the influence is also a major factor in many boating injury incidents. Based on a study performed by the United States Coast Guard, boat operators with a blood alcohol level above .10 are ten times as likely to be killed in an accident than an operator who has not been drinking. For instance, in California, alcohol was a contributing factor in 38% of all fatal boating accidents in 2004. Unfortunately, two-thirds of those fatally injured in these incidents were passengers.
California Maritime Law requires vessel operators to provide their names, addresses, and vessel registration numbers to the other parties involved in the incident. They must also provide immediate assistance to any injured persons at the scene. A written report must be made by the operator or boat owner and sent to the California of Boating and Waterways if the accident resulted in the death or disappearance of a person, injury requiring medical treatment, or property damage that exceeds $500 to all vessels involved, docks, or other assets. If death is a result of a boating accident, the report must be filed within 48 hours of said incident. In the case of property damage, the report must be made within ten days of the event.
To learn more about these laws, contact a qualified attorney who has experience in boating accident cases.
Filing A Boating Accident Lawsuit
If you or a loved one was killed or injured in an accident on the water due to the negligence of an individual or a corporation, you might be eligible to file a boating accident claim or lawsuit against the responsible party.
Accidents Caused by Drunk Boating- a boating accident caused by an operator who is under the influence of drugs or alcohol. Boaters who operate a maritime vessel while intoxicated are responsible for the damages of any accident they caused.
Injury Caused By A Cruise Ship- a boating damage caused by the negligence of a cruise ship operator or crew.
Accidents Involving a Marine or Dock- Any individual who has suffered injury as a result of a poorly maintained dock or marina is eligible for compensation.
Damage caused by a Charter Boat or Ferry- Operators of commercial launches of ferry boats are deemed responsible for the safety of their passengers. In the event of an injury caused by Charter or Ferry operator negligence may be held financially responsible for any degree of negligence.
Damage caused by A Private Vessel- Owners or operators of privately owned vessels are deemed responsible for the well being of their passengers.
Injury Caused By Personal Watercraft- personal watercraft includes jet skis, wave-runners, or any other small personal watercraft. The operator or owner of these vehicles are deemed responsible in the event of a boating injury or further damage.
If you have experienced injury or the death of a loved by any of the previously stated incidents, you may be eligible to hire a skilled lawyer experienced in boating accident cases in Los Angeles. A top-rated boating accident attorney will help you navigate the complexities involved in your case, and receive the compensation you deserve.
Our Team And You
If you or someone close to you has suffered a personal injury as a result of a watercraft accident, it is vital that you seek consultation from a top law firm. You should not have to suffer alone from the negligence of a boat operator or for the reasonable exuberant medical expenses that can come with a boating accident injury. At Normandie Law Firm, we can fit you with some of the best personal injury attorneys with experience in boating accident cases in Los Angeles. Our legal team will do whatever it takes to win your case. We negotiate the fairest terms and keep you up to date along with the way, so there are no missing details.
Free Consultation
Every possible client qualifies to receive free consultation and assistance in determining the most efficient path to resolving your case and making sure you get the compensation you deserve.  Give us a call today, and we will discuss the accident, the aftermath, your injuries, all of your possible options, and what you can expect by filing your claim.
Our team is made up of legal experts who are passionate about being helpful and transparent to our clients. We believe that building a trusting relationship with our clientele is the key to any successful business.
Zero Fee Guarantee
To further our commitment to you and your case, our firm operates under a zero fee guarantee policy. At Normandie Law Firm, we believe that you should not have to pay any fees for our services until we follow through on our promise to help you win your case. If we do not manage to get you the compensation and benefits you deserve, you do not owe us any money. You only pay once we win your case.
If you feel like you need a second opinion as to the value of your case, please feel free to contact our law offices. Per our zero fee guarantee policy all second opinion case reviews are 100% free of charge, so please, don't hesitate to give us a call. An attorney with expertise in boating accident injury lawsuits will be available to speak with you.