Bell Gardens Motorcycle Officer Injured In Car Collision In Montebello | 11-10-2017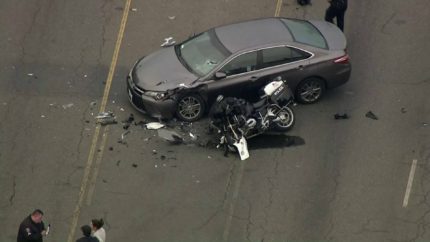 Early, Friday morning, a Bell Gardens motorcycle officer was left injured in a crash in Montebello. According to a report from Police Department Lt. Jackson, the crash occurred around 7 a.m. near the 1200 block of Greenwood Avenue, Montebello. Reports showed that the officer was traveling south on Greenwood when a four-door sedan pulled out and crossed multiple lanes of traffic. Overhead footage from Sky5 showed the damaged motorcycle in the street next to the car responsible for the accident. Emergency services arrived at the site and were seen treating the injured officer before later placing him in an ambulance. According to a news release made by the Bell Gardens Police Department, the officer was conscious and talking. A report, regarding the officer's injuries, hasn't been made public yet. The name and identity of the driver that caused the accident are still being withheld, as Montebello police continue to investigate the crash.
How Normandie Law Firm Can Help
If you or a loved one has suffered injury as a result of this accident or any other accident involving negligence behind the wheel, our attorneys at Normandie Law Firm can help. At Normandie Law Firm our skilled attorneys can guide you through the process of building your case, filing your claim, and collecting compensation for your damages. Those who file a claim with our law firm can find some if not all of the following damages compensable to them:
All of you medical and hospitalization costs
All of your future medical care and treatment
A loss of income and loss of future earnings due to long-term recovery or permanent disability due to the accident
Compensable economic damages include loss of property or damaged property.
Compensable non-economic damages include emotional distress, trauma, PTSD resulting from the accident, pain and suffering and anxiety.
Victims of this accident or other accidents similar to this one can contact our law offices to learn more about how to receive compensation for their injuries. While our law firm is based in Los Angeles, our attorneys also practice in Oakland, San Francisco, San Diego, Sacramento, Orange County, Riverside, Fresno, and throughout the state of California.
Free Second Opinions
Other attorneys will sign you up for their firm but will disappear once your name is on the paper as they are busy signing up more cases. In these instances, their business is based more on volume and will attempt to sign up as many cases as possible. In turn, they will spend less time on cases resulting in severely reduced settlements. Our firm will not treat you like a number. We will be in communication with you throughout our lawsuit and will treat you like family. So if you already have an attorney don't worry, we'll give you a second review of your case 100% free of charge.
Zero Fee Guarantee-No Upfront Fees Ever
If you contact our law offices today, we can walk you through the complicated process of filing your claim completely free of charge. As a show this commitment to you and your case we offer our clients the benefits of a zero fee guarantee policy. Under our zero fee policy, all clients don't pay for our services until their case is won. If you feel in need of a second opinion, second opinion case reviews are also free under this policy. Please, feel free to give us a call, and we can guide you down the path of receiving proper compensation for your damages.