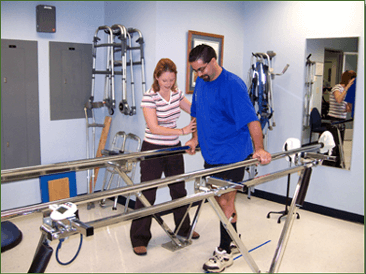 Physical therapy is a form of treatment usually performed to help a patient recover from a previous condition or treatment that may have hindered the mobility and everyday physical performance of the patient. However, mistakes happen, and when they occur in physical therapy treatments, the damages can often be debilitating. If you or a loved one has experienced injuries as the result of medical malpractice by a physical therapist, you may be eligible for significant monetary compensation. At the top-rated Normandie Law Firm, our skilled medical malpractice attorneys can assist you in filing a lawsuit and claiming the compensation that you deserve. If you already have an attorney and would like a second opinion on your case, feel free to contact our law firm, and one of our compassionate attorneys with experience handling physical therapy malpractice claims will be happy to speak with you.
Physical Therapy
Physical therapists are just as responsible for the damages they may inflict on a patient as any other practicing physician. Physical therapy is often far less intrusive than other medical procedures but can still have long-lasting damages on a patient. This is because physical therapy is often performed when a patient is at his weakest, and as such, is far more susceptible to being damaged further. The overall objective of physical therapy is to make daily activities like walking up the stairs, or getting out of bed, easier. Physical therapists are trained to examine the conditions of their patients and then build a treatment plan around that condition. These treatment plans are intended to increase a patient's flexibility, strength, endurance, coordination, or balance. These plans often include routines like manual therapy, education, and techniques such as heat, cold, water, ultrasound and electronic stimulation. Some of the manual therapies instructed to patients are exercises that include stretching, core exercises, weight lifting and walking. Some common conditions that physical therapists treat are:
Back and neck pain
Cardiac Rehabilitation
Wound Care
Cancer-Related Conditions
Treatment of children or older adults
Some of the conditions that physical therapists help treat can be incredibly life-threatening, and if the therapy isn't properly administered, these conditions may get worse. In the event something like this occurs, that physical therapist or the physical therapy clinic can be held liable for the damages incurred. If you believe you or a loved one has suffered injuries as a result of the medical malpractice of a physical therapist, you may be entitled to significant monetary compensation. However, when pursuing legal action against a physical therapist, it is highly recommended that you seek appropriate, expert legal counsel to help you pursue your case. Having a qualified lawyer experienced in PT malpractice cases on your side could mean the difference between filing a successful claim and having your case dismissed from court.
Medical Malpractice
All healthcare professionals are expected to uphold a certain standard of care to all of their patients. This standard of care is essentially the level of care that any other reasonably competent physician would provide given similar circumstances. When this level of care is not lived up to, the physician can be held liable for the damages of this lack of care through a medical malpractice lawsuit. Medical malpractice lawsuits, like any other suit, are typically filed under certain criteria. If this criterion isn't met, the odds of having a successful case are slim. An accomplished attorney with expertise in PT malpractice injury lawsuits can be a great asset to have. Listed below are the elements required to prove negligence within a medical malpractice case:
Duty: The plaintiff (patient) must show that the defendant (physician) owed them some form of legal duty.
Breach: The plaintiff must be able to show that this legal duty was breached through specific action or failure to act
Causation: The plaintiff must be able to show that the owner's actions, or lack thereof, caused the damages that you are seeking compensation for.
Damages: The plaintiff must be able to show that he has been harmed in some way. This element of medical malpractice can usually be shown through a presentation of medical bills or evidence of a loss of wages.
If these four elements are successfully proven to be present in your case, you can file a medical malpractice lawsuit against the doctor, surgeon, nurse, or physical therapist responsible for the damages incurred.
Filing Your Case
Clients who come to our law firm seeking assistance in their medical malpractice lawsuit against a physical therapist often ask a broad range of questions all about average case values, average settlement values, and the average payout of a case. In these situations, these questions can be answered with a one-on-one consultation with one of our many well-practiced associates. However, in regards to this article, seeking an average settlement amount, or case value can be challenging to generalize. That is not to say it is impossible, however. An attorney who has experience in PT malpractice cases can help give you an average.
Determining the value of any one case depends on the compensable damages that make up said case. These damages are split into three categories: economic damages, noneconomic damages, and punitive damages. Listed below are some of the economic damages that you could see reimbursed to you if you file with our law firm:
The Past and Future Medical Expenses: Medical bills often make up a bulk of a settlement amount. Past medical bills are any medical expense that your initial treatment may have cost you, while future medical bills are any medical expenses from treatments that you expect you may need to have in the future based on these initial injuries
Loss of Income & Loss of Future Income: In some cases, injuries can result in a loss of wages, or a loss of potential to earn wages in the future. This amount can be added to the overall value of your case. A loss of initial earnings is calculated through your salary history and the amount of work missed; this includes sick and vacation time. Loss of future income is discerned through a complicated formula that involves a thorough examination of your projected earnings and the impact that the damages may have had on your ability to find and perform work in the future.
Noneconomic damages are often referred to as general damages, and they provide victims with compensation for any nonmonetary losses endured. In most cases, these damages are difficult to calculate as they do not carry any definable monetary value. Employing the help of a skilled personal injury or medical malpractice lawyer can assist you in determining the amount of compensation that you deserve. Listed below are some noneconomic damages that you could have compensated to you:
Pain and Suffering: This is the compensated damage based on the pain and suffering a victim may endure from their injuries. This amount is calculated through the use of a pain multiplier, which asks the victim to identify their pain level on a scale of one to ten. In most instances, the more severe and chronic the pain is, the higher the settlement amount is likely to be.
Emotional Distress: This compensable damage is offered to victims for any emotional trauma they may have suffered due to the injuries. The amount provided tends to vary from state to state.
Loss of consortium: This compensable damage is often added to the value of your case when the injuries are so serious that the victim's loved ones are deprived of a normal loving relationship and companionship.
The last and most challenging form of damages to receive are punitive damages. Punitive damages are paid to the victim by the defendant to deter them from engaging in similar conduct in the future. Receiving this kind of compensation is often difficult to fight for, and as such, lesser attorneys will settle the suit without arguing for punitive damages. However, at Normandie Law Firm, our top attorneys with experience in medical malpractice are committed to ensuring our clients receive all the damages they demand; punitive damages included.
Just like determining a generalized value of a case, determining the average settlement amount or case value can be equally as challenging to generalize. While, we could form an average out of the cases received, this average would be far from accurate and would do our future clients a disservice. The inaccuracy comes from the fact that the value of cases varies so greatly that when grouped cannot form an accurate average amount. For this reason, we recommended you reach out to one of our experienced lawyers so that we can better assist you in determining the value for your particular case.
About Our Law Firm
The damages endured from a physical therapist's or physical therapy clinic's medical malpractice should not be fought for alone. At Normandie Law Firm, you will be connected to an attorney who has experience in medical malpractice cases who is committed to ensuring you receive all the resources possible to pursue and win your case. As a further commitment to you and your case, all of our clients receive the benefits of a zero fee guarantee policy. Under this policy, you do not have to pay for our services until we follow through and win your case. In the unlikely event that we do not win your case, you don't pay us anything. If you already have an attorney, don't worry, contact our law offices today and our associates will provide you with their legal opinion free of charge. An experienced attorney can take your call and answer your questions.